Why Go On An Official Visit Before Committing?

---
Receiving an invitation to visit a university is a milestone in your recruiting process and a truly great opportunity to meet the coaching staff and experience the atmosphere on campus. An opportunity of getting a step closer to decide for yourself whether that could be the right place for your time as a student athlete.
It is an excellent opportunity, yes, but you should understand that it is primarily a strong signal sent by the coach(es), who seem to have you listed very high up on their recruiting list.
This edition of our Friday Scholarship Guide will be all about your potential official or unofficial visit.
Why Visit?
Technology has definitely changed the way recruiting is being done quite a bit throughout the last decades. You are able to research schools, look up their social media channels, or check out some of their truly awesome videos that they have on their Youtube channels. You are able to talk to coaches on the phone, but even more so, you have the chance to connect with them through video calls, such as Skype or Facetime. That certainly gets coaches and you very far, but does it make a meeting in person redundant? Most certainly not.
Meeting somebody in person, who is going to be pretty central in your life and to your athletic development for four years, offers invaluable insights. Whatever program you may commit to in the end, going on a visit to meet coaches and see the campus make your decision a better decision.
Let's have a look at why you should go on a visit if offered the chance:
Signal
Accepting an invitation to pay the campus a visit is your signal that you take the coaches' interest (and perhaps offer) seriously. They invest time and resources in convincing you that their college program is the most attractive one and it's up to you to show that you are willing to invest your time also.
Collect insights on coach/team
Say, you've been communicating with assistant and head coaches at a school; messaging back and forth, talking on the phone, but without any physical meeting yet. You certainly have collected a lot of information about the school, the athletic department, the team or its opponents - all facts, which matter a huge deal. Now, you can definitely make a very good decision based on all that. But at the end of the day your relationship with coaches, you getting along with their coaching style and personality matters to the same extent - to those who have their eyes set on a pro career, it matters the most!
Visiting your top schools allows you to get a sense of what feels right: putting all of the school's characteristics and the chemistry with the coaching staff together.
Know what to expect
After a visit you also know what to expect: Simple things, such as the dorm rooms? What's the food like? Where am I going to be lifting weights and could I see myself pulling all-nighters in the library before midterms? Perhaps you don't like the atmosphere at one school, but you love the neighbourhood at another one ...
Official Visit vs. Unofficial Visit
The NCAA regulates the definition of a visit as well as the number of visits you are allowed to go on. The really important difference here is whether it is an official or unofficial visit. If a school invites you on an official visit, they may cover costs in relation with your trip:
Transportation (flights)
Accommodation
Meals
Tickets to sports events on campus
You are allowed to go on a maximum of 5 official visits on the Division I and Division II level, but you are able to plan an unlimited number of unofficial visits.
The schools' compliance departments and coaching staff will typically prepare your visit, which aims at giving you the best possible impression of the school! While the schools' staff take care of the paperwork, you can be instrumental and helpful in providing certain things upfront or having them ready. More about that in a little bit.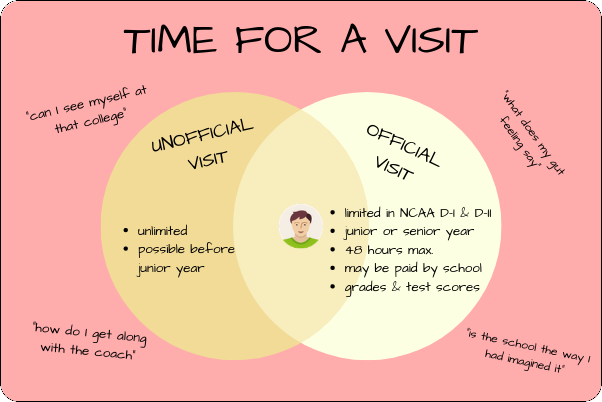 Worried About Recruiting Rules?
It's definitely good for you to be aware that there are rules set by the collegiate sports governing bodies. The recruiting coaches, as well as the schools' compliance departments will do everything they are required to, in order to obey the rules. Here are some of the most important ones:
One really important rule is the timing of such an official visit. You may not go on an official visit before August 1 (NCAA D-I), June 15 (NCAA D-II) or January 1 (NCAA D-III) of your junior year.
(Check out an older blog article about when to start your recruiting process here)
Your official visit may not last longer than 48 hours.
One school - one official visit.
A maximum of 5 official visits on NCAA D-I and D-II level.
Unlimited number of official visits in NCAA D-III.
Unlimited number of unofficial visits.
Now the kind of documentation the schools would require prior to your arrival are essentially the following:
A copy of your academic test scores (SAT or ACT)
Your grade transcripts
Your NCAA Eligibility ID
Being aware of the academic test score requirement is especially important, as the low number of test dates throughout the year may put you in a position where your planned visit may have to be defined as an unofficial visit, with the total cost of the trip definitely being incurred by you.
What Will I Be Doing On A Visit?
48 hours (on official visits) is not a whole lot of time, but generally long enough to get a comprehensive impression of the campus, campus life, dorms, class rooms, staff and athletic department. There's certainly a difference with regards to that in terms of size of the school, but the coaching staff will usually help you make the most out of it no matter the size of the school. Now depending on the timing of the visit and the kind of things the coaches want to emphasize, your visit could look very different from your visit at another school. Here are a few things that are typically part of any visit:
Meeting with the coach(es)
If not, you haven't planned/coordinated when to visit well!
Meeting the team
Seeing the dorm rooms
Eating in the cafeteria
Meeting a school counselor
Joining to a class
The timing is important to experience two things: you definitely want to meet the coaches in person (at least in most cases) and you definitely want to make sure students are "on campus". Any day between Monday to Friday is typically a good day, as everyone is heading to classes. On the other hand, try to avoid to only be on campus Saturday or Sunday mornings when many of the students try to catch up with some sleep!
Another question we often receive from athletes is: travelling alone or with mum and dad? There are advantages and disadvantages with both. If you go alone, you will definitely be more out of your comfort zone, speaking up for yourself and showing your true personality. If you go with your parent, it's a bit easier to hide and let them do the talking; especially if you're more the introverted type. No matter what you decide for, coaches will observe you and try to get a better grasp of you as a person. Do you really fit into the team, the culture they are maintaining or trying to build? Can you contribute to the success of the team?
Visiting schools helps you reduce the likelihood of experiencing game-changing surprises once you start out with your freshman year in college. And that's something that can really put your mind at ease going into senior year.
Work towards getting invitations to go on visits and make sure to enjoy your visit. It's a memorable experience no matter which school you decide for in the end.
More on related topics: