Women's College Soccer | Stepping Stone For Going Pro

---
The FIFA 2019 Women's World Cup is in the books and it's been another grand title for Team USA. Great news headline you've probably seen on the global sport news, but why does Smarthlete write about the World Cup?
Because several of the participants have played college soccer. Not any kind of college soccer, college soccer in the US, which is obviously no surprise when it comes to the US squad, but perhaps more surprising when speaking about teams like Thailand, Jamaica or New Zealand. Despite the countries' different success in the World Cup, that is one remarkable fact linking 17 out of 24 teams with each other ...
This edition of our Friday Scholarship Guide is therefore dedicated to the move from intercollegiate competition to the pro tour, in other words using college soccer as a stepping stone to making pro teams and even advance to competition on such a high, prestigious level as the World Cup.
Why Is College Soccer That Strong?
Soccer is a truly global sport. It's played in every corner of the world, which makes for a level playing field. If you started playing soccer as a young girl and continued working hard, developing, moving up the school/club levels, chances are you have what it takes to get recruited to play college soccer.
Coaches look for the best available talent. Talent they can attract with the reputation of their school and soccer program, as well as available athletic scholarship budgets, all within the regulatory framework, set by the sports-governing bodies, such as NCAA or NAIA. (More on that in "Number of Scholarships in College Soccer")
And the result of that is college soccer competition on a very high level, with athletes from all over the world coming in to play in the country that's historically had a highly competitive women's soccer level and subsequently: national team.
Which Division Is The Strongest?
We have put together a truly remarkable snap shot of the number of college players on the World Cup teams. While we don't display the division(s) the players have competed in, we're talking NCAA Division 1 women's soccer, which is by far the strongest division.
Let's have a look at the graphic just mentioned: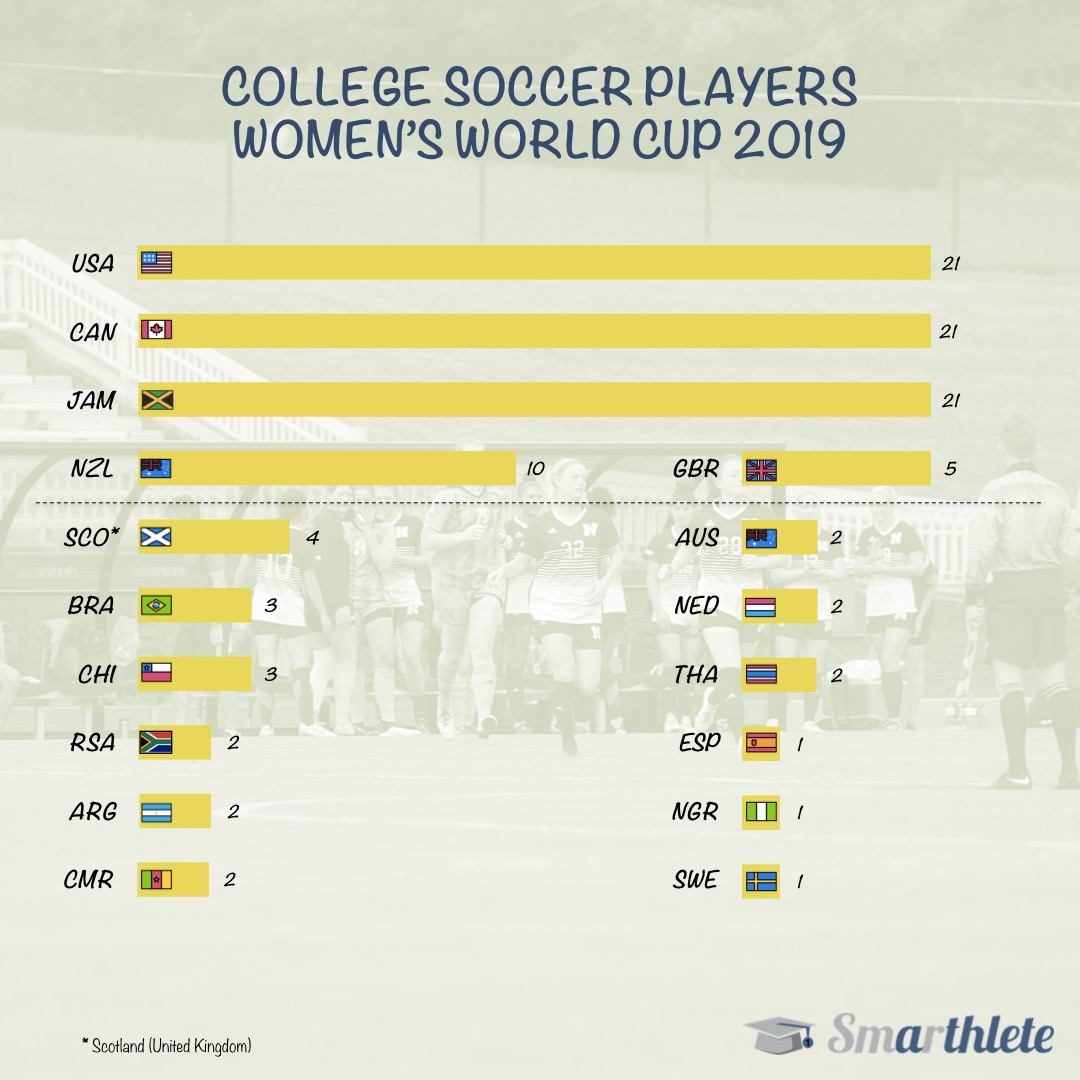 The highlights of the graphic:
24 teams - 17 teams with at least one former college player on the team
It's perhaps not surprising that 21 players from Team USA came out of the college soccer system.
Also quite understandably, 21 Canadian players have studied and competed in college; BUT
Jamaica: 21 athletes ... ?
New Zealand: 10 athletes ... ?
United Kingdom: 5 players ... ?
Those are impressive and interesting numbers, especially so, as the UK has one of the strongest European women's soccer pro-divisions. But then again, common language and culture, which just makes for an easier move overseas.
But we are not here to write about the reasons of why a certain number of players from Country A have been recruited and nominated to play World Cup soccer, compared to only a smaller number of players from Country B. We want to show you one thing:
College Soccer is a viable way to make it all the way to the top.
It's not the only route to success, but it is one that comes with two big advantages:
Get An Education As Student Athlete
Unlike going to college, going pro right away and earning money is another alternative. An alternative quite a lot of South American and European players (probably the large majority of those who have not played college soccer) have chosen. But something that they would almost always have to neglect is their education:
Depending on the individual athlete that may be problematic. On the one hand, injuries are part of playing soccer and no one can guarantee you it's not going to happen to you (think of a rough tackle, red card, with your ankle needing some "repair work" :/). On the other hand, your "pro clock" will be ticking no matter what as you cannot play high level soccer until you are 45 years of age ;)
So how about a plan for life afterwards? Education gives you that plan and qualification to do what you love apart from playing soccer or even enable you to combine it with your passion for soccer after your active career.
High Level College Competition
Above European and South American players have one advantage over other countries: their soccer leagues/divisions are very competitive, which enables them to get to a high level without choosing the college route. For players from other countries with less competitive soccer leagues, the situation looks different and they might be a lot more intrigued going to college because of the lacking level of competition in their home countries.
Understanding College Soccer
College Soccer combines these 2 things in a truly unique way: you are a full-time student, with your practice, match, and travel schedules built around your work in the class room and exams. A perfect set-up to obtain an undergraduate degree, while representing your school on the soccer field. Organized practice, lots of matches during the season, highly skilled coaching staff and high-level conditioning sessions.
Fun fact of the day: 11 players are still in college as we speak and they were even invited to represent their nation in the World Cup:
"Meet the 11 current college soccer players appearing in the 2019 Women's World Cup"
Yes, studying and playing is intense, but let's be honest: you'd never practice 12 hours a day, even if you weren't to go to college. Enough time to go to classes and secure yourself a second leg to stand on after your career.
You would not be the first one considering to make the move from college soccer to professional teams, the only question is whether you are up for starting your recruiting process yet or not.
Smarthlete offers assistance with your recruiting process in 2 ways:
Sign up with a free recruiting profile on Smarthlete, look for a team that fits your level of play and ambitions and get recruited.
Complete an evaluation of your chances and let us help you through the entire recruiting process from start to the end. We find you the perfect school, we get you recruited.
Hopefully, we've been able to help you understand that college soccer is a wonderful opportunity to reach your goals. Drop us an email in case you have any questions or if you want to talk about your college chances and recruiting process: contact@smarthlete.com