College Sports: National Championships 2020

---
2020 is well underway and with that being said, many teams have set themselves a number of goals: one of them would certainly be, trying to qualify for the event of the season - National Championships.
This article of the "Friday Scholarship Guide" is not so much about the "Scholarship" portion of things, but rather, understanding when each sport sees its highlight of the year, crowning the National Champion; thus, making a dream-come-true for coaches, athletic departments, schools and all the student athletes responsible for doing so.
Given the number of schools fighting to receive a bid, the group of people calling themselves National Champion is naturally incredibly small and exclusive.
Worth the time to give you our exclusive overview of the big events of the year.
Before we'll dive right in, bear in mind that we only present a handful of sports in this article today, with many other sports obviously also organizing National Championships throughout the year, such as basketball, baseball, football, hockey, etc. Also, with some of the sports being fall sports, it so happens to be that they just crowned their Champions of the season 2019-2020 a month ago (men's soccer or women's volleyball for example). Because of that, we therefore present you dates of the upcoming National Championships, which would naturally fall into the 2020-2021 season.
One of the things we always point out to athletes we work with is: if you have the chance of getting recruited by a team that has a shot at winning national titles, go for it. And that's why we're happy to give you an overview of the year 2020 - get some inspiration and know what you're working for - getting recruited by your dream school and best-possible team for your level of play.
Here on Smarthlete you can manage your recruiting process and get support with everything related to getting recruited and receiving athletic and academic scholarship offers.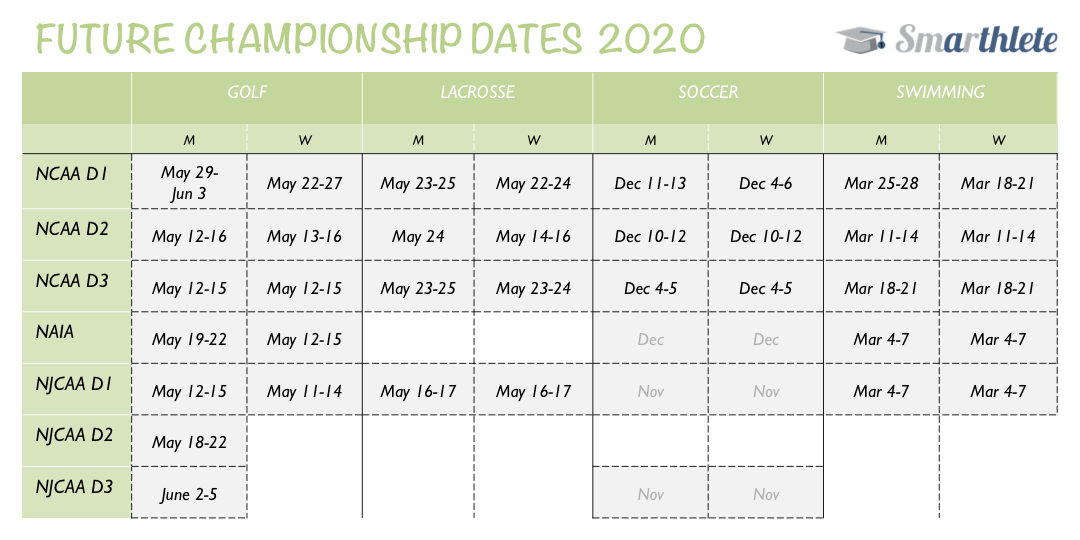 Golf
NCAA Golf 2019-2020
Women's and men's Division 1 Golf Championships will take place in the second half of May. Back-to-back with the ladies starting May 22-27, before the men continue May 29-June 03 at the Grayhawk Golf Club in Scottsdale, Arizona. Fun fact: it's the first time in history the same venue was selected for three National Championships in a row, from 2020-2022.
Division 2 Golf Championships will be held May 12-16 at "The Country Club of St. Albans" in St. Albans, Missouri, located just outside St. Louis. Defending champions Florida Tech (W) and Lynn (M) will seek to have a say in winning the national title again.
Finally, D3 men and women will contend for the title May 12-15 in Palm Beach Gardens, Florida. Reigning 2019 champions are Illinois Wesleyan (M) and NYU (W).
NAIA Golf 2019-2020
The 69th men's Championships will be held in Mesa, Arizona with the 29th women's Championships held in Oklahoma City for the second time in a row. The women will start at the same time as the student athletes in NCAA Division 2 & 3: May 12-15, with the men's event taking place a few days later May 19-22.
NJCAA Golf 2019-2020
The NJCAA will crown its national champions in Divisions 1-3 on the men's side and Division 1 on the women's side.
Dates are May 12-15 (D1), May 19-22 (D2) and June 2-6 (D3), as well as May 11-14 (Women D3), with all of them taking place at different sites.
Lacrosse
NCAA Lacrosse 2019-2020
Almost at the same - May 22-24 and May 23-25 - Division 1 golf champs will be crowned. On the men's side, all 3 divisions will see a full weekend of Lacrosse action at the Lincoln Financial Field, home of the Philadelphia Eagles. Women's D1 and D3 will take place in Baltimore (Johns Hopkins University) at the same time, whereas Division 2 will see competition a few days earlier (May 14-16) at Lindenwood University.
NJCAA Lacrosse 2019-2020
May 16-17, 2020 are the big days for NJCAA lacrosse teams, with both events taking place in New York.
Soccer
With soccer being a fall sport across all divisions, there's plenty of time before there will be any sort of action in 2020.
NCAA Soccer 2020-2021
Georgetown (Men) will see to repeat it's 2019 win in December, hosted by UC Santa Barbara and Stanford will try to win Title #4 December 4-6. Division 2 soccer competition will be held in Tampa, Florida December 10-12. Just like in 2019 (and in 2021), Division 3 champs will be crowned at the University of North Carolina at Greensboro from December 4-5.
NAIA Soccer 2019-2020
NAIA competition will be taking place in November. Defending champions will be Keiser on the women's and Central Methodist on the men's side.
NJCAA Soccer 2019-2020
NJCAA Division 1 and Division 3 competition will also be held in November.
Swimming & Diving
NCAA Swimming 2019-2020
Plenty of action taking place in the month of March with all 6 national championships lined up. First out are Division 2 teams March 11-14, before Division 3 and Division 1 (women) athletes start their mission March 18-21. The season comes to an end with the Division 1 men's elite determining the National Champions on March 25-28. Hosts are IUPUI, Lake Erie College as well as the Greensboro Aquatic Center.
NAIA Swimming 2019-2020
However, the Championship swim season of the year is kicked off by NAIA competitions March 4-7, held in Knoxville, Tennessee this year.
NJCAA Swimming 2019-2020
At the same time as the NAIA determines its winners, the NJCAA undertakes the same, although around 700 miles away, in Fort Pierce, Florida. Last year's champions on both men's and women's side are Indian River State, as has been the case plenty of times over the last years.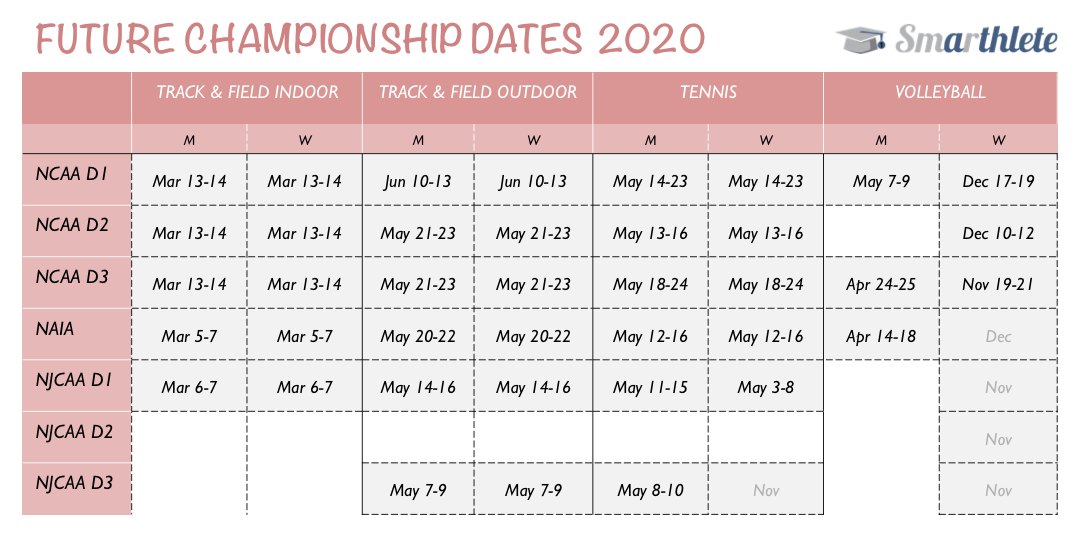 Track & Field
NCAA T&F 2019-2020
A big Friday-Saturday set-up March 13-14, with men's and women's indoor championships taking place across all three divisions; although, in different parts of the country. A bit more than two months later (May 21-23), Division 2 and Division 3 athletes will compete for the outdoor crown, whereas the season ends with D1 competition on June 10-13, which also happens to be the last event of the entire college season (of all sports highlighted in this article).
NAIA T&F 2019-2020
Brookings, South Dakota will receive a lot of attention in the beginning of March (March 5-7) for the indoors championships with Gulf Shores, Alabama, being the venue for all outdoor competition May 20-22.
NJCAA T&F 2019-2020
There is a two-day event March 6-7 for all NJCAA indoor competition, with split events taking place outdoors in May: NJCAA D1 May 4-6 and NJCAA D3 on May 7-9.
Tennis
NCAA Tennis 2019-2020
All eyes on Oklahoma State University, when Division 1 tennis gathers to determine its 2020 champs. Lindenwood will be the host for the second big National Championships of the year, on top of the Women's Lacrosse event (see above). D2 tennis starts on May 13 (May 13-16), with the D1 event starting a day later (May 14-23). Last but not least, Washington University will host the D3 tournaments, commencing May 18.
NAIA Tennis 2019-2020
Almost at the same time (May 12-16), serial winner Georgia Gwinnett will look to defend its titles once again in Mobile, Alabama. The ladies event will see the 40th ever NAIA National Championships this year.
NJCAA Tennis 2019-2020
NJCAA tennis is a bit of an odd one. NJCAA D3 tennis on the women's side is held in November each year. In the spring, the D1 ladies start out with Nationals on May 3-8, before the men take over May 8-10 (Division 3) and May 11-15 (Division 1).
Just like in swimming, a packed month full of exciting live action.
Volleyball
There is quite a difference when it comes to competition between men and women. The women's events are held in the fall across divisions, but the men's events are spring events.
NCAA Volleyball 2019-2020
With that said, NCAA women's D3 is scheduled to take place in November, with D2 and D1 lined up for December; even as late as December 17-19 (D1 women). On the men's side Long Beach State will certainly go for the third title in a row in the big final of the year in Virginia (May 7-9).
NAIA Volleyball 2019-2020
NAIA crowns its women's champ in December, but the men determine their winner in April - a month which otherwise sees no championship competition at all in other sports.
NJCAA Volleyball 2019-2020
Finally, NJCAA competitions are scheduled for the month of November with volleyball not being a NJCAA men's sport at all.
These pages will give you a really good overview of what events and where they will be happening not just in 2020, but also in the years to come.
It can be a bit of a jungle, keeping an overview of all the big happenings in college sports, but we hope this has given you a somewhat neat overview of the sports you are interested in. Do you have the chance to go see some live action? Definitely go see some of the up-and-coming future pros/stars within swimming, soccer, tennis or lacrosse. But many of the events will also be broadcast either on TV or live streams online.
Looking to play college sports on a scholarship and win national titles? Then have a look at what we've got in store for you and your recruiting process here on Smarthlete. Sign up with a free recruiting profile & get in contact with any college coach right away.
-- Take ownership of your recruiting process - get recruited! --