2 Former College Players Qualified - Total 9 in Wimbledon Main Draws

---
After a short break of Grand Slam action, which lasted one week longer than it used to for the first time this year, the pros are back battling it out on the grass courts of Wimbledon. Since Tuesday, June 22, Roehampton, where the qualifying events take place, saw 128 men and 128 women give their best to make it through three tough rounds for a lucrative ticket into the main draws.
Some weeks ago, we covered the French Open, highlighting the disappointing fact that none of the 11 former college players made it to the main draw. We also forecast that things are likely gonna turn out to be more successful in Wimbledon, owed to the fact that grass should suit most of the players better than European clay. And so it turned out to be, which naturally makes us very happy :).
Steve Johnson, John Isner, Kevin Anderson, and Benjamin Becker were pre-qualified for the main draw, thanks to their rankings. Unlike in Paris in May, Blaz Rola also made the cut-off. And finally we saw Aleksandr Nedovyesov from Kazakhstan and John-Patrick Smith from Australia make the college family a crowd of 7 with their solid wins in the final round in Roehampton.
As always before and during Grand Slam tournaments, we will take a look at the draws, providing information about the players' age, ranking at the time of writing, as well as the college team they played for and the respective conference:
Men's qualifying
Very positively compared to the last major, the French Open, a group of 13 college players had the chance to start in the qualifying event. Here's the list of participants and how they differ from Paris: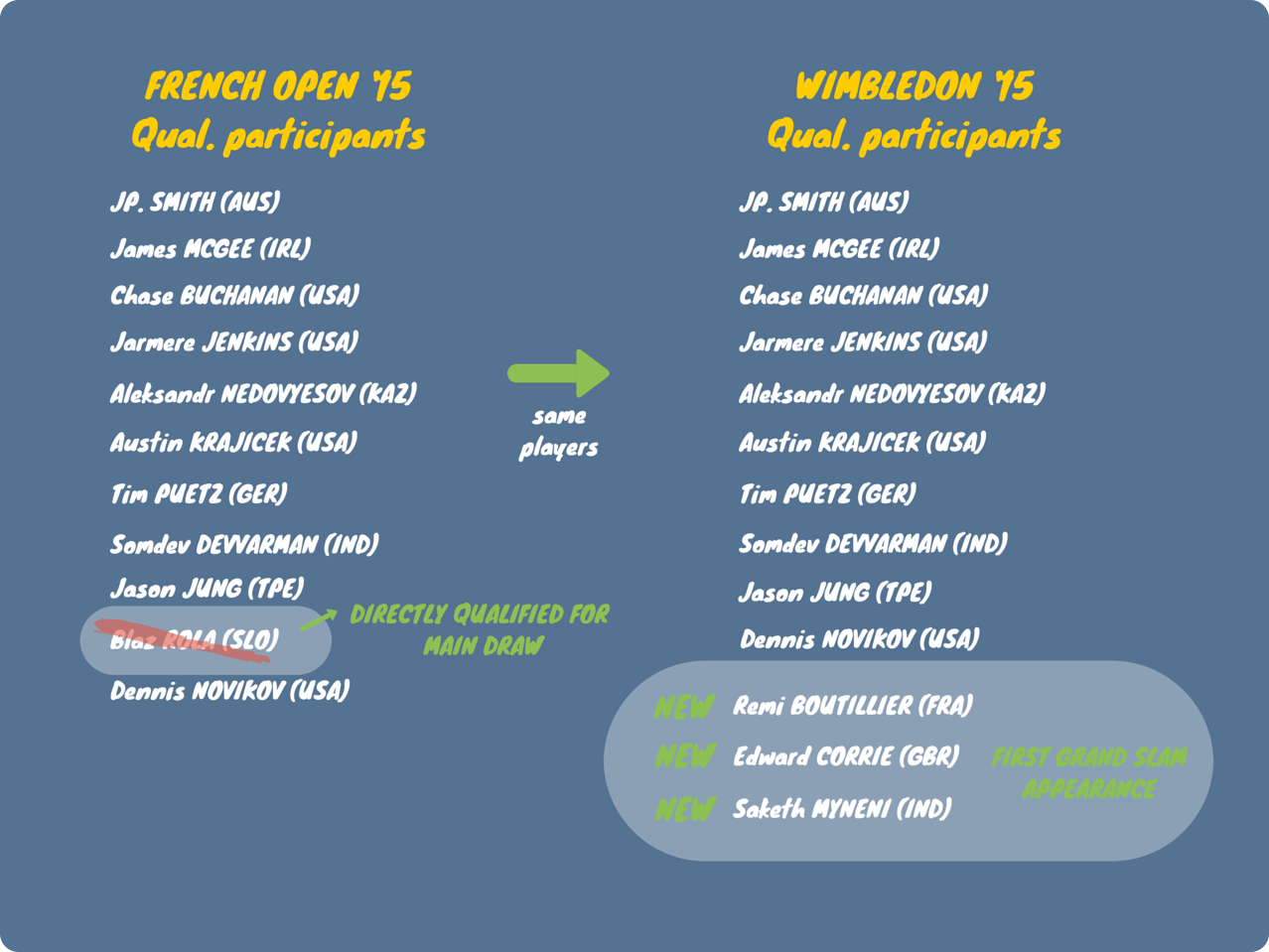 While Nedovyesov and Smith came through successfully, only Edward Corrie and Saketh Myneni were able to record first round victories. Before we look at the results, one thing caught our attention in particular: the two players' tournament schedule leading to the third major of the year.
It couldn't be any more different from what University of Austin alumni, Smith, and Oklahoma State alumni, Nedovyesov, showed. John-Patrick played three tournaments in England on...grass. Aleksandr on the other hand played three tournaments outside of England. While that's nothing odd in the first place, all these tournaments were clay tournaments. Aleksandr did slightly better than John-Patrick with the best result a semi-final, losing against Albert Montanes. Despite their different choice of preparation, the outcome is the same - 3 won matches, a minimum of collected 25 ATP points, and a minimum of £29,000 earned.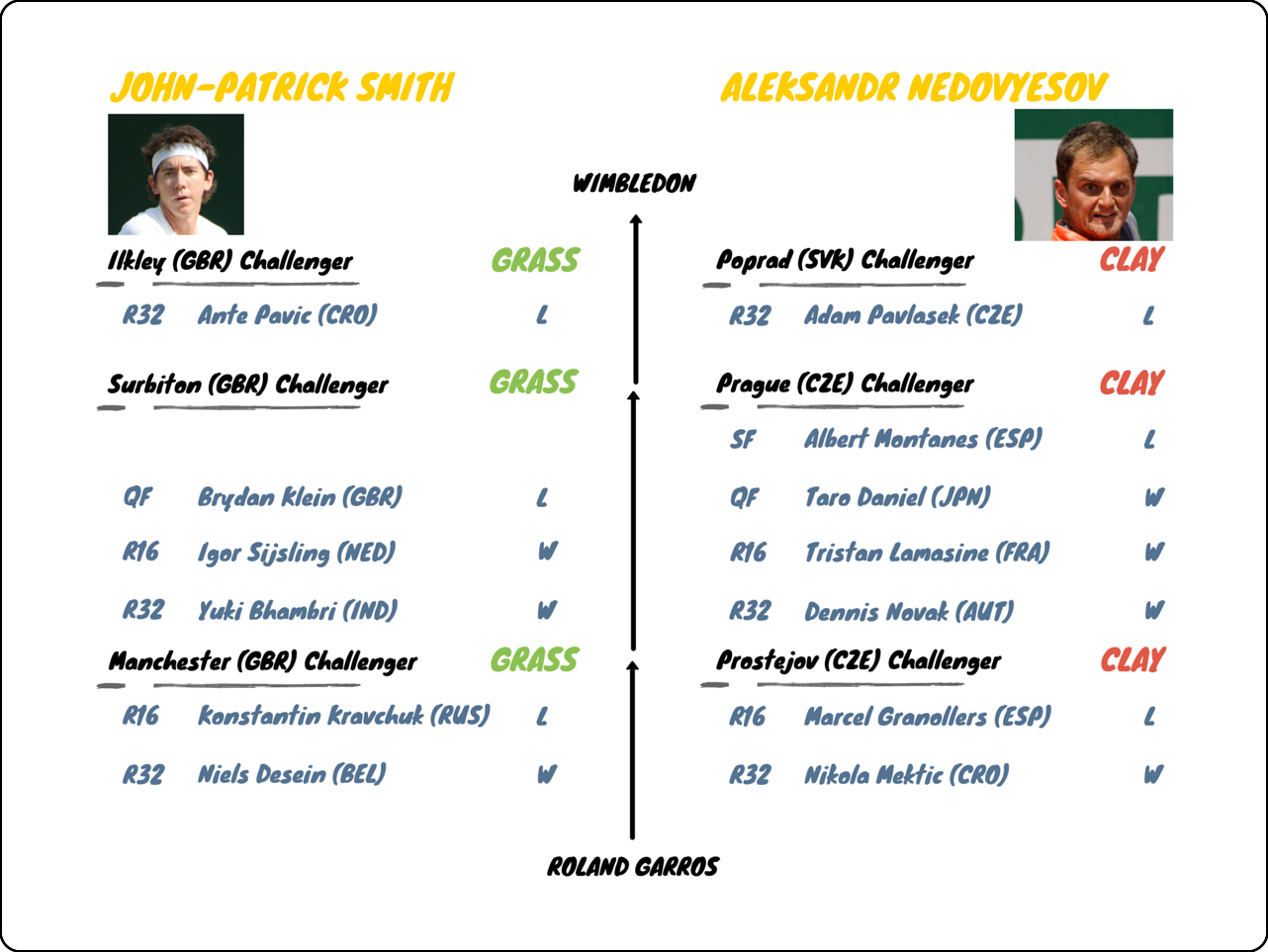 Smith has appeared in the main draw of a Grand Slam once before: Two and a half years ago in his home country Australia, where he lost in the first round against Joao Sousa. Nedovyesov instead will be able to draw from his experience in all 4 events last year. He won two first round matches in Paris and New York, both times against former collegiate athletes, James McGee and Somdev Devvarman, before eventually losing against seeded Berdych and Tsonga. Today's draw revealed a tough opponent to take on for Nedovyesov and a fellow qualifier for Smith. Let's see if one of them can add another valuable victory to their 2015 Wimbledon record...
Let's dive into the entire men's qualifying draw to see how the rest of the "alumni" were doing: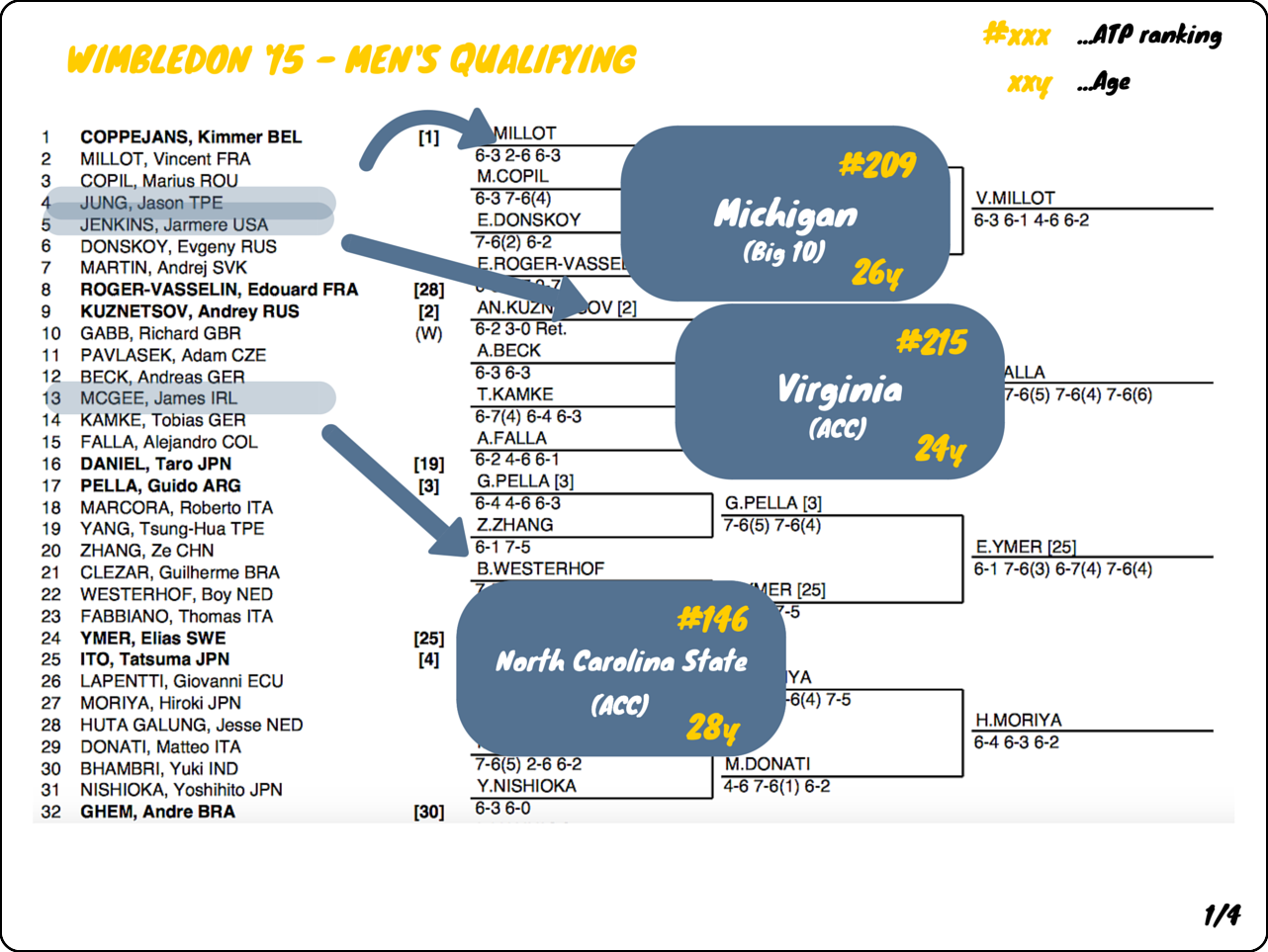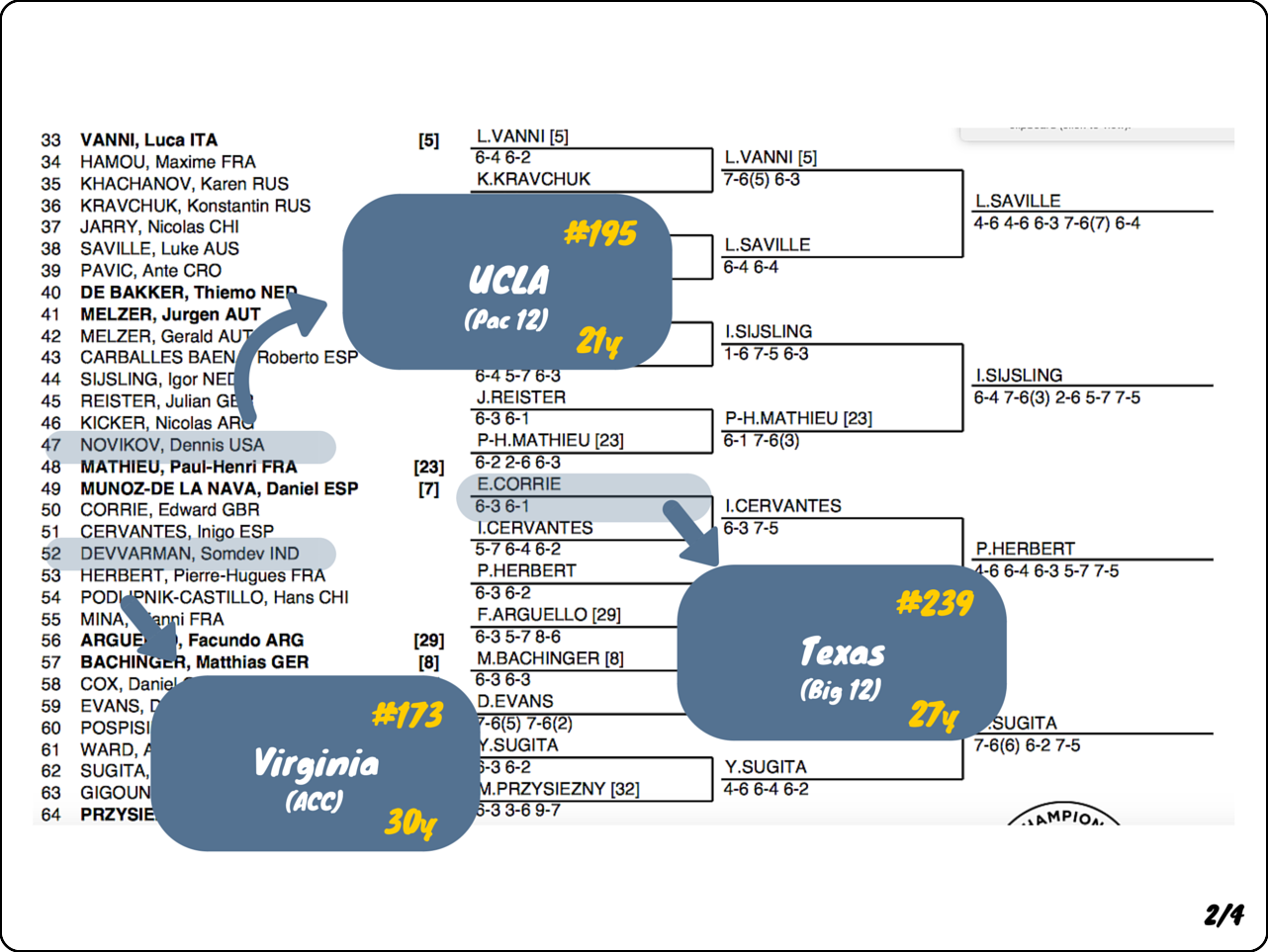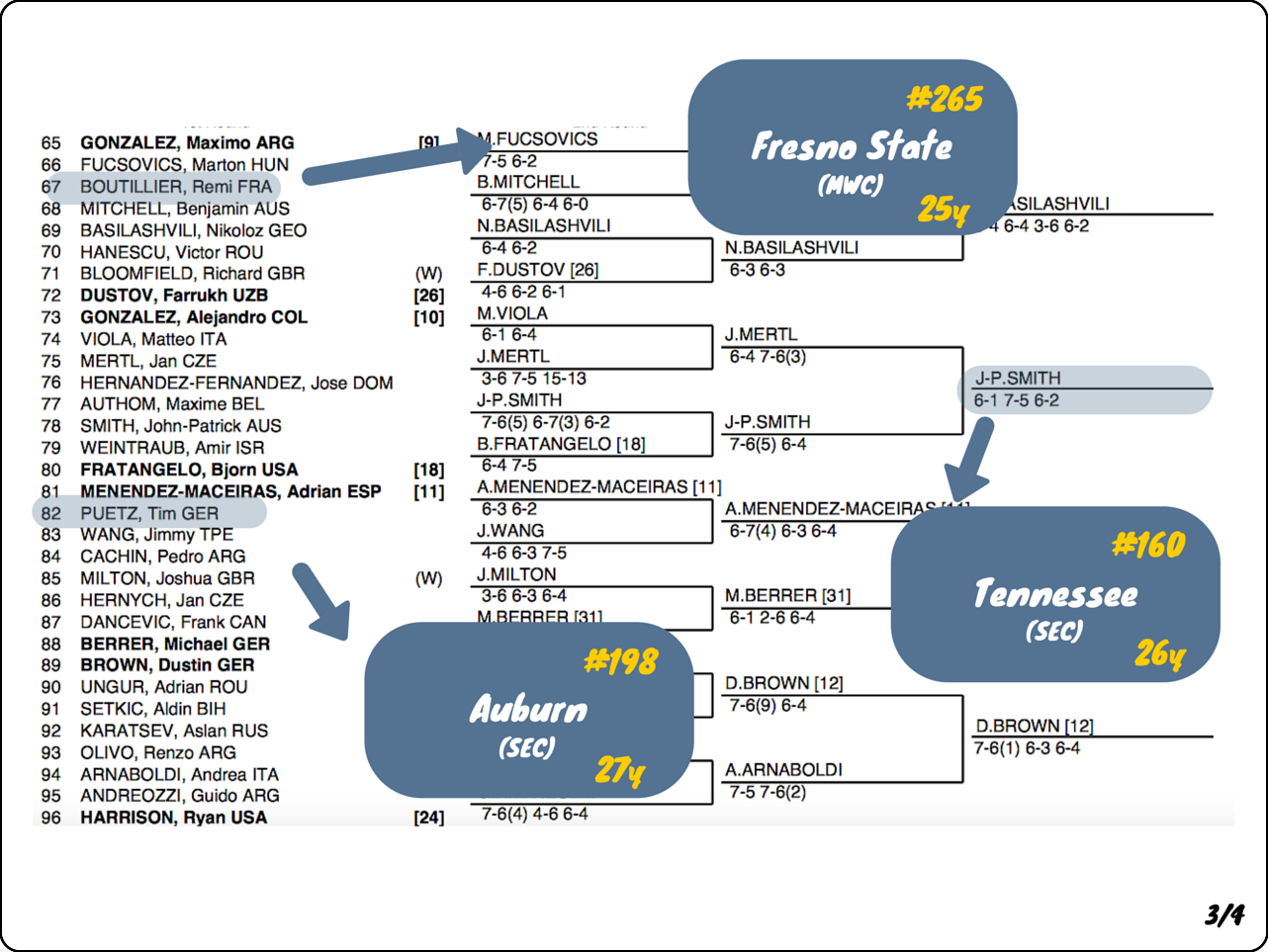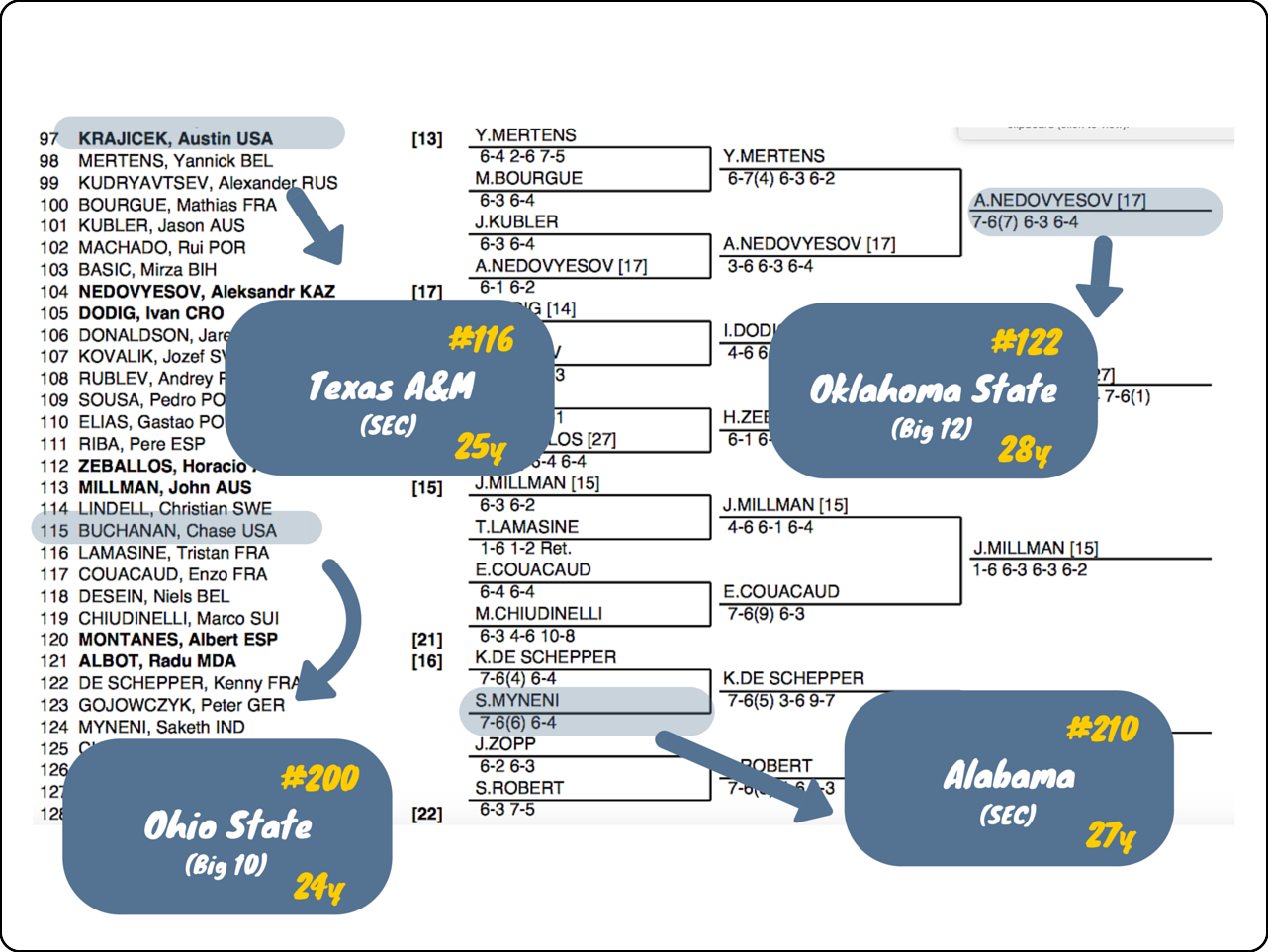 As every college team competes within a specific conference, we can deduct which college conference produces the largest number of professionals. We love the updated statistics of the players' college conferences, compared to picture we got in Paris. The SEC, Big 10, and Big 12 will be represented by two of their former contestants each in the main draw. The Mountain West Conference has been added by Frenchman Remi Boutillier's (Fresno State University) first appearance in the draw of a Grand Slam: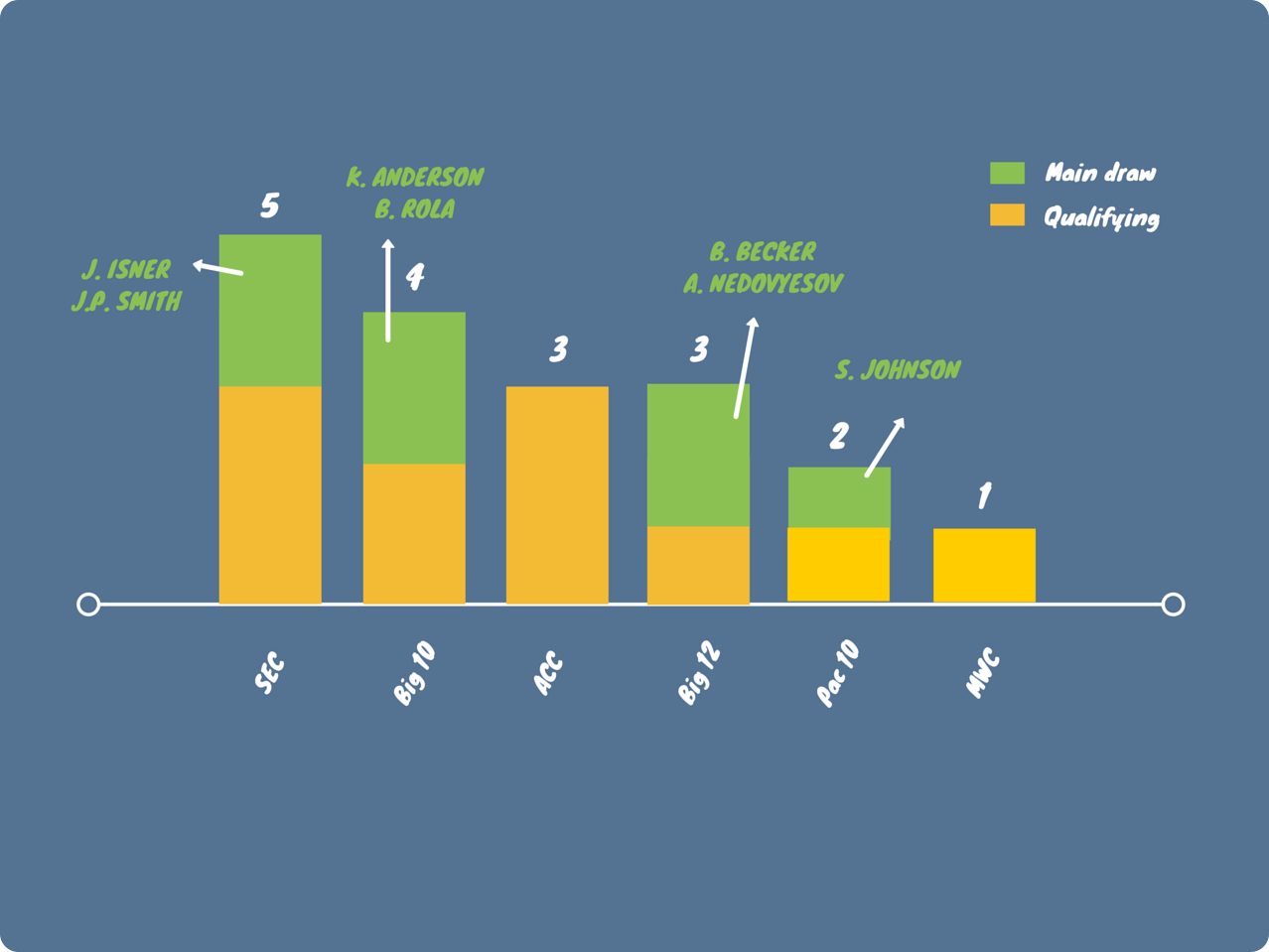 Women's qualifying
On the women's side, the picture was pretty much the same as in Paris. Maria Sanchez (USC) and Julie Coin (Clemson) both won their first round matches, but lost in straight sets in the second round.
The number of women between #200 and #500 coming from college is significantly lower compared to men's tennis. Katerina Vankova (CZE), ranked #232, Southern Methodist University or Sanaz Marand (USA), ranked #283, University of North Carolina, are within distance and we'll keep an eye on their rankings to see whether they manage to creep up to slightly higher levels for the U.S. Open or the Australian Open 2016.
Men's & women's main draw
Men's and women's main draws where just released and revealed the following pairings in the first round:
Kevin Anderson [14] vs. Lucas Pouille
John Isner [17] vs. Go Soeda
Benjamin Becker vs. Victor Estrella Burgos
Steve Johnson vs. Lukas Lacko
Blaz Rola vs. Matthew Ebden [WC]
John-Patrick Smith [Q] vs. Kenny de Schepper [Q]
Aleksandr Nedovyesov [Q] vs. Viktor Troicki [22]
Kevin Anderson has showed what he's capable of in last week's ATP event in London, winning all but the final against local hero Andy Murray. Isner, Becker, Johnson, and Rola also face opponents they should all have a realistic shot of winning against. Former Georgia "Bulldog" Isner and "Buckeye" Rola could meet in an interesting all-college second round, given they both win their opening matches. Finally, our two college qualifiers who have very different tasks to solve: De Schepper, another qualifier who eliminated former "Tide" Saketh Myneni 9-7 in the third set, and #22-seeded Troicki, who is getting close to his career high after having overcome his doping-related break and consequential plunge in the rankings. Exciting matches coming up, and we're looking forward to see how the college ambassadors will be doing.
Nicole Gibbs, Stanford alumni and Irina Falconi from Georgia Tech will take on:
Nicole Gibbs vs. Lesia Tsurenko
Irina Falconi vs. Karolina Pliskova [11]
For a really exciting coverage of the full main draw, including the highlighted players here, check out The Tennis Notebook! Wonderful graphics highlight all you need to know before the first matches start rolling come Sunday.
How do you think the crowd of players will do over the next weeks? Let us know what you think on Facebook or Twitter.