Top 3 Reasons College Players Transfer School

---
Summer time is last-minute recruiting time. We'll be looking at athletes who transfer college during this time of the year: "transfer students". Given the topic's high relevance this time of the year, Bobby Knight from College Tennis Today has even started up a section on male NCAA D-I transfers for the upcoming season.
Let's go through the following questions in more detail:
Why do student-athletes transfer?
How do coaches look at transfers?
How can you avoid transferring?
How does transferring work? [Friday Scholarship Guide: July 17, 2015]
1. Reasons For Transferring

Limited amount of playing time
The #1 reason for students transferring is an unsatisfying amount of playing time. With a team typically consisting of 8-10 players, you naturally have 4 of them on the bench. Best case, they get to play some time in singles and potentially some more time in doubles. Worst case however, you have a team of 6 strong starters, competing all the way through singles and doubles matches.
Now imagine you start your college career expecting to play somewhere like #5 or #6 in the lineup. Whatever the reason, you end up on #6 or #7 with quite a bit less match play than you had anticipated. You still get to practice with the team day in, day out, leaving it all out there on the court no matter what. But it's still not enough.
That's when kids start thinking:
"Hold on a sec. Couldn't I have it much better at another college?"
Similar scholarship money, a little higher up the line-up, and contributing significantly more to the success of the team. Twice the matches offer twice as many chances to win real key matches. Maybe even the deciding point. After all it's the game all student-athletes have played for 15 years or more. But a game is all about playing. And not sitting on the bench the majority of the time.

The coach
Most of us have at least some sort of work experience. Some more, some less, some in permanent positions, and some in summer jobs. We've all had a boss, a manager, someone to report to. Someone who calls the shots. Some of them you like; some you don't like. And others you really hate.
A college coach is the team's boss. The manager. The guy who calls the shots. Coaches are less likely to change. They have a proven system that seems to be working for them: the fitness training, the hours on the court, doubles tactics, the way the team travels, communication with their squads.
Many student-athletes enter college having had a number of different private coaches. Regardless of how many, the player and his/her parents have always had the chance to stop working with the coach and find another one. Well, that's not happening anymore and it's up to the player to adapt; not the other way round. Accepting certain shortcomings is easier than others, and if it just doesn't work out, well, it's the player who's gonna be leaving.
The college
Finally reason #3 consists of several elements grouped under the term "college". We're talking the actual college, the campus, the academic experience, the living situation, and the location.
Back in my college days at a Christian college, we had a foreign athlete arrive who was in shock that she had to go to church and take bible classes. I hadn't been less surprised when I first arrived, but at least I was aware of the fact that I was gonna start studying at a college, which attaches great significance to its Christian foundation. A good laugh today, but clearly a potential reason for transferring if you're not comfortable with living in an environment with a totally different set of values.
At the age of 18-19, it is also not uncommon for kids to be a little clueless on what it is they wanna pursue academically. "Undecided major" is a pretty common answer on their roster profiles. Now imagine you're not sure what to study when signing with a school offering you a great scholarship deal. All is perfect: the coach, the great team, the location, but you realize pretty soon molecular biology is what you'd like to go for. Guess what, it's a small undergrad school with 3,000 students and molecular biology is simply not one of the school's offered academic programs. What are you gonna do about it? Decide in favor of staying and having a challenging, great college career on the court? At the same you're backing down from your career choice of studying what you're really burning to do? Or will you make a tough call and look for a new school and team? Not an easy choice, is it?
America is a big place and the locations couldn't be any more different from each other. You find universities in the desert, mountains, at the beach, in small and big cities. Your college might be a one-hour or a five-hour flight from your family. If you've grown up in NYC and you end up in a small town somewhere in Oregon, you might feel like this is not where you wanna be staying for another three years. On top, you barely manage to go home for visits.
2. Coaches' View
Coaches gotta look at transfers with mixed feelings. On the one hand, it can be an excellent opportunity to give away a scholarship for one or two seasons only. Less risky in the sense of not tying up money for too long. On the other hand, there's a reason why people transfer. As a coach you definitely wanna find out why that's the case:
Were there any problems? Injuries? Was the player not able to deliver in important matches? Lack of attitude? Maybe not a team player? Problems accepting authority? Causes can be manifold and coaches have to find out whether any of them apply.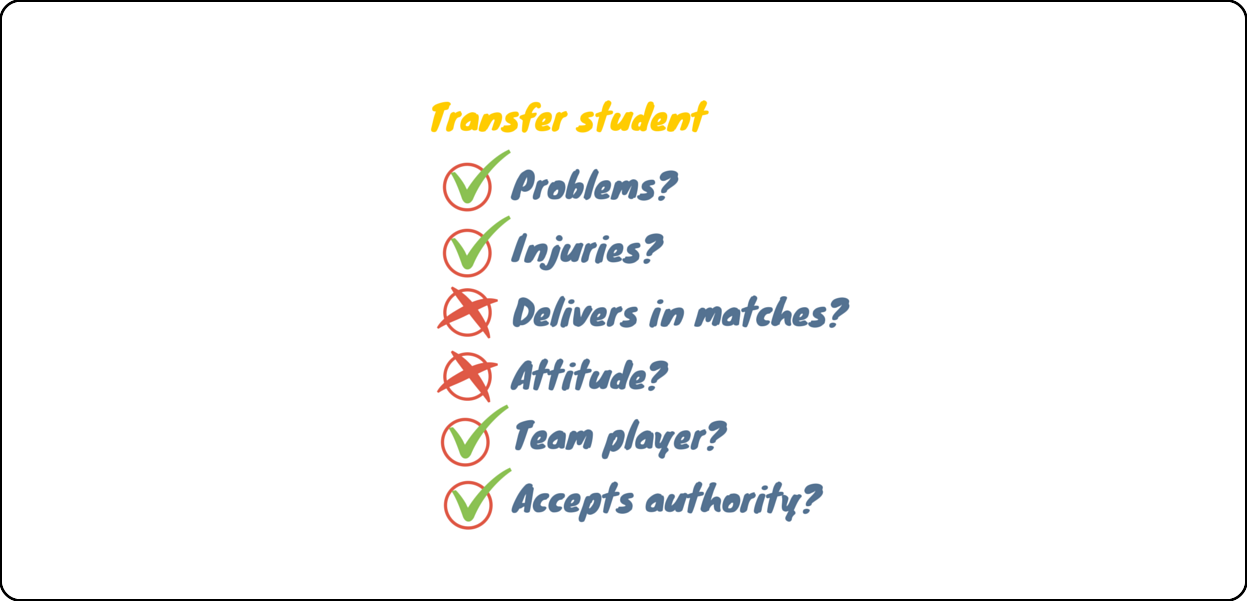 But signing transfers also offers two other advantages:
Players know what to expect at college/from college tennis.
They know how it works, combining academics and tennis, practice and travel schedules. What it takes to be part of a team.
Players' strength is easier to assess compared to incoming freshmen.
Ideally, there are a number of results on the college level, which coaches can go through. Nowadays, players will also have a UTR, which is perfect to understand a player's real strength and potential for the team.
In this podcast by "ParentingAces" Ross Greenstein states that almost always students end up with a worse deal after having transferred. It's them who are under pressure to find something, not the coaches in most cases...
3. Avoid Transferring
So how is it you can avoid transferring? Given the above, it's not necessarily the greatest of all outcomes. And yet an incredibly large number of players do transfer. According to NCAA Research, men's and women's tennis see the highest transfer rates, followed by #2 men's basketball.

Well, it all comes down to doing your homework. Getting the job done before signing with a school. And getting it done for a variety of dimensions:
Understand your future position on the team
Get to know the coach
Collect information on the school and the tennis program
It's in your hands and you have full control of getting as great a match as possible. Make use of the UTR, which is truly the best way of getting in touch with the right college coaches. Talk to the coaches and ask questions. Go visit the schools if you have the chance to. And finally, do your research and read on the various colleges extensively.
"College tennis is what you make of it."
Part 2 of our edition on transfer students will be about the complex transferring process and it will be published in two weeks on June 17, 2015. Next week's edition of the Friday Scholarship Guide will be on the success of former college players in the doubles draws in Wimbledon. Make sure to check back on our blog, or follow us on Facebook or Twitter and stay up to date!
Do you think college tennis is just what you're looking for? Sign up on Smarthlete, set up your profile, and get directly in touch with college coaches already today!
Source I: Mark Jeffrey
Source II: Jose Martinez