Another College Player First Time Wimbledon Champ...

---
Two weeks ago we covered the singles events and more extensively the crowd of 13 gentlemen and 2 ladies (sticking to the Wimbledon jargon :) ), who gave it a shot in the qualifying events. Two players, Aleksandr Nedovyesov (KAZ) and John-Patrick Smith (AUS), made it through and joined the other former college players in the main draw. The tennis universe has certainly heard of Illinois alumni Kevin Anderson (RSA) by now after his epic battle against #1 Djokovic (SRB) in the round of 16. Anderson was at the same time also the professional who did best. With Isner, Becker, Anderson, and the others out of the race in singles events, two other college players took their chance and stepped into the spotlight instead:
This means that we will see a new name up on the honorable list of Doubles Grand Slam winners, following names such as Lisa Raymond (USA), Jonas Björkman (SWE), the Bryans (USA) of course, Mahesh Bhupathi (IND), and Robert Lindstedt (SWE) (from 2000 onwards). A fantastic achievement, and yet another piece of evidence that college tennis can be just the right platform for players on their way towards professional tennis. Given the significance and rare honor of winning one of the big 4 titles in tennis, we take a closer look at Rojer's and Peers' career development:
John Peers
Before we dig into his junior, college, and pro career: Do you reckon Peers and David Beckham had an agreement for increased publicity?;)
Peers was ranked as high as #167 on the ITF junior tour, and he decided to fully focus on tennis as late as age 18, having also played cricket during his teenage years.
"I just felt that I wasn't ready at the time to play a full-time schedule on the tour. Obviously I'm thankful for that decision, that I continued my study while I kept developing and got my game completely ready before going on tour." (John Peers)
He spent his freshman, sophomore, and junior year at Middle Tennessee State University (Blue Raiders) and transferred to Baylor University (Bears) for his senior year at the same time as Tennessee head coach McNamara resigned. During his college career he's always competed on top of the line-up. #1 - #3 in his first two seasons, before he eventually found himself on top of the line-up both for the Blue Raiders and the Bears in his last season. The final ITA rankings of the senior season saw him finish #21 in singles and #5 in doubles. He graduated from Baylor with a degree in Finance, and turned pro in 2011. A side note from the Smarthlete guys: our team member and former "Pioneer" Yannick had the honor of playing John Peers twice during their college career; falling short both times. :)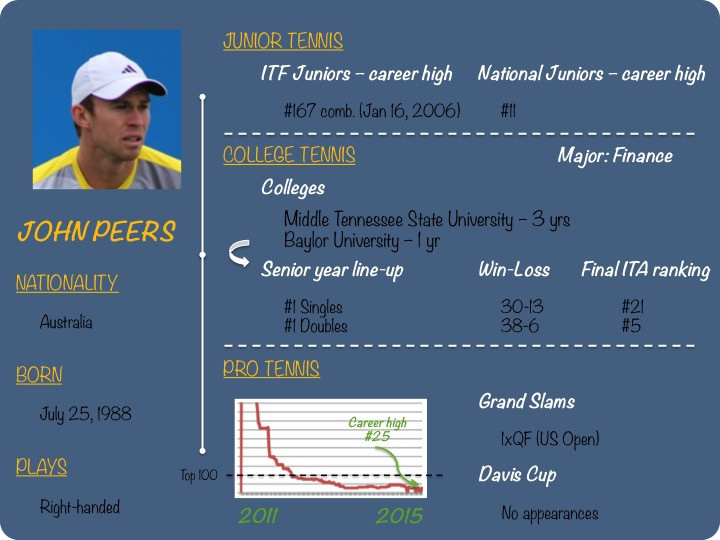 Peers broke the Top 100 doubles mark quickly after just a year on the tour (#91, August 2012) and decided to fully focus on doubles exclusively. He first partnered up with fellow Aussie J.P. Smith (see above) and then with Jamie Murray ever since. Alongside Andy Murray's older brother he reached #25 in doubles (April 2015), with obvious room for more.
Wimbledon 2015 is the best result Peers has ever achieved on the Grand Slam level. With his personal best a quarter-final at the US Open '13, this Grand Slam tournament is already his biggest accomplishment on the tour. Can he top it off with a victory in front of - literally - a "home crowd" this Saturday? Murray/Peers are naturally in great shape, as can be told by the results and below highlights of yesterday's semi-final:
Jean-Julien Rojer
Rojer represents the Netherlands in Davis Cup today, but he grew up on the Dutch Antilles, a small island 1,200 miles from Miami, FL. At age 13 he moved to Miami where he spent his teenage years practicing and going to school. He was a strong junior player with ITF rankings of #31 and #27. Living in the U.S., college was a more obvious option for him than for other kids like Peers, but his family background played a significant role:
"My parents always stressed that their dreams were to play and study." (Jean-Julien Rojer)
He spent three years at UCLA (Bruins), teaming up with his standard doubles partner Marcin Matkowski (POL), who became just as strong as him, reaching the ATP Top 10. After three years at college, he felt he was ready for the pro tour, following fellow junior competitors Federer, Robredo, Gonzalez, or Coria, who had made an impact in the pro circuit already.
"I was 21. I felt that I was big enough to try, I could survive and wanted to try to live by tennis. (...) It took me longer and I did things a different way." (Jean-Julien Rojer)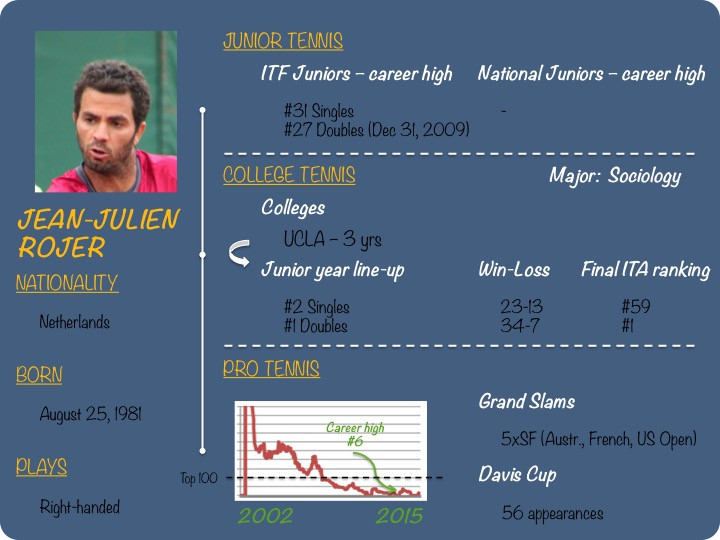 Compared to Peers, it also took Rojer longer to break through. He reached the doubles Top 100 in the summer of 2008, 6 years after he left UCLA. But he has been climbing up the rankings ladder ever since, and with a current ranking of #8 he is close to his career high from 2013 (#6). He knows what it feels like to win a Grand Slam - he has done it before in the mixed competition of Roland Garros '14. Let's see if he can add his first men's doubles title to the list, at the same time setting a new milestone for former UCLA partner Matkowski. However the outcome of the finale, he's content to be prepared for the life after his tennis career:
"Your education is going to have to come into play and you're going to need it." (Jean-Julien Rojer)
The way Rojer and his standard partner Horia Tecau (ROU) won their semifinal was an absolute thriller. 4-6, 6-2, 6-3, 4-6, 13-11 against Bopanna (IND)/Mergea (ROU) and plenty of fine tennis. See some of the wonderful highlights, including Rojer converting the match point:
Raquel Kops-Jones/Abigail Spears
We would have loved to see #5 seeded Kops-Jones/Spears (USA) advance to the finals, but they lost in straight sets against #1 seeds Martina Hingis (SUI)/Sania Mirza (IND). We're hoping for them to make it to a Grand Slam final soon giving us a great reason to take a closer look at the Berkeley and UCLA alumni as well.
Make sure to watch some of the points tomorrow, Saturday July 11th live or stay at least up to date, who added the prestigious title to their record after all! Given Bernard Tomic's recent ban from the Davis Cup team, John Peers' first appearance on the team might have just gotten a little more realistic...
Follow us on Facebook or Twitter and stay informed on everything related to college tennis. Also, we'd love your feedback and comments on what you think of today's topic!