Effect on College Tennis Due to Increased Prize Money on the ITF Pro Circuit

---
The International Tennis Federation (ITF) announced a long awaited increase in prize money for the ITF Pro Circuit back in May this year. While this is certainly great news for the tennis sport in general, this decision also has two important implications for college tennis, which we'll have a look at today. But to be on the same page, we'll start out with some initial words on the ITF as a key organization in tennis:
International Tennis Federation
For starters the ITF administers, regulates, and organizes tennis on a professional level for men and women, including popular events such as the Davis Cup, the Olympic tennis tournament, as well as the Grand Slam events. On top of that, the ITF also stands for sanctioning the ITF Junior Circuit (Under 18), as well as the Men's Circuit and Women's Circuit, aka the lower levels of professional tennis. On the Junior's, Men's, and Women's Circuit players develop their game and try to move up the rankings, many of them pursuing their dream of making the ATP and WTA Tour. Tournaments are currently worth between $10,000 (men & women) and $100,000 (women).
It has long been criticized and discussed that the level at which you can make a living from tennis starts as "late" as players enter the Top 100. Everything outside really is a zero-sum game, but the worse the ranking the more likely you are to actually lose money as a pro. In its Pro Circuit Review, the ITF states that the ranking where costs equal prize money is 336 for men and 253 for women (Assuming players' expenses are the same, and excluding fees for support, such as coaches). In other words, you need to be at least #253 in the WTA ranking without paying for a coach, to be able to pay all of the expenses that you incur for a full year on the tour.
The departure point for raising prize money is often the fact that other global sports offer a greater number of "jobs" for its athletes. Take sports, such as basketball, cycling, or soccer: a rough calculation based on the players on a team, the number of professional teams per country, and finally the number of countries quickly equals a number far beyond 100; in other words, soccer enables far more than 100 athletes to make a proper living. Below findings show that the very large proportion of respondents agree that tennis needs to provide more than just the 100 best with a solid income:
"35% of female players believe you should be able to make a living once ranked in the Top 100."
"19% of male players believe you should be able to make a living once ranked in the Top 100."
(Source: ITF Player Survey Results)
The ITF started the process of assessing the Pro Circuit in 2013. The results of the analysis led to a decision by the Board of Directors to increase the price money starting in 2016: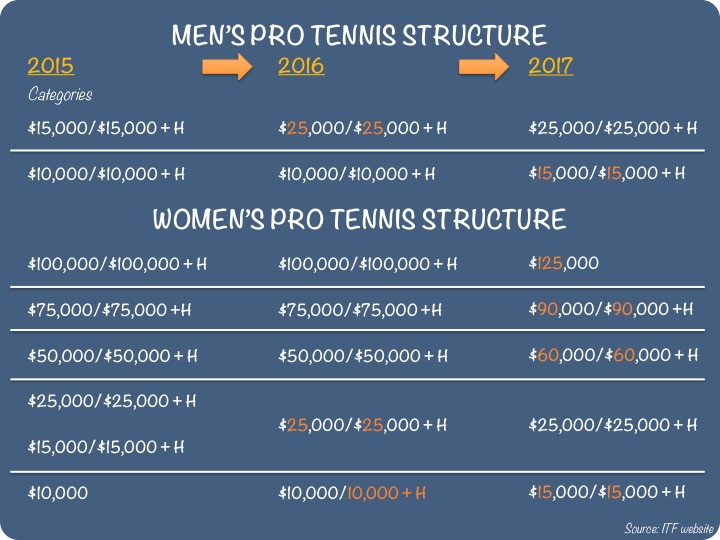 More money at the events has an important impact on two stakeholders:
College players
Prospective student-athletes
College players
The decision by the ITF changes the outlook for top-ranked current college players quite a bit. All of a sudden, they have the prospect of making a living at an earlier stage than Top 100. Let's be honest, entering the Top 100 is an incredibly hard thing to do and for most of the players it simply takes time to develop their game. It takes average 4.8 (men), respectively 4.1 (women) years from gaining the first ATP or WTA point to reaching the Top 100 (provided by the ITF). More prize money, essentially an increase in salary, at the same tournaments could be the trigger that enables players to hang in there a little longer and decide on them breaking through or not. Many players travel from event to event without a coach. Others cut costs by travelling cheaply (car); often at the expense of recovering before the next first-round match. Even if the players don't break through the magic Top 100 wall, they are financially rewarded for their work, just like any other person who has a job.
Will this change players' perspective on giving it a go on the tennis circuit? When we talked to senior Sebastian Stiefelmeyer, #1 in college in 2014-15, some months ago, he did confirm that the financial insecurity is a key question every potential professional needs to answer for him/herself. Interestingly, he also compared the best-ranked players' level of play to that of the ATP #300-#500 (see article here).
With above changes, the tour should slowly develop in a direction which also enables the players in these ranking spheres to be better off financially. And the best college players should feel that pro tennis is within reach.
Prospective student-athletes
The changes by the ITF also have implications for incoming freshmen. All players seeking to play in NCAA D-I (or NCAA D-II) need to be cleared by the NCAA Eligibility Center. One element of the process is that athletes are considered amateurs by the NCAA. While the organization does so by asking several questions related to the players' tennis careers, one question aims at finding out about the athletes' prize money collection in particular. This is regulated by the following section in the NCAA D-I manual:
12.1.2.4.2 Exception for Prize Money - Tennis
...an individual may accept up to $10,000 per calendar year in prize money...Once the individual has accepted $10,000 in prize money in a particular year, he or she may receive additional price money on a per-event basis, provided such prize money does not exceed the individual's actual and necessary expenses for participation in the event. ...shall not include the expenses or fees of anyone other than the individual (e.g. coach's fees or expenses, parents' expenses).
More prize money at ITF tournaments translates to more prize money for successful juniors. And that in turn is certainly a red flag to be careful. While the increase in money is more than positive, you do not want to risk your eligibility at a young age, in case players have yet to decide whether college is an option or not.
Do you currently play on the ITF Junior's Circuit, and do you consider playing college tennis? Sign up with your free recruiting profile on Smarthlete - the tennis recruiting platform - and connect with college coaches right away!
Our next blog fits in nicely with today's topic. We will cover the success of college players during their time off from studying. Many of them compete on the IT Pro Circuit these days, before they are all set for the upcoming season with their fellow teammates. So don't forget to check back on our social media accounts to stay up to date: Facebook, Instagram, or Twitter.