The US Open - A Home Game for College Players

---
Flushing Meadows: What's just the last major of the year for many is much more than that for others: a home game for former and current college players, regardless of nationality. Some of the players gave it a go in the qualifiers, whereas others are still in the preparation phase for their first round matches (doubles) or their upcoming second round matches (singles).
College tennis has been represented by the following crowd of players in singles:
13 men in the singles qualifying
9 men in the singles main draw
5 women in the singles qualifying
3 women in the singles main draw
In our article, covering
Wimbledon
, we highlighted Aleksandr Nedovyesov's and J.P. Smith's success, qualifying for the main draw of the third Grand Slam tournament. And it is Smith again, who managed to win all three matches and make his second consecutive appearance in the main draw of a Grand Slam.
Owed to the fact that it's the US Open, we will do things slightly differently this time: We will briefly touch upon the qualifying events, and instead focus more extensively on the main draws, providing information about the players' age, ranking at the time of writing, as well as their college team and the respective conference.
Men's Qualifying
Just like in Wimbledon, 13 college players made the cut-off to start in the qualifying event. Here's the list of participants and how they differ from London: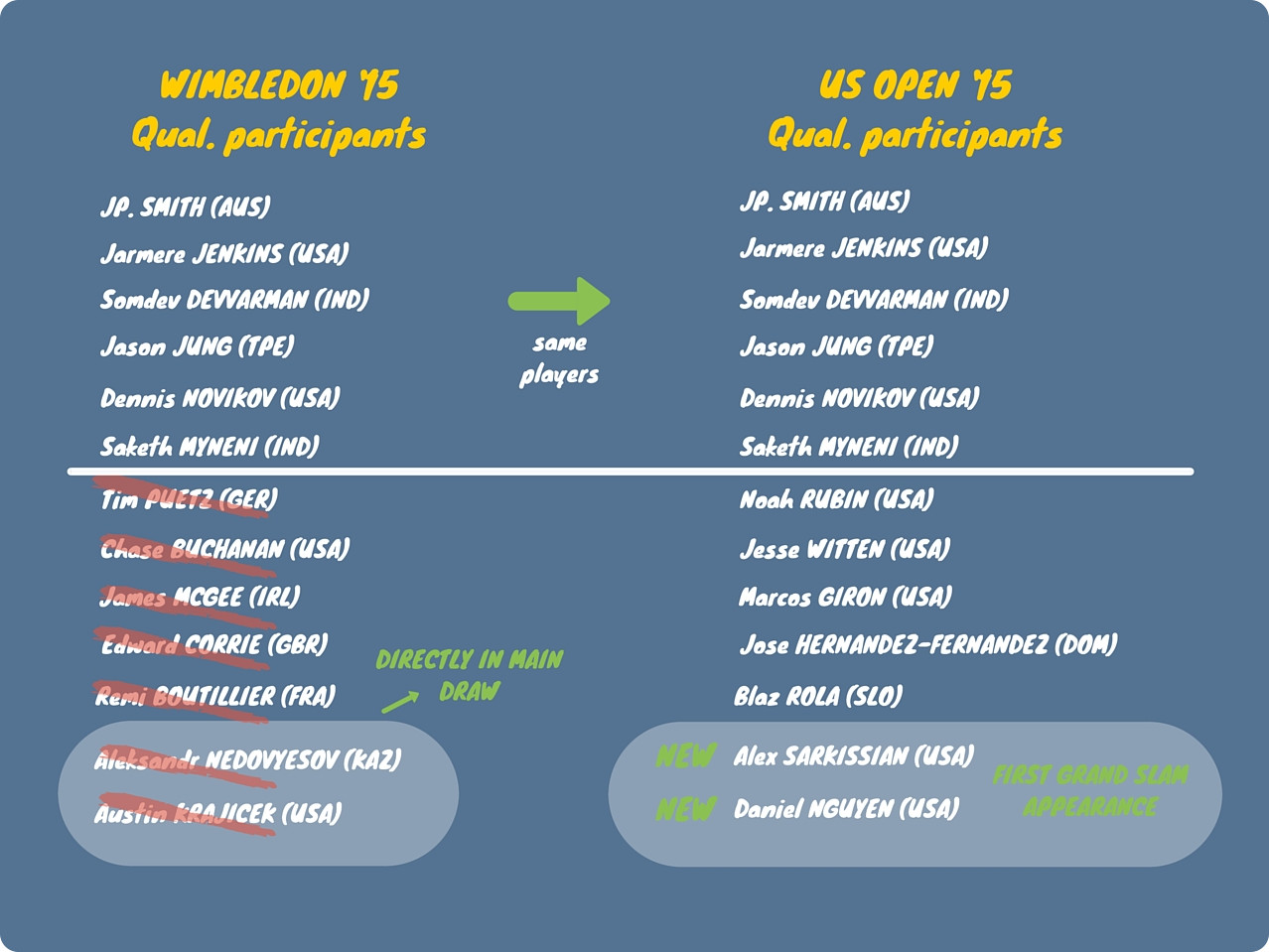 Again, John-Patrick Smith was able to qualify for the main draw. Not overly surprising, given he had two really successful weeks following Wimbledon and leading up to New York: 1 Semi-Final (lost to Rajeev Ram) & 1 Final (lost to Dudi Sela).
Besides Smith, four other players won their first round matches. Especially Dennis Novikov and Noah Rubin did a bold job, losing against higher ranked Pella (#94) and Ebden (#131), who both qualified for the main draw. Former 2014 Wimbledon Junior Champion Rubin played one season of collegiate tennis for Wake Forest University before deciding to turn pro this summer. (Click here for a great article on Noah!)
Let's look at the results of the other college players:
1st round
#631 Noah Rubin (Wake Forest) vs. #257 Liang-Chi Huang 6-2, 7-5
#122 Norbert Gombos vs. #148 Somdev Devvarman (Virginia) 5-7, 7-5, 6-1
#205 Jan Mertl vs. #207 Alex Sarkissian (Pepperdine) 4-6, 6-4, 6-3
#232 Daniel Nguyen (USC) vs. #230 Philip Bester 7-6(7), 2-6, 6-4
#204 Dennis Novikov (UCLA) vs. #184 Gastao Elias 6-7(3), 6-3, 6-4
#200 Uladzimir Ignatik vs. #222 Jason Jung (Michigan) 6-1, 7-5
#183 Jose Hernandez-Fernandez (UNC) vs. #224 Jonathan Eysseric 7-6(4), 6-1
#430 Tommy Paul vs. #125 Blaz Rola (Ohio State) 6-3, 4-6, 6-4
#121 JP Smith (Tennessee) vs. #868 Jesse Witten (Kentucky) 7-6(5), 6-1
#111 Jan-Lennard Struff vs. #194 Saketh Myneni (Alabama) 4-6, 6-4, 6-1
#162 Maximo Gonzalez vs. #221 Jarmere Jenkins (Virginia) 6-2, 6-4
#117 Alejandro Gonzalez vs. #395 Marcos Giron (UCLA) 7-6, 6-2
2nd round
Guido Pella vs. #631 Noah Rubin (Wake Forest) 6-4, 7-6(6)
Yoshihito Nishioka vs. #232 Daniel Nguyen (USC) 6-2, 2-6, 6-2
Matthew Ebden vs. #204 Dennis Novikov (UCLA) 6-3, 6-7(3), 6-2
#121 J.P. Smith (Tennessee) vs. Vincent Millot 7-5, 6-2
Tommy Paul vs. #183 Jose Hernandez-Fernandez (UNC) 6-3, 7-5
3rd & final round
#121 J.P. Smith (Tennessee) vs. Guilherme Clezar 6-3, 6-2
Women's Qualifying
The fact that the tournament is played in the US has a positive effect on the number of former college players in the qualifying. While it's been the lone fighters Julie Coin and Maria Sanchez throughout the year, three additional players appeared in the roster:
1st round
#179 Julie Coin (Clemson) vs. Misa Eguchi 2-6, 4-6
#172 Maria Sanchez (USC) vs. Ipek Soylu 7-5, 5-7, 1-6
#228 Katerina Vankova (Southern Methodist University) vs. Nigina Abduraimova 6-7, 4-6
#194 Jennifer Brady (UCLA) vs. Elizaveta Kulichkova 2-6, 4-6
#419 Robin Anderson (UCLA) vs. Kiki Bertens 2-6, 4-6
Robin Anderson is the only one of the 5 players, who received a Wild Card. Fresh out of college, she finished her senior year with an impressive 19-2 record and the #1 rank in the nation; we are certainly looking forward to see much more of her in the months and years to come...
Men's Singles
The men's singles main draw saw 9 college players, of which 1 qualified and 2 received a Wild Card: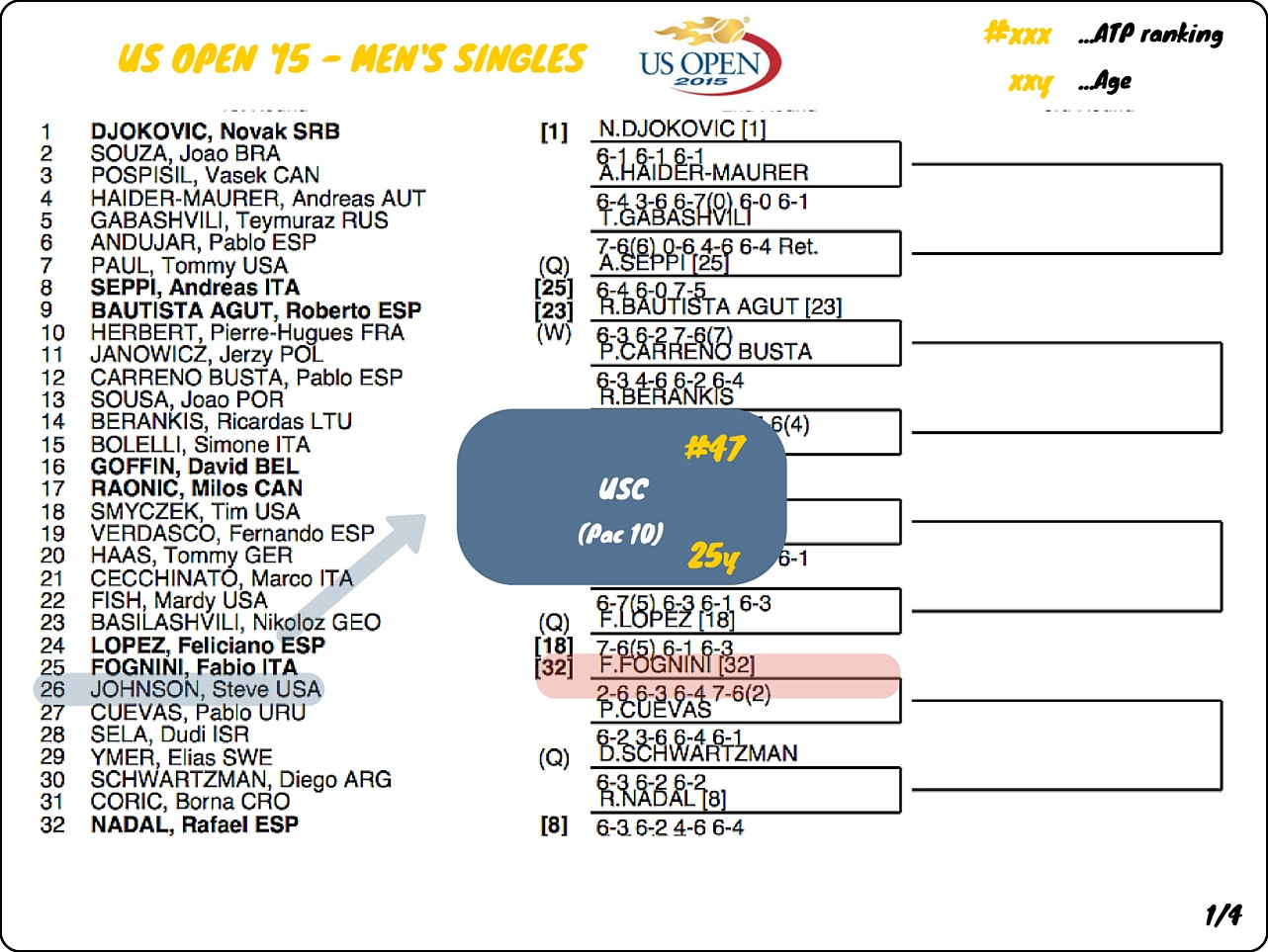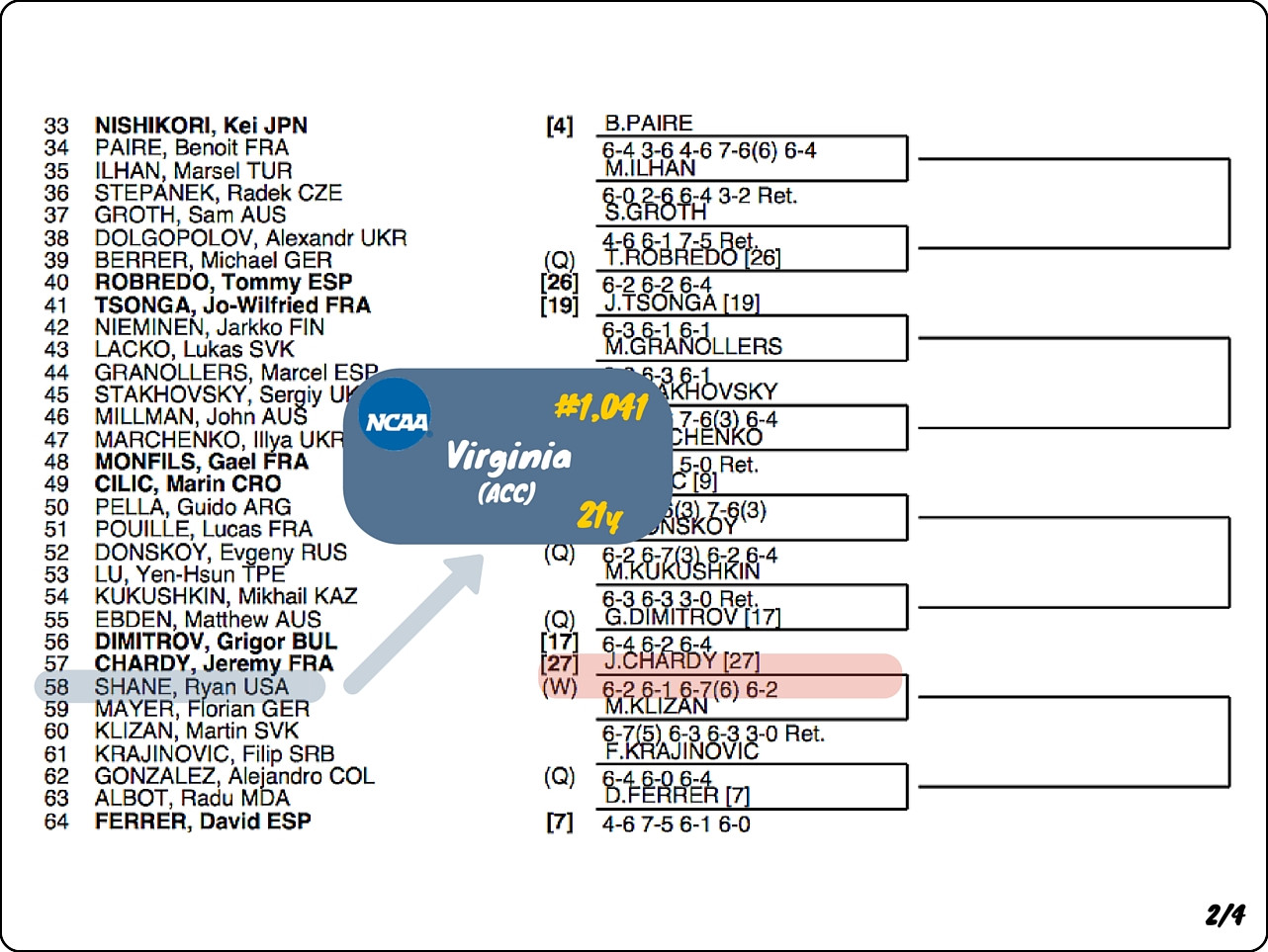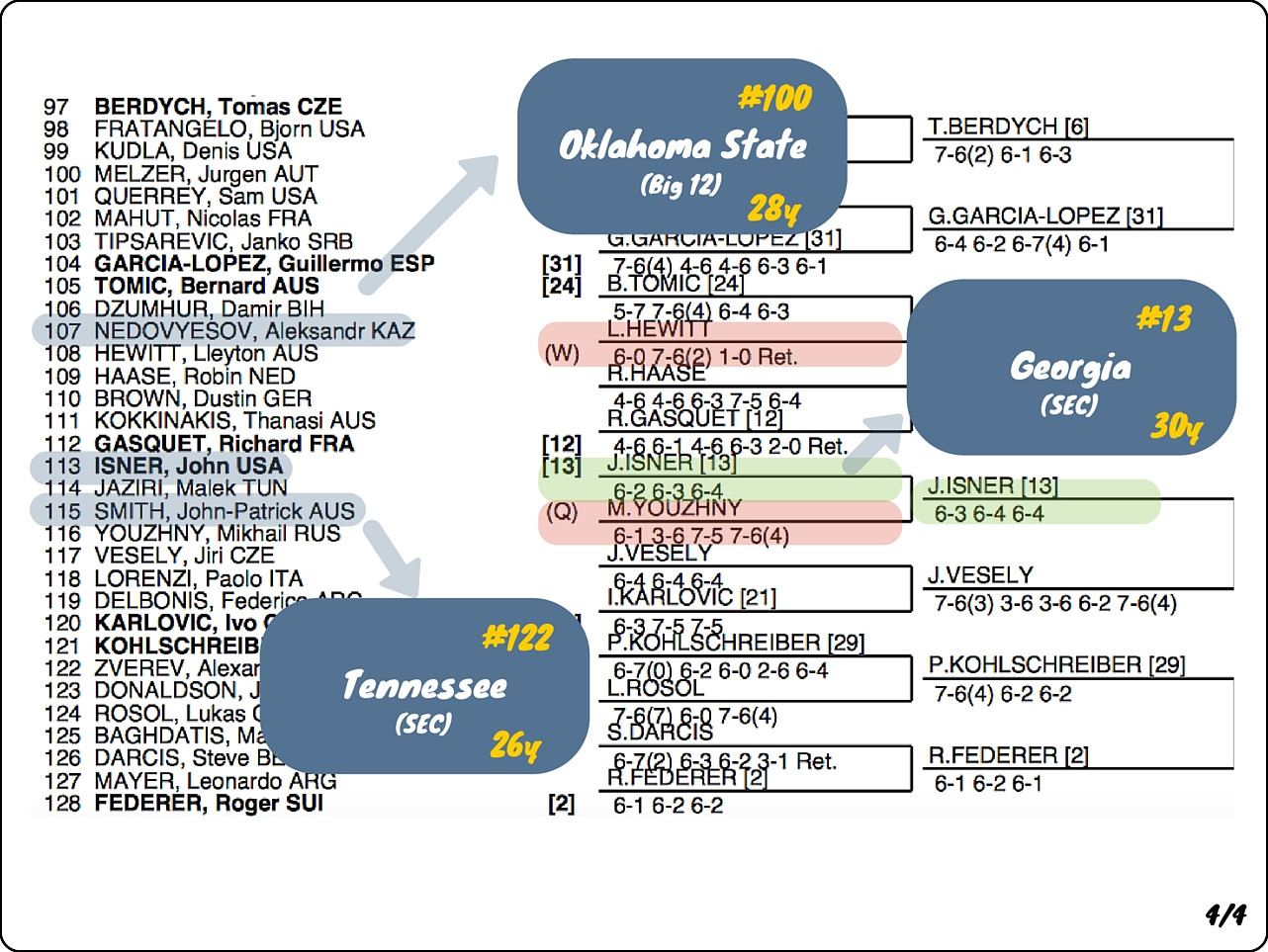 A new name appeared on the draw: Ryan Shane. It is a tradition that the winner of the NCAA Singles Championships receives a Wild Card for the Main Draw in the US Open, provided the winner is an American citizen. Shane won the final of this year's event 3-6, 7-6, 6-1 against Noah Rubin, who has turned pro since then and tried his best in the qualifier instead (see above). Shane lost in four sets against Frenchman Jeremy Chardy, and the "Cavalier" will return to collegiate tennis action for his senior year at the University of Virginia. Whether he is ready to go pro after graduating is yet to be determined, but he seems clear on the plan:

(Source: The Washington Post)
In contrast to Shane, 25-year old Austin Krajicek won his first match in a Grand Slam singles main draw ever against Santiago Giraldo from Columbia. While Krajicek is ranked just outside the Top 100 in Singles, his Doubles career high sits at #61; not at all surprising, having proven that he's got what it takes during his time at Texas A&M, winning the NCAA Doubles Championships in 2011. (Interesting side note: The Singles Champion in the same year was Steve Johnson!) The second round was an interesting face-off between Krajicek and another college player: Kevin Anderson, who won his first match in four close sets. Both have arrived in New York with a solid portion of self confidence. While Krajicek was the runner-up in the Comerica Bank Challenger, Anderson took home the title of the ATP 250 event in Winston-Salem! Anderson advanced to the next round with a clear victory.
Besides the two, Rajeev Ram lost against Troicki, whereas John Isner had a good day in the office beating Youzhny and will face Vesely in the third round.
No. 13 seeded Isner and no. 15 seeded Anderson are the last remaining male college players in the competition.
Women's Singles
The women's singles main draw includes 3 college players, of which 2 received a Wild Card: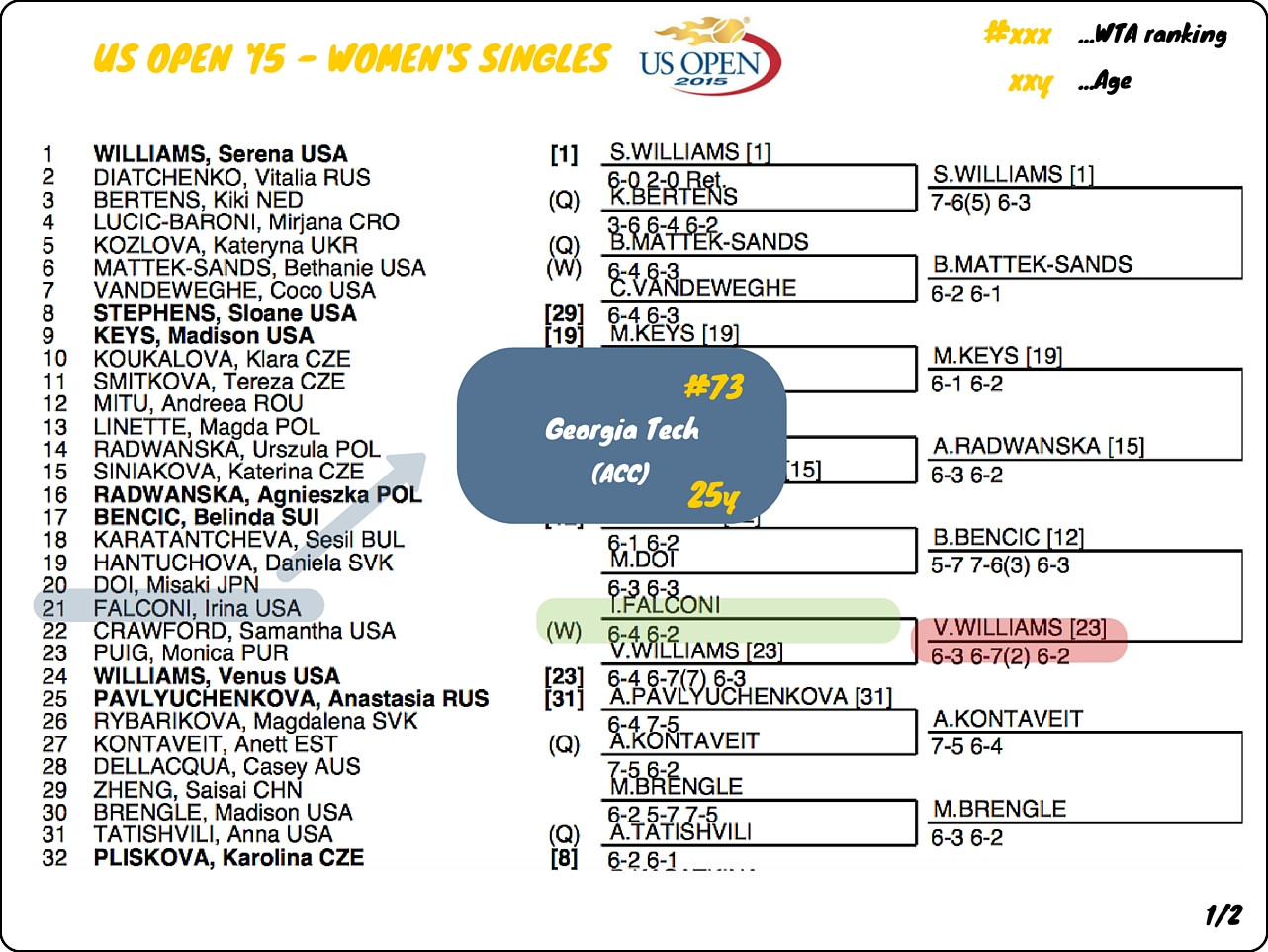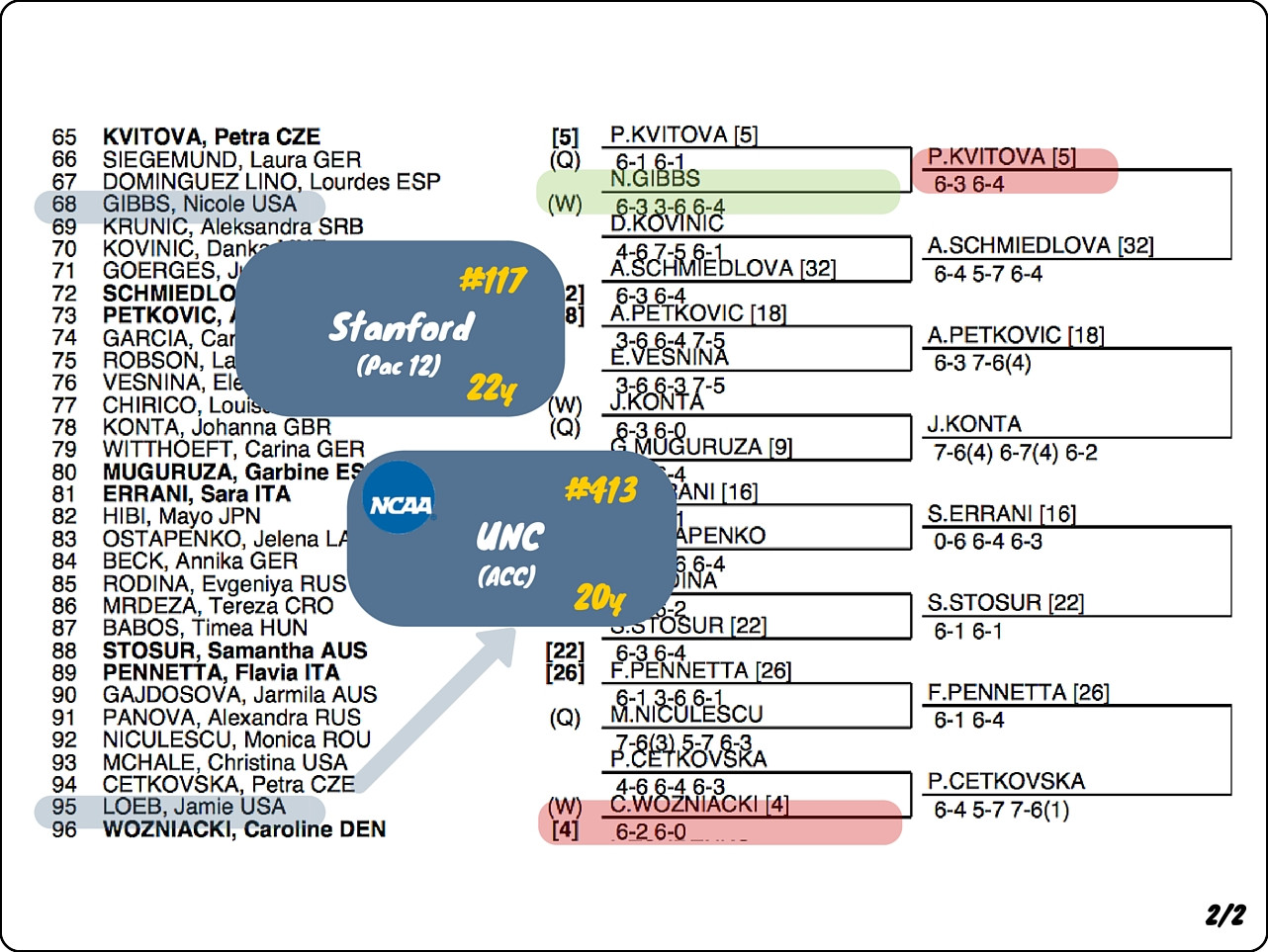 Just like Ryan Shane, 20-year old Jamie Loeb received the Wild Card as a reward for winning the title at the NCAA Championships. Loeb lost in straight sets against No. 4 seeded Wozniacki in her first match as a professional tennis player; she has decided not to return to college for her junior and senior year:

(Source: ITA)
The other two contestants, Falconi and Gibbs have both recorded solid first-round wins. Both of them then fell short in extremely interesting pairings: Falconi lost against Venus Williams in a truly great manner, stealing the second set, while Gibbs lost against Petra Kvitova 3-6, 4-6.
For a complete coverage of the main draws, including the highlighted players here, check out Tennis Note #20 in The Tennis Notebook! As always, a lovely piece on all you need to know about the event and the draws.
How do you think the crowd of players will do over the next days? Let us know what you think on Facebook or Twitter. And don't forget that the new college season has just started! A new exciting year of tennis is lying ahead of us. Check back with us here at Smarthlete to stay up-to-date!