Pros with College Background at Australian Open 2016

---
January. Summer in Australia. Temperatures beyond 90 Fahrenheit/30 degrees Celsius. Melbourne is the center of the tennis world for 14 days. The first Grand Slam tournament of the year opens the 2016 season on the ATP and WTA tour. And it does so traditionally with a number of former college tennis players who have successfully transformed from college players to Professionals. Some more successfully than others, but the AO '16 sees more than 35 Individuals with college background who are set to compete in the qualifying events and main draws.
Men's & Women's Singles
At the time of writing, the second round (R64) in men's and women's singles has just been completed. 6 former male and 1 former female college player were qualified for the main draw. In addition to the 7 individuals, young American Noah Rubin received a Wildcard for the main draw and Nicole Gibbs (USA) managed to battle her way through the qualification with 3 straight 2-set wins against lower-ranked opponents. As a result, a total of 9 athletes with a past at college played their first (and second) round matches up to now. Let's see how they've been doing so far: (The blue info box provides the last college the player has played for, the age, and the best result at the Australian Open)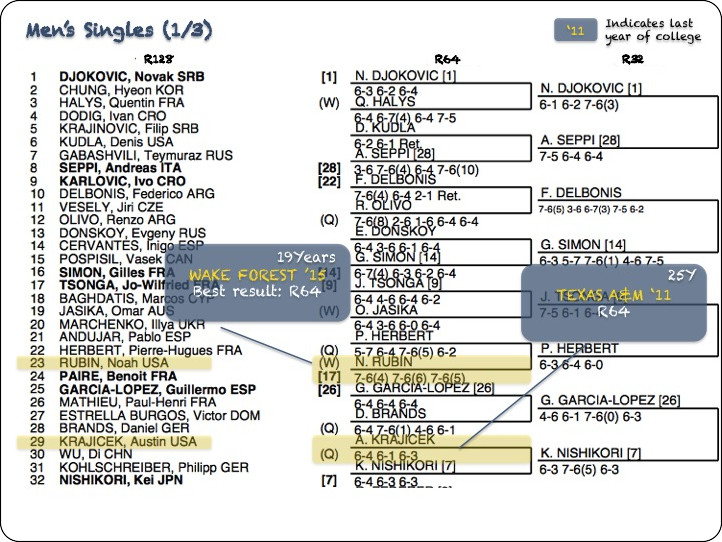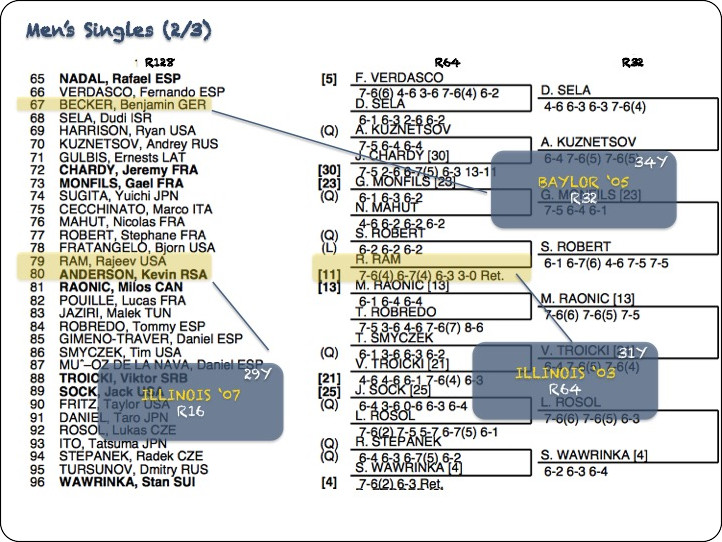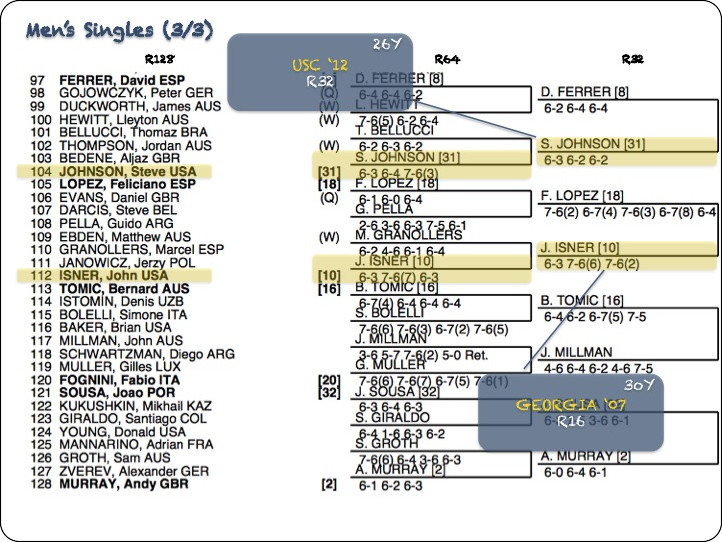 Steve Johnson and John Isner delivered as was expected with straight wins. With the prospect of facing each other in a potential round of 16 (and thus a direct battle between the two remaining American), chances are they feel an extra portion of excitement before heading into their tough 3rd-round matches: David Ferrer vs. Johnson and Feliciano Lopez vs. Isner.
#11-seeded Kevin Anderson was forced to retire, but his opponent, former college player Rajeev Ram, was the lucky guy to advance to the next round. He was not able to take another win against Stephane Robert (FRA). While Benjamin Becker (GER) lost, Austin Krajicek - last alternate player in the entry list - recorded his first-ever Grand Slam win in a singles main draw! Besides the usual standout players, the victory of one man in particular has made headlines: Noah Rubin. 7/6 7/6 7/6 over seeded Benoit Paire from France was not necessarily a result to expect. But what a performance by the former junior Wimbledon champion, who decided to go the college route, though it turned out to be one season only, because:
..."I got to the finals at NCAAs, I thought I was playing well, I had a couple of good wins throughout the season, and I felt ready to compete on the pro tour, and I think it showed today...."
He was unfortunately not able to add another load of valuable ATP points to his basket, losing against qualifier Herbert (FRA).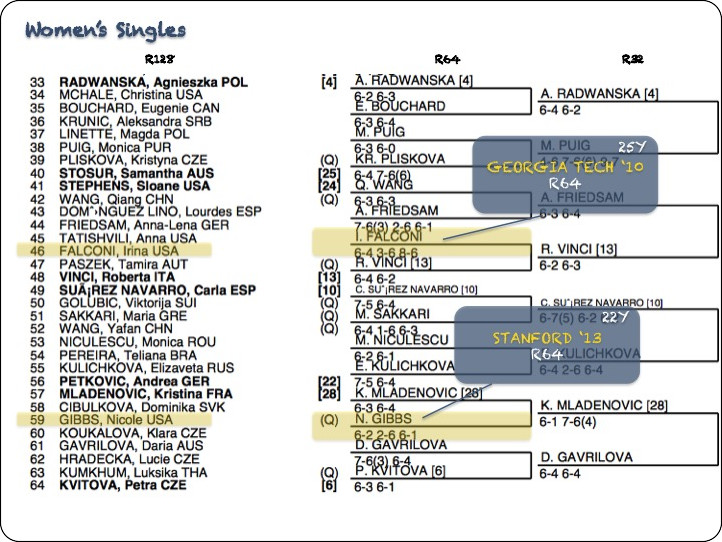 With qualifier Nicole Gibbs' first round win and Irina Falconi's 8/6 nail biter in the final set, both players were still in the race to record their best Australian Open result ever: mission to reach the round of 32. None of them succeeded though, with Falconi up against US Open '15 runner-up Vinci (ITA). The Intercollegiate Tennis Association (ITA) just published a fine interview with Falconi shortly before she had left for Australia.
Men's & Women's Doubles
In men's doubles all pairings have completed their first-round matches; and the crowd of former college students is remarkable: 18 out of 128 have played college tennis. But even more so, they are among the players who have a realistic shot at capturing the title. Besides the legendary Bryan Brothers (USA-Stanford) (seeded #3), #1-seeded Rojer (NED-UCLA) and his partner Tecau (ROM), #8-seeded Peers (AUS-Baylor) with Kontinen (FIN) or #11-seeded Inglot (GBR-Virginia)/Lindstedt (SWE-Pepperdine) are hot favorites and quite important - they have mastered their first-round opponents.
In 2015, Rojer was the only one of them to win a Grand Slam doubles title (Wimbledon). While the Bryans lost in the final in Paris, John Peers lost alongside Jamie Murray in both the Wimbledon final and in the US Open final! Is Peers ready for his first title in 2016 - with a new partner on his side - and can the crowd on home turf make the difference...?
The other players in the main draw are Becker (Baylor), Farah (USC), Johnson (USC), Ram (Illinois), Butorac (Gustavus Adolphus), Lipsky (Stanford), Monroe (UNC), Matkowski (UCLA), Huey (Virginia), Smith (Tennessee), Venus (LSU), and Krajicek (Texas A&M). Find the full draw here.
The women's doubles draw includes 5 players from college. Two local players, current student-athletes Ellen Perez (Georgia) & Belinda Woolcock (Florida), received a Wild Card for the main draw before heading back to the US for the 2016 college season. Abigail Spears (UCLA) and Raquel Atawo (Cal) should be the players with the greatest chances to advance far in the tournament. They made semi-finals in '14 and quarterfinals in '15 in Melbourne and who knows, maybe the coming ten days could be their time of the year...
Men's & Women's Qualifying
Maybe most interesting for us at Smarthlete are the qualifying events the week before the real party starts. Players ranked between (roughly) #100 and #250 gather to win three rounds and join the big business. Here you find plenty of additional players who have gained experience on the US college tour; some of them on their way upward, some downward, and others maintaining their level. Unfortunately, apart from Gibbs as mentioned above, none was able to come through the pre-event.
The guys closest to succeeding were Saketh Myneni (IND-Alabama), Aleksandr Nedovyesov (KAZ-Oklahoma State), James McGee (IRL-North Carolina State), and Dennis Novikov (USA-UCLA), who all lost in very close 3rd-round matches against better-ranked players. Bad luck this time, but all of them could have easily advanced and joined the other 9 former college players in the main draws. Let's hope for some "college-qualifiers" come clay season and Paris!
Best College Tennis Programs
Which college tennis program is the best one? In other words, which program managed to "prepare their players" the best way for life on the pro tour? And how are these programs doing right now, hence 2015/2016? Always a fun exercise to do and let's take a look this time again. Below graphic shows the alma mater of all college players in men's and women's singles and doubles: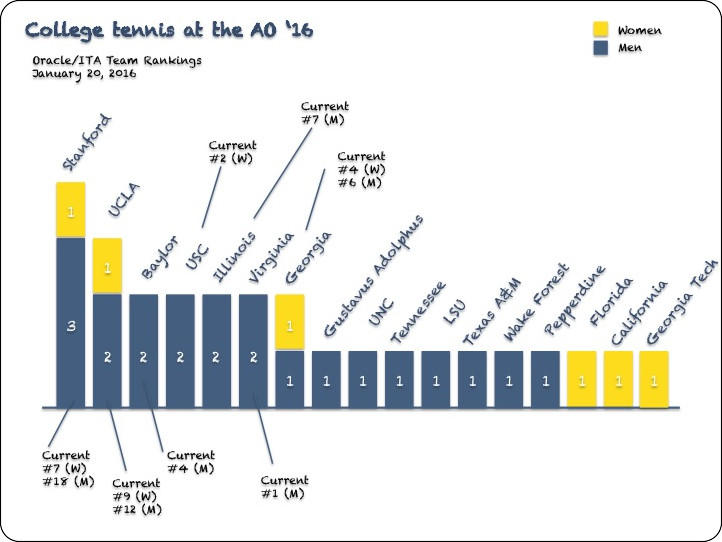 First off, all tennis programs above are still among the very fine programs in the country. Stanford and UCLA are not top 10 on the men's side, but have their women's programs ranked within top 10. The programs, which have 2 players in the Australian Open main draws, are among the teams, which really have a strong impact on college tennis right now: Baylor, USC, Illinois, Virginia, and Georgia have not only shaped last season, but are expected to do so this year as well. Two current strong teams are missing here: Oklahoma (#2) on the men's and Vanderbilt (#1) on the ladies' side. Let's see whether any of their current top players show ambition and talent to follow suit in some years ...
Did you get curious what college tennis is all about? Browse through some of our other blog articles or take a look at our recruiting platform, Smarthlete, which connects college coaches and tennis players, who aspire to find a scholarship.
Follow us on our social media accounts, Facebook and Twitter, and stay tuned for our next edition of the Friday Scholarship Guide!