College Tennis Players at French Open 2016

---
First off, the tournament is held over a 2.5 week period, due to the qualifying singles events, which always take place the week before the main draws officially kick off. At present, the 28 qualifiers (16 men & 12 women) have been determined and main draw singles play has just started today. As we usually do with all the other Grand Slams in Melbourne, Wimbledon, and New York, we first take a look at the former college players in the qualifying draws, which naturally sees a great selection of players trying to climb up the rankings and join the big show. We will also provide a brief outlook on the singles main draw from the perspective of college tennis and highlight which college tennis programs are represented by the various players and which conferences these programs compete in.
Men's/Women's Singles Qualifying - French Open
7 male players in the Qualifying Draw, who have played at least one season at college. That's 4 players short from last year's French Open Qualifying event, which saw a total of 11 former college players. The 7 guys who were set to compete are:
Noah Rubin - Wake Forest University
Dennis Novikov - UCLA
Blaz Rola - Ohio State University
Marcelo Arevalo - University of Tulsa
Aleksandr Nedovyesov - Oklahoma State University
Saketh Myneni - University of Alabama
Daniel Nguyen - USC
Of the 7 players, only Nedovyesov came through to the final round, but the former ATP #72 fell short against Cerlos Berlocq from Argentina, who has been ranked as high as ATP #37 himself. Nguyen (former team mate of Steve Johnson and doubles specialist Robert Farah COL fell short in a close match against Spaniard Carballes Baena, who went on to qualify for the main draw. Take a look at our infographics below, which shows the players' development in the ATP rankings since the French Open last year. Highlighted rankings are the ones used to determine entry into the French Open (April 2015/2016).
The biggest improvement came from Noah Rubin, who has moved from #814 to #190. Exactly a year ago, Rubin was still leaving it all out on the court for his tennis program at the NCAA Championships at Baylor University in Waco, Texas. At his first French Open on the men's level, he lost the college duel against Novikov in straight sets 3-6 4-6.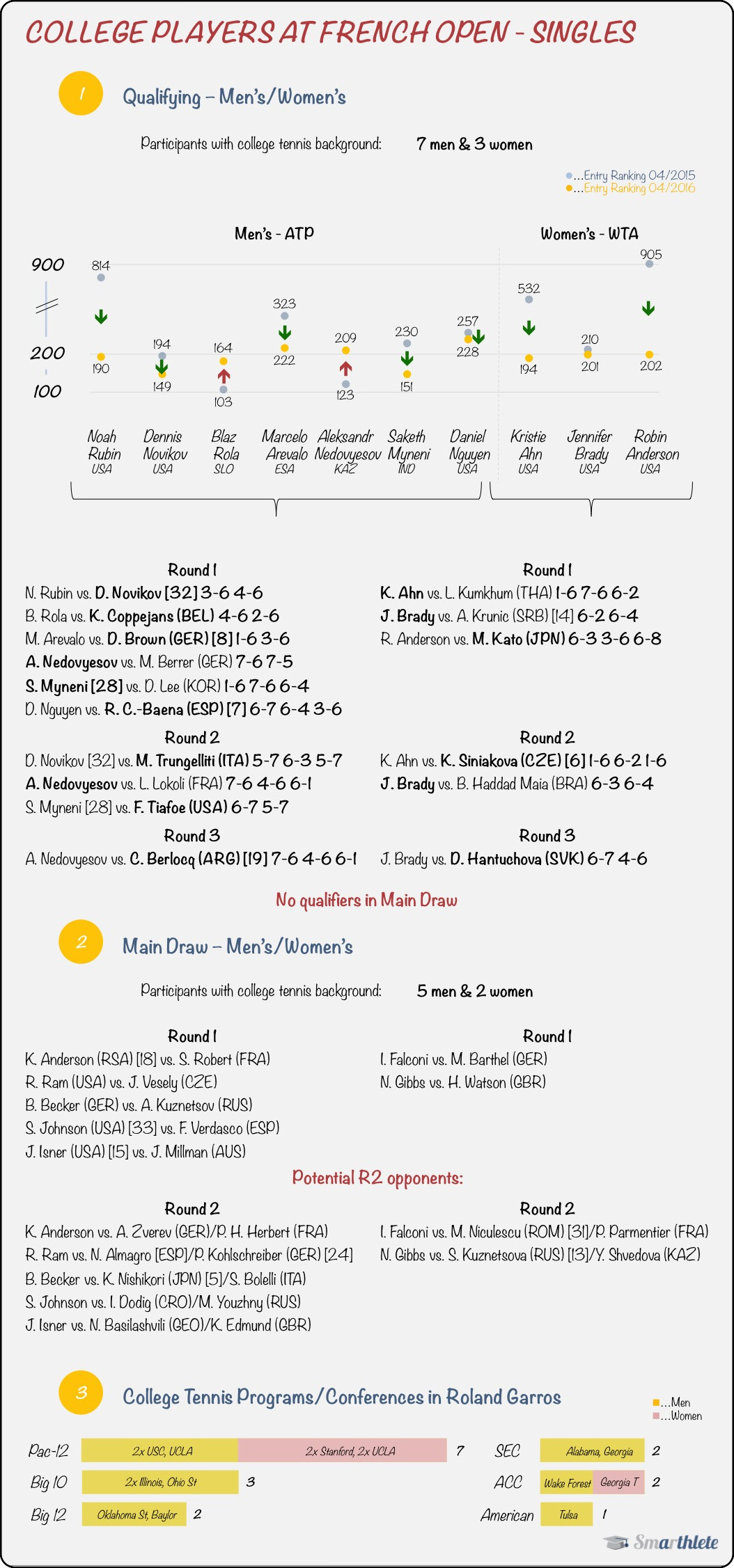 On the women's side, 3 former collegiate athletes were set to compete:
Kristie Ahn - Stanford University
Jennifer Brady - UCLA
Robin Anderson - UCLA
Jennifer Brady was the most successful of the trio, but she missed the qualification by an inch, losing 6-7 4-6 against former WTA #5 Daniela Hantuchova (SVK).
Comparable to Rubin's fast development on the pro tour, former UCLA player Anderson has moved from #905 to #202 within a year. Here's a well-written story on Anderson from last fall: Click here. Given her impressive college career and fast moving-up the ranking ladder, it will be fun to see where she finds herself in a couple of months from now.
So what happened to all the other players who tried their luck last year? The likes of JP Smith, James McGee, Chase Buchanan, Jarmere Jenkins, Maria Sanchez or Julie Coin? For one part, some of the players are not ranked as high as they'd have to in order to be granted entry into the event. But for the other part, with the French Open offering the slowest conditions of all Grand Slams, this is naturally not the tournament that sees the biggest enthusiasm among the "fast-surface" players from college. Check out our article from the French Open '15 for a complete graphic on the participants here. Let's hope for some more players in London some weeks from now.
With no man or woman coming through with 3 wins, the main draws have started with the already-qualified former student-athletes:
Men's/Women's Main Draw - French Open
Kevin Anderson & Rajeev Ram (both Illinois), Benjamin Becker (Baylor), Steve Johnson (USC), and John Isner (Georgia) on the men's side, and Nicole Gibbs (Stanford) and Irina Falconi (Georgia Tech) on the women's side are the college representatives. None of the male players made it to the fourth round last year, with Anderson, Becker, and Johnson falling short in Round 3; the latter against the 2015 Champion Stanislas Wawrinka (SUI). Falconi also recorded 2 victories and advanced to the third round in 2015.
Let's see if any of them can take college tennis (in singles) into the second week of Roland Garros...
Update: May 28, 2016: Becker lost his first round match in straight sets: 2-6 2-6 4-6, Anderson lost 4-6 2-6 7-5 1-6, Ram lost 4-6 4-6 7-6 0-6, Johnson lost 4-6 5-7 4-6, Isner with 3 wins and to face #2-seed Andy Murray in R4. Falconi won her first round match: 6-2 0-6 6-2, Gibbs lost 7-5 2-6 2-6. Find full draws here
College Tennis Programs/Conferences in Roland Garros
If we take a look at the college tennis conferences in which teams compete against each other, we see that the Pac-12 conference is clearly the "most successful" at the moment. 3 men and 4 women have gained experience in this conference in the Western part of the US: Dennis Novikov (UCLA), Steve Johnson (USC), Daniel Nguyen (USC), Kristie Ahn (Stanford), Jennifer Brady (UCLA), Robin Anderson (UCLA), and Nicole Gibbs (Stanford). Interestingly, the newcomers Ahn, Brady, and Anderson have all competed for Pac-12 teams. A conference which seems to provide excellent conditions for young players to develop...
The NCAA Championships 2016 are underway right now and the Pac-12 is also among the top conferences with teams seeded #1 California, #15 Stanford (women) and #3 UCLA, #13 California (men) still in the race for the national title.
2 weeks of clay court marathons ahead of us and 7 former student-athletes ready to perform better than last year. Not to forget many many excellent doubles players who are are always among the favorites to win a Grand Slam title. See our article covering the doubles events here.
Make sure to check back next week for our piece on the Doubles events on the red clay of the French Open! Sign up to our blog newsletter to the right or give us a follow on Twitter and Facebook to stay up to date with our articles in the Friday Scholarship Guide!
Are you a junior player, considering to become a college tennis player in the near future? Find out what Smarthlete can do for you with a free recruiting profile and get started right away!