College Tennis Players in French Open Doubles 2016

---
Day 8 of the French Open 2016 is over and the number of remaining participants is getting smaller and smaller. Last week we shed some light on the former college players, who were set to compete in the singles qualifying draws as well as main draws. Unfortunately, the number of college-experienced players has also gotten smaller and smaller and we were left with John Isner only in the men's singles event. Until today, finally leaving the court defeated by Andy Murray.
The doubles event has also reached the second week of the competition and some college players are still within reach of getting a hold of that Roland Garros title...
Men's Doubles
A total of 13 men (11 doubles teams) with a past on the college tour were qualified for the main draw:
Jean-Julien Rojer - UCLA
Bob & Mike Bryan - Stanford
Robert Farah - USC
Rajeev Ram - Illinois
John Peers - Middle Tennessee State/Baylor
Treat Huey - Virginia
Marcin Matkowski - UCLA
Michael Venus - Texas/Louisiana State University (LSU)
Eric Butorac - Ball State University (NCAA D-I)/Gustavus Adolphus (D-III) & Scott Lipsky - Stanford
Nicholas Monroe - North Carolina
Purav Raja - Loyola Marymount (LMU)
The doubles tournament is a 64-team draw with the 16 top teams seeded. 7 of the 16 seeded teams had at least one player with a past at college. Find the team's combined doubles rankings in the graphic below, which were used to determine entry into the draw.
In addition, we highlight the best doubles results of the players at the French Open so far. The only guys having won the French Open before are the Bryan Brothers - they did so twice, although with quite some time in between: 2003 and 2013.
#RG16 The Bryans during their first round win at #RolandGarros today. (Getty) pic.twitter.com/aS92MGsa7O

? ATP Doubles Vision (@ATPDoublesRace) May 26, 2016
With Day 8 completed, college tennis still has 3 players in contention for the French Open title. It's the Bryan Brothers and Marcin Matkowski with partner Leander Paes. Treat Huey with his partner Max Mirnyi and finally another college pairing - Eric Butorac alongside Scott Lipsky - fell short this weekend. Butorac and Lipsky had seemingly found a success formula against fellow former student athletes, having taken down Michael Venus in the first round and #8-seeded Rajeev Ram, but lost a tight battle against #9-seeds Kubot/Peya. For brilliant insights into the universe of the ATP tour, check out Butorac's articles on Universal Tennis Rating, such as "The World's Best Doubles Player".
With Matkowski's third round win - advancing to the quarterfinals - he topped his best French Open result. For Butorac and Huey a win in Round 3 would have been their best result in Roland Garros, but they will have to come back for another attempt in 2017!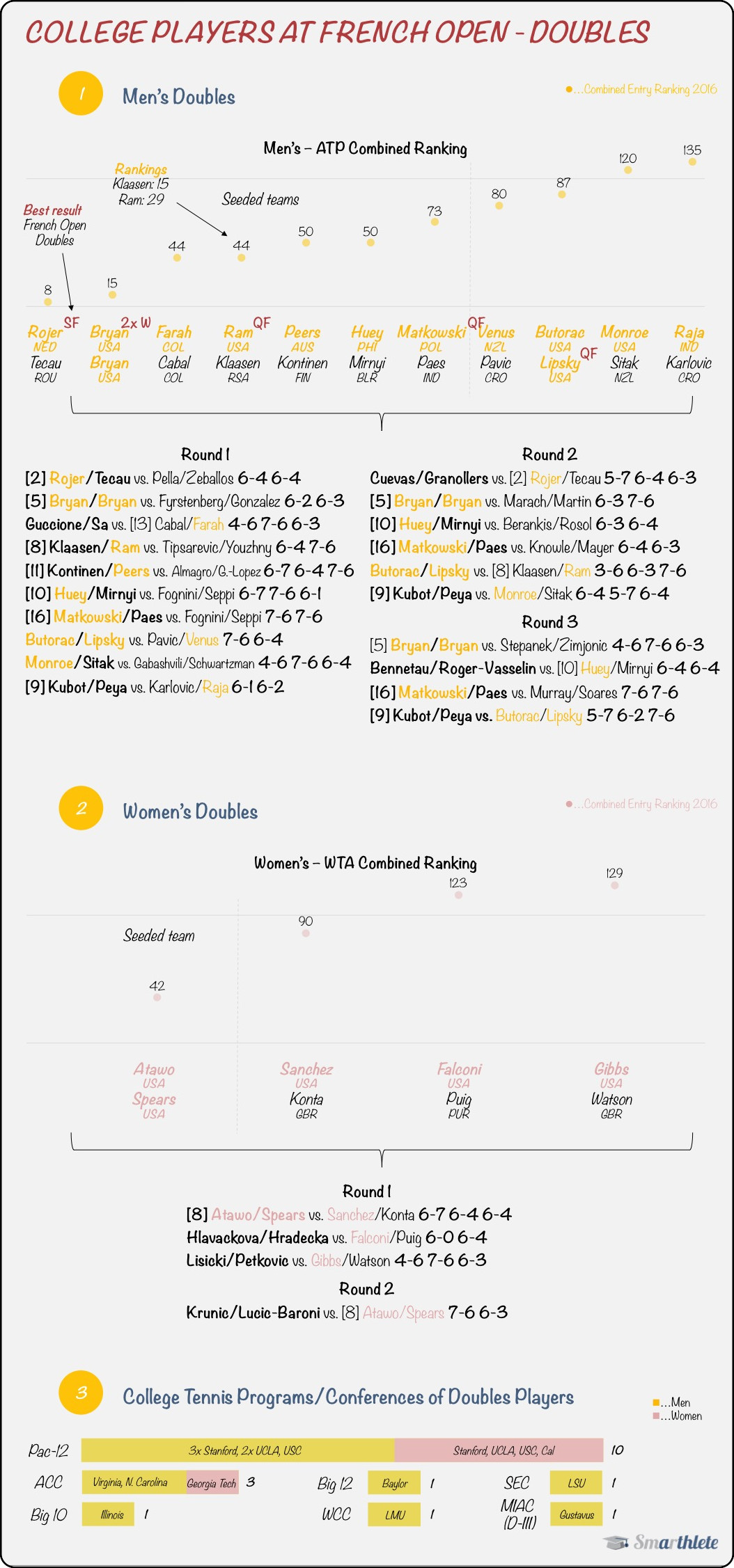 Women's Doubles
On the women's side, 5 former collegiate athletes were set to compete:
Raquel Atawo (former Kops-Jones) - Stanford & Abigail Spears - UCLA
Maria Sanchez - USC
Irina Falconi - Georgia Tech
Nicole Gibbs - Stanford
Falconi and Gibbs were the only ones to compete in the singles main draw, both falling short in Round 1. Ironically, Gibbs fell short against her doubles partner Heather Watson 7-5 2-6 2-6. None of the five players has ever seen the doubles quarterfinals in Paris. And 2016 will not be the year when the five players will make it either - Sanchez, Gibbs, and Falconi left the court defeated with only #8-seeded Atawo/Spears reaching Round 2, where they finally also fell short.
College Tennis Programs/Conferences of Doubles Players
With so many former collegiate players in the main draws, a really interesting question is: Where and in which college tennis conference have they developed their game and set the foundation for successful doubles careers after their junior years? We did the same analysis with the singles players last week, but the result is even more impressive in doubles:

It's the Pac-12 conference.*
Of the above 18 players (13 men & 5 women) in doubles, 10 competed for schools in the Pac-12. Stanford brought forward four professionals, UCLA three, USC two pros and California one. The remaining players competed for schools in the ACC (Virginia, North Carolina at Chapel Hill, Georgia Tech), Big Ten (Illinois), Big 12 (Baylor), WCC (LMU), SEC (LSU), and MIAC (Gustavus Adolphus).
Make sure to follow the results over the next days, and who knows: maybe another tennis program will soon be able to call one of their former players or graduates French Open Champion.
Sign up to our blog newsletter to the right or give us a follow on Twitter and Facebook to stay up to date with our articles in the Friday Scholarship Guide!
Are you a junior player, considering to take the same route like the players above? Find out what Smarthlete can do for you with a free recruiting profile and get started right away!
*Players who transferred to another program (e.g. Michael Venus) are only counted once - with the school they attended last.
Results May 29, 2016:
Men's
Round 1
[2] Rojer/Tecau vs. Pella/Zeballos 6-4 6-4, [5] Bryan/Bryan vs. Fyrstenberg/Gonzalez 6-2 6-3, Guccione/Sa vs. [13] Cabal/Farah 4-6 7-6 6-3, [8] Klaasen/Ram vs. Tipsarevic/Youzhny 6-4 7-6, [11] Kontinen/Peers vs. Almagro/G.-Lopez 6-7 6-4 7-6, [10] Huey/Mirnyi vs. Fognini/Seppi 6-7 7-6 6-1, [16] Matkowski/Paes vs. Fognini/Seppi 7-6 7-6, Butorac/Lipsky vs. Pavic/Venus 7-6 6-4, Monroe/Sitak vs. Gabashvili/Schwartzman 4-6 7-6 6-4, [9] Kubot/Peya vs. Karlovic/Raja 6-1 6-2
Round 2
Cuevas/Granollers vs. [2] Rojer/Tecau 5-7 6-4 6-3, [5] Bryan/Bryan vs. Marach/Martin 6-3 7-6, [10] Huey/Mirnyi vs. Berankis/Rosol 6-3 6-4, [16] Matkowski/Paes vs. Knowle/Mayer 6-4 6-3, Butorac/Lipsky vs. [8] Klaasen/Ram 3-6 6-3 7-6, [9] Kubot/Peya vs. Monroe/Sitak 6-4 5-7 6-4
Round 3
[5] Bryan/Bryan vs. Stepanek/Zimjonic 4-6 7-6 6-3, [10] Bennetau/Roger-Vasselin vs. Huey/Mirnyi 6-4 6-4, [16] Matkowski/Paes vs.Murray/Soares 7-6 7-6, [9] Kubot/Peya vs. Butorac/Lipsky 5-7 6-2 7-6
Women's
Round 1
[8] Atawo/Spears vs. Sanchez/Konta 6-7 6-4 6-4, Hlavackova/Hradecka vs. Falconi/Puig 6-0 6-4, Lisicki/Petkovic vs. Gibbs/Watson 4-6 7-6 6-3
Round 2
Krunic/Lucic-Baroni vs. [8] Atawo/Spears 7-6 6-3