College Tennis Players at Wimbledon 2016

---
The main draws will start on Monday, June 27th, but there are quite some competitive "pre-tournaments" taking place on the courts of Roehampton this week already: the gentlemen's and ladies' qualifying events in singles and doubles (forget "men's" and "women's" - it's Wimbledon after all).
Not so much on the radar of the typical tennis fan and unfortunately not the TV stations either, these are exciting days for the followers of American college tennis:
128 gentlemen and 96 women set out to qualify in singles. The reliable British weather posed some challenges to the tournament organisers, but third round matches were eventually completed to determine the happy qualifiers of this year's Wimbledon.
Rain stops play... ?

Qualifying has been abandoned for the rest of the day.#Wimbledon pic.twitter.com/dYaW1IaWwn

? Wimbledon (@Wimbledon) June 23, 2016
Following our standard Grand Slam coverage, we first take a look at the former college players in the qualifying draws with the usual great selection of players attempting to improve their rankings and become a member of the oh-so-promising club of Top 100 players. We will also provide a brief outlook on the singles main draw from the perspective of college tennis and highlight which college tennis programs are represented by the various players and which conferences these programs compete in.
Gentlemen's/Ladies Singles Qualifying - Wimbledon
We had 12 male players in the Qualifying Draw, who have played at least one season of college tennis. As anticipated in our article on the French Open last month, that is a larger number compared to the Grand Slam on red clay with a total of 5 players more. A comparable pattern was evident last year when there were 11 collegians in the French Open 2015, a bit short of the 13 starters in Wimbledon 2015. The 12 guys who were set to compete this year are the following:
Marcelo Arevalo - University of Tulsa
Daniel Nguyen - USC
Saketh Myneni - University of Alabama
Alexander Sarkissian - Pepperdine
Marek Michalika - Wisconsin
Joe Salisbury - Memphis
Austin Krajicek - Texas A&M
John-Patrick Smith - Tennessee
Edward Corrie - Texas
Aleksandr Nedovyesov - Oklahoma State University
Lloyd Glasspool - Texas
Dennis Novikov - UCLA
New faces, new names and certainly interesting to see the further future development of the ones who were set to start. Check out our infographics below, showing the players' development in the ATP rankings since Wimbledon last year. Highlighted rankings are the ones used to determine entry into the event (May 2015/2016).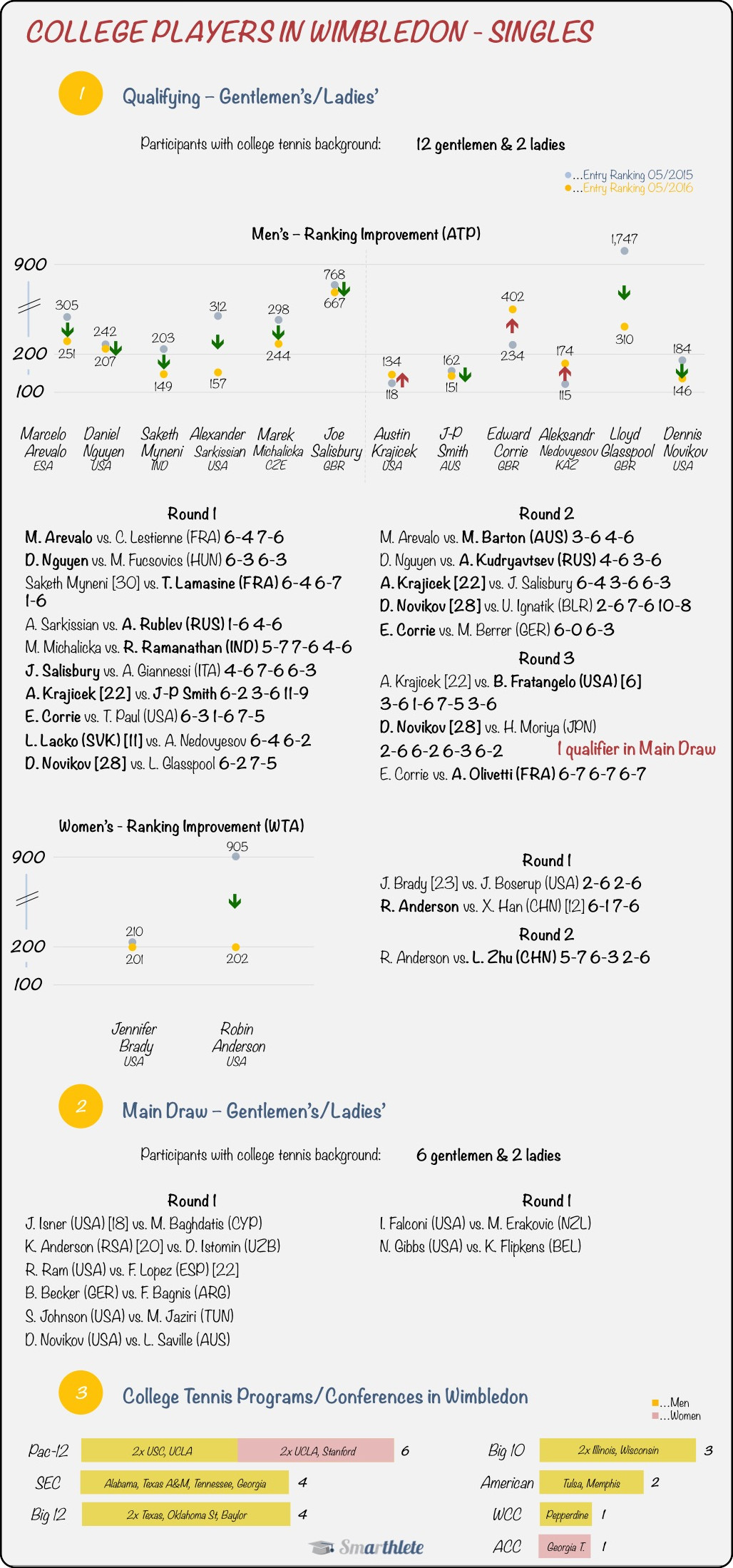 Lloyd Glasspool is the player with the largest improvement in the rankings. A year ago - and still at college in Texas - the Brit was ranked #1,747 finding himself at #310 exactly a year later. Awarded a wildcard, Glasspool fell short against another collegian in straight sets - former UCLA player Dennis Novikov.
Of the 12 players, college tennis had 3 contenders left in the final round: #22-seeded Austin Krajicek, #-28-seeded Novikov, and the British wildcard holder Edward Corrie:

Krajicek came through in all-college duels so far: First, a remarkable thriller against J.P. Smith, winning the third set with 11-9. In the second round in three sets against Joe Salisbury. An interesting match-up in the final round against fellow American Bjorn Fratangelo decided whether he was going to join the club of main draw contestants for the first time ever in Wimbledon. Higher ranked Fratangelo came through in 4 sets and the 2016 Gentlemen's Singles event is over for Krajicek.
After the victory over Glasspool, Novikov delivered yet another result, which shows proof that collegians definitely got their nerves under control: 10-8 in the third set against U. Ignatik (BLR). And continue to deliver he did: 2-6 6-2 6-3 6-2 in the final qualifying round and a ticket into the main draw!
Ed Corrie took out youngster Tommy Paul (USA) in three, beat veteran and strong grass player Michael Berrer (GER) 6-0 6-3 and was set to face A. Olivetti (FRA) for a spot in the main draw. It was the Frenchman who advanced with a 7-6 7-6 7-6.
On the ladies' side, two former collegians were ranked high enough to start in the qualifying:
Jennifer Brady - UCLA
Robin Anderson - UCLA
Despite Anderson's rapid development on the tour (Click here for some nice background info), going from WTA #905 to #202, Wimbledon was just slightly more successful than Roland Garros some weeks ago. Having lost 6-8 in the third in Paris, Anderson won her first round match on grass, but fell short against L. Zhu in three in the second round. For #23-seeded Brady, the third Grand Slam of the year was unfortunately a rather short one, leaving Roehampton with a 2-6, 2-6 loss in the luggage.
But what happened to the likes of Jarmere Jenkins, Tim Puetz, Somdev Devvarman, or Remy Boutillier, who all found themselves battling on the grass courts last year? They all feel behind in the rankings, far from were they stood a year ago. Jenkins was #206 - now #1,532, Puetz was #199 - now #657, Devvarman was #169 - now #326 , Boutillier was #235 - now #579. It's tough out there and that's in no way different for the former student-athletes.
J.P. Smith and A. Nedovyesov did it last year, Novikov did it this year and joins the group of already-qualified former student-athletes:
Gentlemen's/Ladies Singles Main Draw - Wimbledon
The same group of players like in Paris, Kevin Anderson, Rajeev Ram (both Illinois), Benjamin Becker (Baylor), Steve Johnson (USC), and John Isner (Georgia) will be the college ambassadors on the gentlemen's side. Nicole Gibbs (Stanford) and Irina Falconi (Georgia Tech) will stand for college tennis on the ladies' side. In 2015, Kevin Anderson really stood out: He was up 7-6, 7-6 against Novak Djokovic, but ended up losing in five sets against the world number one.
Let's see if any of them can take college tennis (in singles) deep(er) into the second week in Wimbledon, but the usual suspects to do so are the big guys John Isner and Kevin Anderson (although he's been off the tour for some time due to injuries)...
College Tennis Programs/Conferences in Wimbledon
So which are the college programs with most players in Wimbledon this year? And which college conference is the strongest, based on the participants background? Three former players from UCLA, two from USC, Texas, and Illinois top the list. In terms of conference affiliation that puts Pac 12 in the first position, followed by the SEC, and Big 12 with four players, respectively. 3 conferences which seem to provide an excellent environment for ambitious collegiate players to take their game to the next level...
Wimbledon is ready to be kicked off for real. Make sure you keep an eye on the players mentioned here!
Check back next week for our piece on the Doubles events and sign up to our blog newsletter to the right or give us a follow on Twitter and Facebook to stay up to date with our articles in the Friday Scholarship Guide!
Are you a junior player, considering to become a college tennis player in the near future? Find out what Smarthlete can do for you with a free recruiting profile and get started right away!