College Tennis Players in Wimbledon Doubles 2016

---
Wimbledon - Day 8 completed and the college tennis records read as follows:
Men's Singles
6 starters in main draw: None remaining after the fourth round. John Isner played yet another epic battle against Joe-Wilfried Tsonga, but fell short 17-19 in the fifth set. Steve Johnson played a strong first three rounds, but eventually lost against Roger Federer. And first-time qualifier Dennis Novikov made it into the second round of the main draw!
Women's Singles
2 starters in main draw: Irina Falconi and Nicole Gibbs both lost in the first round, with Falconi suffering a tough loss after dropping the third set 8-10.
Men's Doubles
17 starters in main draw: 7 still in the race - see below!
Women's Doubles
5 starters in main draw: 3 still in the race - see below!
For a complete list of all the players who were qualified for the singles main draw, take a look at our last week's article: College Tennis Players at Wimbledon 2016
Men's Doubles
Due to the rain, it was decided doubles matches on the men's side were going to be played best of three sets rather than best of five sets in the first two rounds. Although the same at all of the other Grand Slams, some of the doubles specialists were naturally not as enthused:
Panic move by @Wimbledon . Doubles now best of 3 in 1st round after 1 day of rain. Panic!! Bad move guys

? Scott Lipsky (@scottlipsky16) June 29, 2016
Regardless of that the guys with college ties have delivered a strong performance so far. Here's the list of the pros who started in Wimbledon, what college they played for and who they play(ed) alongside in London. Order of pairings as they appear in the draw below:
Groth/Robert Lindstedt - Pepperdine
|13] Cabal/Robert Farah - USC
[10] Kontinen/John Peers - Middle Tennessee/Baylor
Nicholas Monroe - North Carolina/Young
Marcin Matkowski - UCLA/Paes
Johan Brunström - SMU/Siljeström
[4] Jean-Julien Rojer - UCLA/Tecau
[12] Treat Huey - Virginia/Mirnyi
[9] Dominic Inglot - Virginia/Nestor
[16] Pavic/Michael Venus - Texas/Louisiana State University (LSU)
Gonzalez/Scott Lipsky - Stanford
[Q] Marcelo Arevalo - Tulsa/Maytin
[11] Klaasen/Rajeev Ram - Illinois
Steve Johnson - USC/Querrey
[W] Evans/Lloyd Glasspool - Texas
[2] Bob Bryan - Stanford/Mike Bryan - Stanford
College tennis still has a large group of players alive.
3 collegians have already secured their place in the quarter-finals:
John Peers and Henri Kontinen with a 8-6 clincher against the #6 seeds Bopanna/Mergea, Treat Huey and Max Mirnyi with a convincing win over lucky losers Marach/Martin, and finally Rajeev Ram with partner Raven Klaasen after an equally convincing win over the #5-seeds Dodig/Melo.
Another 4 players reached the Round of 16, waiting to get on the court to take on their opponents for a ticket to the quarter-final:
The dangerous pairing Lindstedt/Groth will take on the #1-seeded Mahut/Herbert in the Round of 16. Michael Venus and Mate Pavic are set to face the world class duo and local hero Jamie Murray and Bruno Soares. At the bottom of the draw, the Bryan Brothers are seeking to go deep in a Grand Slam once again, having left an unusually weak period of theirs behind: "Bryan brothers make changes to find their way back on top"
Looking at the draw we could have 6 of 8 teams with college ties in the QF - not a bad perspective at all, so let's hope the guys continue to deliver in the days to come!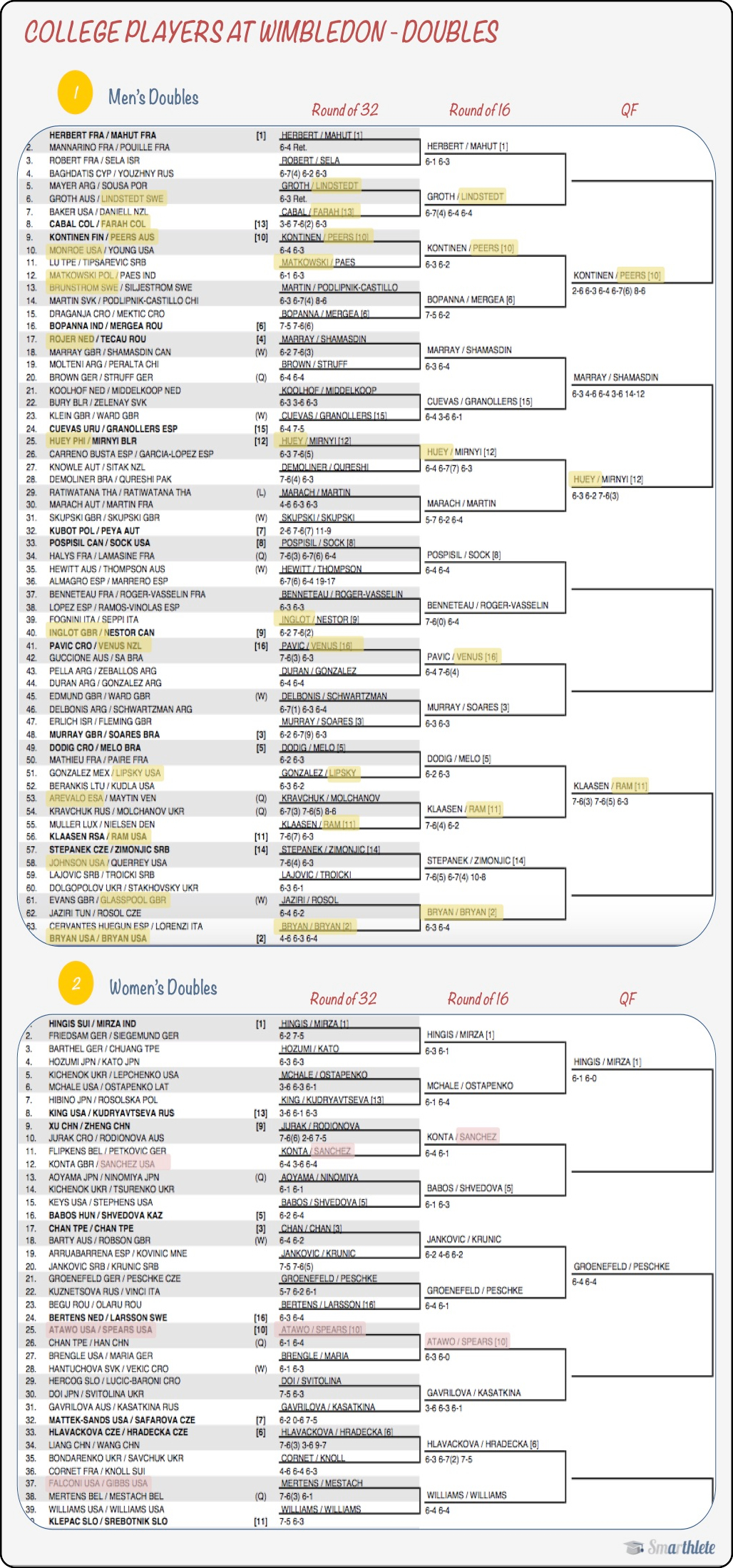 Women's Doubles
Half-time in London and things also look positive on the women's side. Of the 5 professionals, 3 are still in the race. The all-college pair Falconi/Gibbs completed what was a disappointing third Grand Slam of the year, by losing also in the first round in doubles against a Belgian qualifying duo. However, with Sanchez enjoying the local support thanks to her British partner Johanna Konta and #10-seeded Atawo/Spears things look promising for the days to come and for the battle for a quarter-final ticket...
Konta/Maria Sanchez - USC
[10] Raquel Atawo (former Kops-Jones) - Stanford/Abigail Spears - UCLA
Irina Falconi - Georgia Tech/Nicole Gibbs - Stanford
Collegiate Tennis Programs & Conferences
22 doubles players with college ties, but where have they developed at least parts of their game to get where they are today? The majority - 12 in total - played at Pac-12 schools with Stanford topping the list (4 players), followed by UCLA (3), USC (3), Pepperdine (1) and California (1).
The second-best conference is the ACC with 4 players from Virginia (2 players), North Carolina (1), and Georgia Tech (1).
The remaining professionals were student athletes at schools in the Big 12 (Baylor, Texas), American (SMU, Tulsa), SEC (LSU), and Big Ten (Illinois).
For a day-to-day coverage of all the results of the mentioned players at Wimbledon, as well as lower-ranked guys on their way up on the Futures and Challenger Tour, make sure to check out Bobby Knight's thorough coverage over at College Tennis Today!
Sign up to our blog newsletter to the right or give us a follow on Twitter and Facebook to stay up to date with our articles in the Friday Scholarship Guide!
Are you a junior player, considering to take the same route like the players above? Find out what Smarthlete can do for you with a free tennis recruiting profile and get started right away!