4 Tips for Making a Great Recruiting Video

---
Out of all college players, there are very few who are in the position of not needing to shoot a video. The players at the top of the rankings, those who are scouted in person, and the players who are recruited by coaches who are in desperate need of players.

In other words, get a camera, a good plan and get going.
In Today's Friday Scholarship Guide, we offer you our low-down on the plan - our Top 4 Tips on how to kill it with your recruiting video: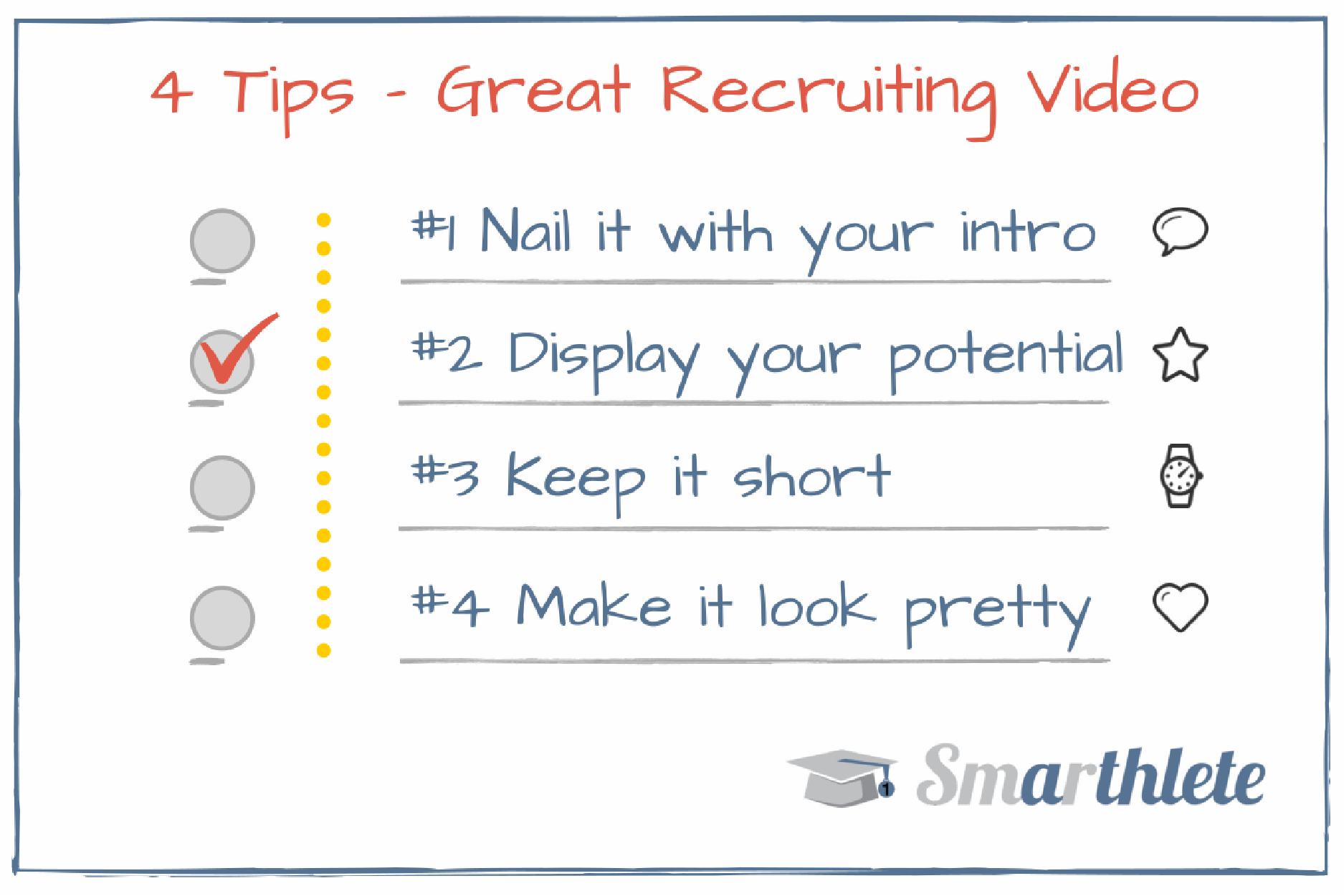 Solid Recruiting Video - Play College Tennis
#1 Nail it with your introduction
As soon as coaches click on the play button, you've gotten their attention. Now most coaches wouldn't fast-forward to the middle of the video right away, but rather listen to who you are for at least a few seconds.
That's your chance to really nail it with a long-lasting impression. What is it you should be doing?
Imagine you have 15 seconds to present yourself. What would you like the coach to remember?
I am from ...
I am ... years old
My high school graduation date is ...
I would like to start studying in ...
Ranking indication ...
Show WHO you are!
Especially the last point is an aspect, which should be interesting to you. That's where you can really make a difference. Address the coach in a nice, polite, respectful way and do so in a manner, which leaves a lasting impression.
Smiling
is something that not everyone prioritizes, but
studies
show that it can have quite an impact on the person you're speaking to - the coaches in your case.
#2 Display your potential
A no-brainer you might think? Not exactly unfortunately and we come across too many recruiting videos, which are far from showcasing the players' true potential.
But what makes up a video that
displays your true potential?
Give the viewers a full picture of your skill set - display all strokes
Show how you build up points
Keep up the intensity & footwork
Coaches want to see what you are able to do on the courts right now, while at the same time get a very good idea of what it is they could expect from you in the future. Are you a strong player with a solid ranking, but your level of play limits you to keep developing in the same way? Or are you a player who has not yet had an impact in terms of any superior tournament results, but the potential is most certainly there?
#3 Keep it short
Coaches and assistant coaches have limited amounts of time available. They juggle their time between reviewing recruiting videos and their everyday job of running a tennis program, sometimes even two (men's & women's). Help them do their job by providing a video that not only addresses exactly what they need to see in a player, but also do so in a time frame that is acceptable to them.
Keep in mind that you're not the only player who they are assessing. And reviewing a couple of players a day adds up to quite a bit of time. Put differently, coaches WILL NOT watch the full 20-minute video of you; they will probably not even give it 15 minutes. But if you aim at a length of 8-12 minutes, you should be able to offer the coaches a package they are willing to watch.
#4 Make it look pretty
No, this is not about you putting on your best outfit from the latest collection. This is about delivering a recruiting video that comes across professional and that shows you have spent time putting it together.
Yes, we have seen videos which are recorded on the cell phone camera. No surprise, the result is shaky and the picture quality poor.
The worst is that you're making yourself a lot less attractive to coaches. To coaches this signals: I haven't bothered to give my recruiting video more thought and I certainly haven't cared about investing some time.

Take our 4 Tips for Making a Great Recruiting Video as a starting point and guideline when taking on the crucial job of getting your recruiting video done in the best way possible. For even more tips, check out another of our blog articles "How to Produce a High-Quality Recruiting Video to Get a College Tennis Scholarship" or feel free to drop us a line on contact@smarthlete.com if you have any questions!
Ready to get recruited? Start up your Smarthlete recruiting profile, upload your video, and see college coaches reach out to you right away!