4 Key Tasks Before Contacting College Coaches

---
Opening your email browser, looking up the email address of a college coach, and clicking the "Send"-button is pretty easy. Almost too easy, as you do want to get a few things lined up before clicking that "Send"-button.
Let's have a look at each of the 4 Key Tasks below: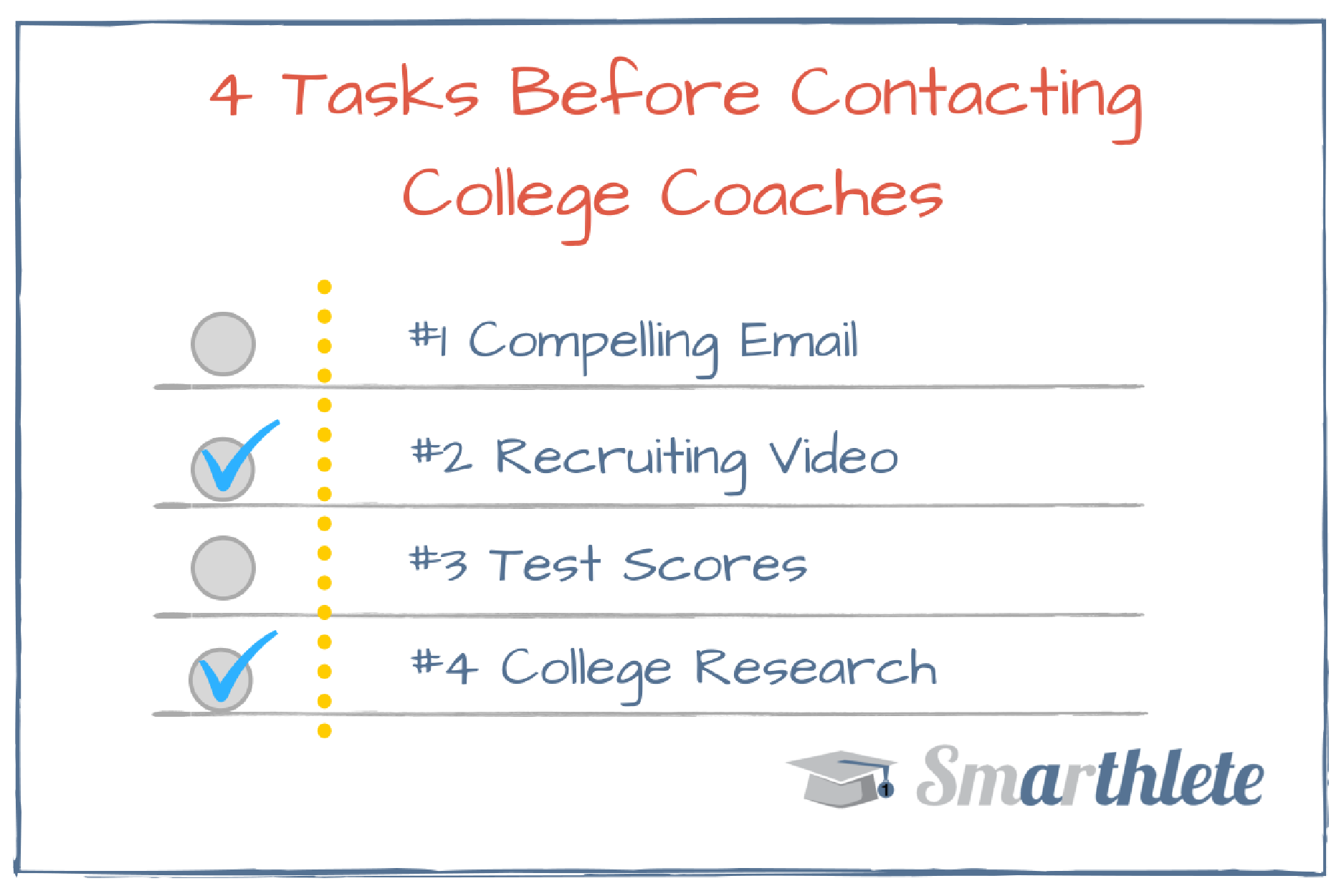 1. Draft a Compelling Email
Let's start with one of the most fun tasks: the prep work before reaching out to coaches.
We'll assume you first get in touch witch college coaches on email, getting your name in front of a few dozen coaches.
For that, you need a killer email. See, how we put an emphasis on killer? Trust, we have seen athletes' emails, which do everything but killing it:
Rude, inappropriate language
Spelling mistakes
Leaving out key achievements (read: your selling points to get recruited)
Part of a killer email is also an attractive subject line, which catches the readers' (coaches') attention right away!
Get it right from the beginning and ask for help if you are insecure - you might only have one shot!
2. Produce a Tennis Recruiting Video
Unless you plan on only contacting tennis programs close to where you live, shooting a highlight reel of your level of play is highly recommended! Get yourself a court for an hour or two with one of your training partners/team mates, and have somebody take care of positioning/adjusting the camera for you.
This is an art in itself and recruiting videos really do differ in quality.
We definitely recommend you take a look at one of our blog posts, which will offer some inspiration on your recruiting video:
4 Tips for Making a Great Recruiting Video
3. Get Your Academic Test Results
In order to be eligible to compete you'll need to go through the entire process with the NCAA and the NAIA (see below), as well as the admissions offices of the respective colleges. For that, take the SAT or the ACT test before contacting tennis coaches! It is generally recommended students take either of the test in their junior year of high school at the latest!
Of course it also works fine to inform coaches about your results at a later stage. Think about it more as saving time for yourself and more importantly, saving the coaches' time.
Interested to find out more on why coaches need to know about your level in the class room?
Blog: Do Academic Results Matter For College Coaches?
4. Do Your Research on Colleges
Before sending off the email you should have made a general background check on the college, aligning your general expectations of your future college with the colleges on your long list. Is there an undergraduate program that you're interested in? How about the setting of the college - urban or rural? Do you believe you can gain an education that will enable you to do the things you dream of in the future?
Check out this blog post, which tells you a little more about why all of that's important:
How to contact college coaches to successfully get a scholarship!
(5. Register With NCAA or NAIA)
Kicking off the process of gaining certification is a very good thing, if you are pretty certain of having a shot at playing NCAA Division 1, Division 2 or NAIA tennis! If you are insecure on whether you have what it takes to play in any of these divisions, you might want to wait a little, before you have more clarity.
Saves you a few bucks and it won't harm your dialogue with coaches whatsoever. It is totally fine if you get going with the Eligibility Centers after having made first contact with a college tennis coach! That's also why it's not included in our list of 4 Key Tasks.
Smarthlete - Get a Scholarship at College
How can we from Smarthlete help you with all of this?

Set up your free recruiting profile, filling it with all the data and information you have - including SAT/ACT scores and your video!
Get guidance and reminders from us as to when what is due, including taking academic tests, registering with NCAA/NAIA and contacting coaches!
While there will always be the free recruiting profile (BASIC account), most of our users opt into one of our premium plans, which includes receiving a college tennis recruiting video guideline among others!
Speaking of video, we offer to post your video on the Smarthlete Youtube Channel, which automatically gets you in front of plenty of additional coaches ...
Finally, contact college coaches directly on Smarthlete, which takes them straight to your profile. Easy for them, easy for you :)
Check out what we have in store for you on Smarthlete or drop us a line on contact@smarthlete.com at any time! We'd love to help make your college dream come true! :)