College Tennis at French Open 2017

---
Turning pro or going to college as stepping stone to have an impact on the tour? The level of tennis at college is high. How high? Let us walk you through the Roland Garros draws, and be amazed by how large a crowd of former collegiate players has secured an accreditation to the French Open.
Feel free to also take a look at one of our most recommended blog articles:
Top 4 Reasons College Tennis is the Best Choice for Aspiring Professionals
Results as of June 04, 2017:
Qualifying - Men's/Women's Singles
12 starters on the men's side and 4 on the women's side, but none of the players made it through to the main draw. 2 of them came relatively close: Roberto Quiroz - former USC Trojan - and Nicole Gibbs - former Stanford athlete; but both lost in straight sets in the last qualifying round.
Roland Garros qualifying draws also saw the first appearance (and wins!) of two former collegians on the Grand Slam level:
Mackenzie McDonald, USA - ATP #232
Matija Pecotic, Croatia - ATP #505
While there was none coming through to join the qualified players, such as Isner, Johnson, or Falconi, it's notable that there were 6 more players with college ties in the qualifying rounds compared to last year. (7 men & 3 women in 2016).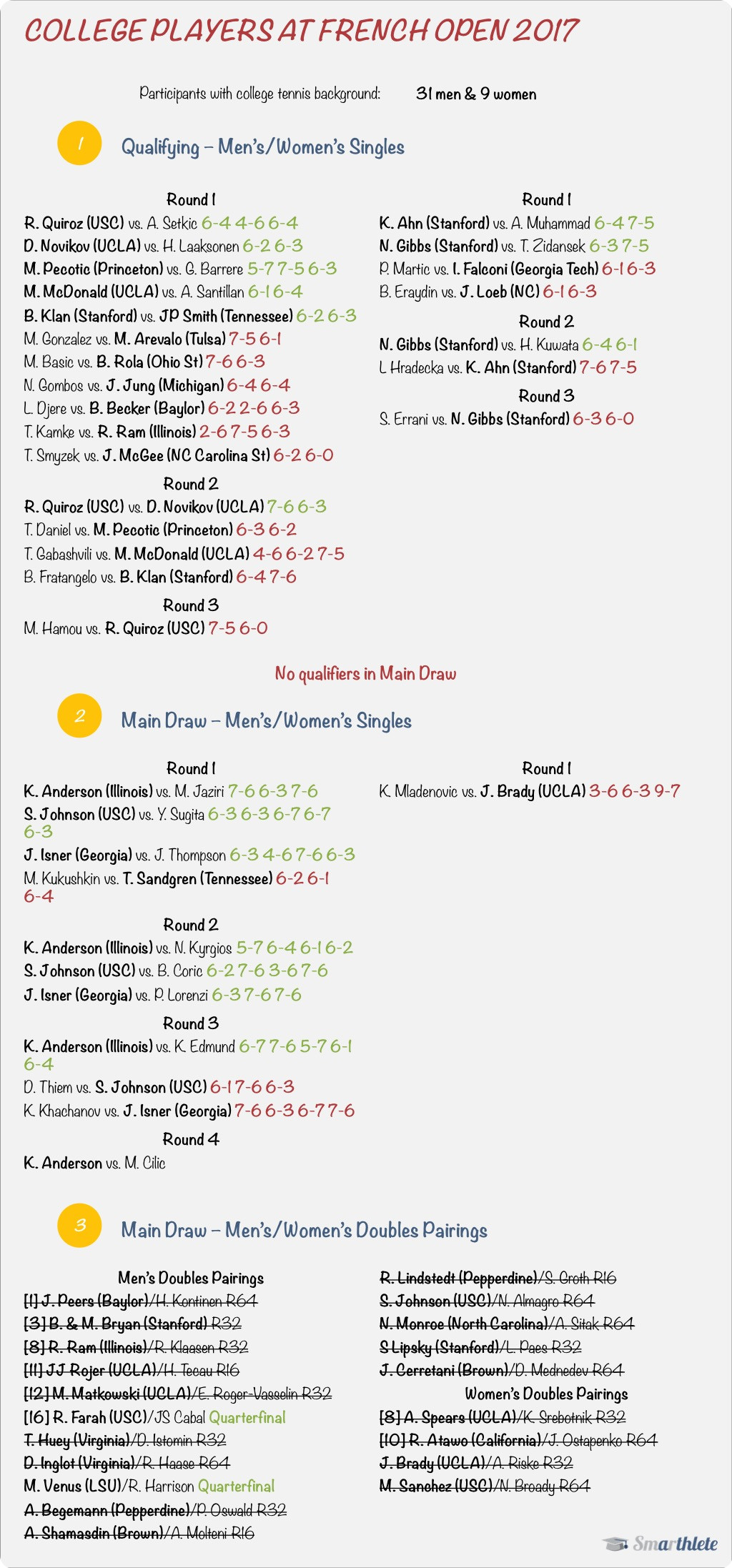 Main Draw - Men's/Women's Singles
5 men and 2 women were qualified in 2016 - this year, college fans were able to find 4 men and 1 woman in the singles draws with the new face being Tennys Sandgren, former Tennessee Vols player.
Steve Johnson and John Isner fell short in the round of 32, but it's South African Kevin Anderson who is starting to make an impact on the tour again after his injury!
A first round win against Malek Jaziri (TUN), followed by an upset against [18] Nick Kyrgios (AUS) and finally a 5-set thriller against Kyle Edmund (GBR) paved the way to a round of 16 showdown against another big guy Marin Cilic. It's Anderson's third appearance in the round of 16 in Paris and a great opportunity to make the quarterfinals of a Grand Slam for the second time in his career (US Open '15).
Main Draw - Men's/Women's Doubles
The men's draw is traditionally full of strong contenders for the doubles title, although the second Grand Slam of the year might not offer the most loved surface conditions to do so.
With half of the 14-day program completed, only 2 men's teams are still in the race for gold: #16-seeded Robert Farah (USC) and Michael Venus (Louisiana State University). The other players have had to pack their bags and turn their attention to the grass-court season, leading up to the third Grand Slam of the year in Wimbledon.
College Tennis Programs & College Tennis Conferences
We've already mentioned a few tennis programs and the infographics above has revealed where all the others used to play, but how about the schools and its respective conferences? Which conference is the strongest in "preparing its players for life on the tour", to put it simple? Let's have a look:

Clear winner with 17 players (11 men & 6 women) is the Pac-12 conference! UCLA with 6, USC and Stanford with 4 former collegians are the absolute top programs. The next "most successful" conferences are ACC, Big 10, and SEC, represented by 6, respectively 4 players.
We highly recommend you check out the incredibly comprehensive college tennis coverage by Bobby over at College Tennis Today. Bobby not only provides updates on the happenings at the four Grand Slams, but also all that's going on on the future, challenger, and ATP level in the summer.
If you are interested in college tennis, but you happen to have any questions related to the way it works or how to best get a scholarship, send us a line at contact@smarthlete.com.
And as soon as you're ready to really get started with the recruiting process, sign up with a free recruiting profile here on Smarthlete and get connected with college coaches right away!