When to Start The College Tennis Recruiting Process

---
A friend of yours just verbally committed to a college program and he is in the middle of his junior year.
But you also remember that an older friend committed as late as in the summer after her senior year.
That makes quite a difference as regards the start of the recruiting process and you are confused not only about when's the right time to get started, but also about the right time to commit to a school?
Let's get to the bottom of when you should ideally kick off the necessary preparations to receive a scholarship offer from your dream school and accept the offer in this edition of the Friday Scholarship Guide!

Freshman Year
Let's face it. Most kids at age 14 haven't fully wrapped their head around their future dream career after graduating from high school. And there is absolutely no need to have it all figured out at that age either!
There are two things you should focus on the most during the freshman year:
Develop as a player
Perform in the class room
Not to forget to grow as a person, but we assume you do that anyway. Some students will have come further in the process of developing their interests:
They might have decided for sure to go to college
They might have narrowed down their selection of potential majors
They might have even looked a bit more closely at schools across the country
Regardless of where in the process you find yourself, there is plenty of time left. Do keep in mind however the most important:
Develop your game, develop your skills, develop your level of play!
Sophomore Year
A year has passed and chances are you've come quite a long way when it comes to your thoughts about the future. Perhaps you have identified that playing college tennis is the way forward and nothing in your power is going to stop you from doing that. If that's the case, wonderful. Let's get to work!
Create a list of tennis programs you are most interested in.
Make sure these schools are interesting to you academically.
Take SAT and/or ACT practice tests.
Depending on your development on the court, you could consider reaching out to college coaches already now, but there are a few reasons why you might want to delay doing so for a little while:
You haven't yet fully exploited your potential, for example you had been out with an injury for a while.
Perhaps you expect to be playing strong tennis at the upcoming tournaments.
Or maybe you are about to shoot a highlight video, which you'd like to share with the coaching staff right away.
As a rule of thumb, in the event of reasons that make you more attractive to a college coach (academically, athletically) in the near future, sitting still and waiting is recommendable. Many coaches only take the time to review your potential once - make sure you don't squander your opportunities!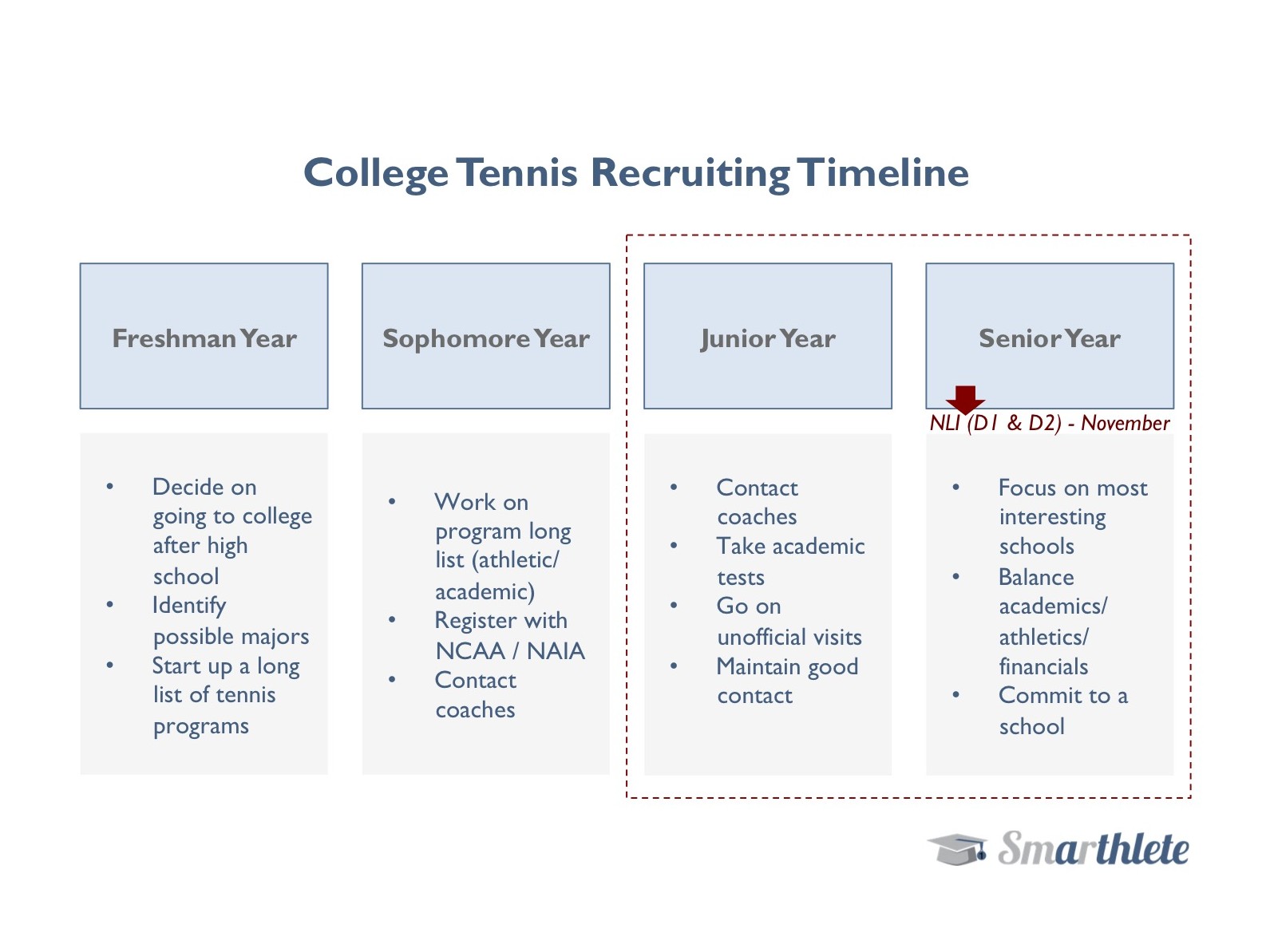 Junior Year
This is the decisive year where the real fun starts. This is also the time when you should have completed your list of most interesting universities/tennis programs. NCAA D1 and NCAA D2 coaches are now also allowed to reach out to you in person and they will do so in case you are one of the top recruits. For all the other athletes, take initiative and make sure to start your dialogue with coaches now:
Contact coaches on email and/or give them a call.
If you like, you could plan on attending showcases.
Maintain good contact with interested coaches and keep them informed on your schedule.
Make unofficial visits if you are in the position to do so.
This is also the high school year during which you should take the ACT or SAT test for the first time. Many students decide to retake the test - you might want to buy yourself enough time to eventually do so as well in case necessary.
Don't forget to stay on top of things with everything related to your eligibility. And finally, keep up your grades and remain focused on growing your game.
Perhaps you receive a verbal commitment from a coach already in your junior year. If that's the case, you may either accept the commitment, which puts an end to your recruiting process or you decline the commitment. Definitely keep in mind that verbally committing doesn't mean you are accepted into the school yet. You still need to meet all of the admissions requirements by the university. Keep a close dialogue with the school (the coaching staff) to make sure you are on track!
Senior Year
Time is ticking and your future choice of college is not only around the corner, it's literally in front of you.
If you still don't have a clear profile of your dream school with regards to athletics, academics, location and costs of attendance, you should lock yourself in and get down to the basics again :)
Ideally, your short list of schools is already perfectly researched and you don't need to re-look at it in your senior year, but it happens and there's still time!
But be realistic about it, challenge your expectations and don't get caught up wasting time.
Also, unless you're one of the top players, you really do want to be proactive about talking to schools. There's no need to sit around and wait at this point - GET YOUR NAME IN FRONT OF COLLEGE COACHES!
[A little advice from our side: Check out what we have in store for you on Smarthlete: set up a recruiting profile, get it in front of coaches and reach out to them right away!]
Senior year is also all about going on official visits, if you have the chance of doing so! Did we mention to keep up your grades all the way throughout your final year? No? Well, that's an important one too!
Finally, make sure your application materials are bullet-proof, flawless and respond to admissions offices and college coaches in a responsive manner!
Your Personal College Recruiting Timeline
As described in the beginning, some people will have started their process earlier, whereas others a little later. Don't let that get to you. Instead, create a plan with your parents that works for you. After all, it is about finding the perfect match for you as a person, player, and student and there's no "one-size-fits-all" recommendation of how long that process takes.
There is one important date to keep in mind though that occurs in the month of November in the senior year of high school and we advise you to try to plan your recruiting process in alignment:

National Letter of Intent (NLI) Early Signing Period
Lots of scholarships are being awarded during this time period (one week) in NCAA Division 1 and Division 2 and written commitments made shortly thereafter.
Lots of scholarships in divisions other than D1 and D2 are being awarded around the same time of the year, as coaches are busy building their teams for the fall of next year. If you manage to get the various elements of your recruiting process on track well before fall season of your senior high school year, then you have good reason to be confident about making the right choices at the right time.
Yes, there are cases where an athlete commits to a school just weeks before classes start. But honestly, why go through all that hassle if you can also make such life-long decisions in a significantly more stress-free context?
This was Part 1 of our blog article about when to start the recruiting process in order to find a scholarship for college. Part 2 will be published in 2 weeks' time and that one's going to be specifically for the group of Internationals out there, looking to get recruited. You can also sign up for our newsletter on the right side of the page and get the upcoming article(s) delivered to your email inbox!
Feel free to shoot us an email at contact@smarthlete.com in case you have any questions or even better: see you on Smarthlete! :)