Why Work With A Scholarship Service?
If you want to make sure you commit to the university of your dreams, get yourself the assistance of our recruiting experts. Thanks to our long-lasting experience as college athletes and recruiting agents, coaches rely on our assessment - a really important factor when it comes down to making you an offer and trusting that you will meet the eligibility requirements (NCAA & NAIA) in order to compete.
Experience
We have gone through the recruiting process ourselves and we have placed lots of athletes across sports in college teams.
Trusted Partner
Coaches know and trust us. That matters a great deal when we talk to them about recruiting you.
Expertise
We look for a school that fits to you as a student, athlete & person - it's not just sports that matters.
---
College Preparation
Depending on your needs we have the right College Placement package available for you on your path to becoming a student athlete at college.
No matter what package you decide for, we will be in very close contact throughout the recruiting process on email, phone and other messaging services.
We are here to make sure you master the pitfalls of the recruiting process, take the necessary steps at the right time and don't fall behind with any of your tasks.
We are here to get you recruited.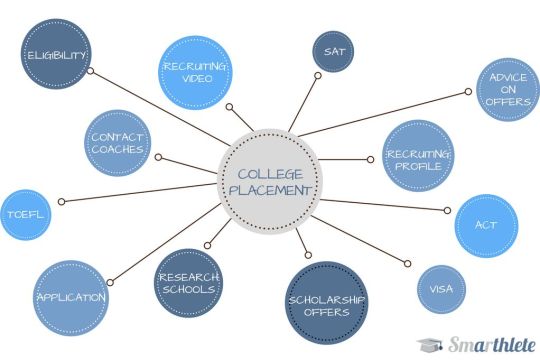 ---
Smarthlete College Placement
We always work with a transparent and clearly defined Smarthlete Project Plan. Our College Placement covers activities such as:
Recruiting Profile
Editing down of raw video footage into a highlight video
Academic tests
Initial contact with coaches
College applications
Advice on scholarship offers
In case you are interested in our services, let us evaluate your chances!
Recruiting Assessment
Tell us about your academic and athletic background. After that, we evaluate your chances to become a collegiate athlete.
Free of charge!
Get Evaluated
---
Find A Scholarship On Your Own
Doesn't sound quite like what you're looking for?
Check out what we have in store for athletes who want to manage the recruiting process all by themselves:
Upload all your athletic and academic stats on your recruiting profile
Research teams
Create a list of potential teams
Reach out to coaches directly
Take advantage of all the Smarthlete tools - both as a free BASIC or premium plan user.
---