Does The Coronavirus Affect My Recruiting Process?

---
Your health and the health of your family are what really matters and we very much hope you're all healthy and in a safe place.
With the situation evolving at a rapid pace across the world, some countries are a few steps ahead when it comes to fighting the outbreak of the virus; because they have to be, given the higher number of infected people. By doing so, they offer viable and successful "best-practice" cases for other countries to follow suit.
Whatever the situation might look like for you right now, it goes without saying that your life, sport, school routine and consequentially, your recruiting process have probably also been affected to some extent.
We want to provide you with a brief overview of what's been going on over the last days and weeks and how this changes things for you and your recruiting process:
Will I Be Able To Take The SAT or ACT Test?
Our last blog article was a neat overview of the academic tests in 2020. Now that's been overthrown - thank you "Virus" ;) - but might still be a good starting point for you to check out, as parts of it still hold true:
Academic Tests I Need To Know About To Get Recruited
Cancelled Academic Tests
As of today, the upcoming April 2020 (ACT) and May 2020 (SAT) tests have been cancelled and the money has been refunded to students. Both test organizations continue to monitor the situation closely in order to make decisions with regards to their scheduled June test dates.
Internationally, TOEFL and IELTS keep updating the list of countries, which see cancelled test centers and it seems to be a case-by-case decision for the time being.
For you, who has
Already taken all necessary tests:
There is no impact on your recruiting process
Neither taken SAT nor ACT test:
There is a lot of insecurity revolving around future test dates at the moment.
This is especially the case for Fall 2020 recruits, as summer is quickly approaching and the coronavirus does raise more questions than answers for all of us at the moment. Worst case, you cannot register for another test.
For Fall 2021 recruits, it only means that your "ideal project plan & timeline" of taking SAT/ACT in junior year before the summer break may not work out.
Keep on studying and preparing!
Next Steps
For those still in need of a qualifying test score we recommend you to do the following:
Continue to monitor the test organizations' websites (More on that at the end of this article).
Sign up for an upcoming test as soon as you can!
Stay in close contact with the admissions office of the school, which is recruiting you.
We expect that the testing organizations will try everything in their power to have a test date before the summer (June) or offer some sort of alternative testing opportunity. It is your responsibility to monitor the situation or work with somebody who does so for you!
It is your responsibility you get a seat in a nearby location on time.
Will I Get Into College?
The lack of academic testing opportunities right now, leads to two problems with regards to getting admitted to school:
Application Deadlines
Regular application deadlines most likely cannot be upheld, considering a sizeable number of applicants will not have all necessary documentation available for many more weeks to come.
Admission Requirements
Schools' "please-submit-academic-test-scores" task will remain unchecked for a lot of students, unless they have been able to take ACT or SAT before March this year.
It remains to be seen how admissions offices respond to this scenario. Will they accept or offer different (online) testing solutions or will they make application decisions across the board, excluding test scores?
The alternative scenario may not be one, which schools are interested in considering their capacity, residence halls, athletic programs and other factors: fewer students in 2020-21 ...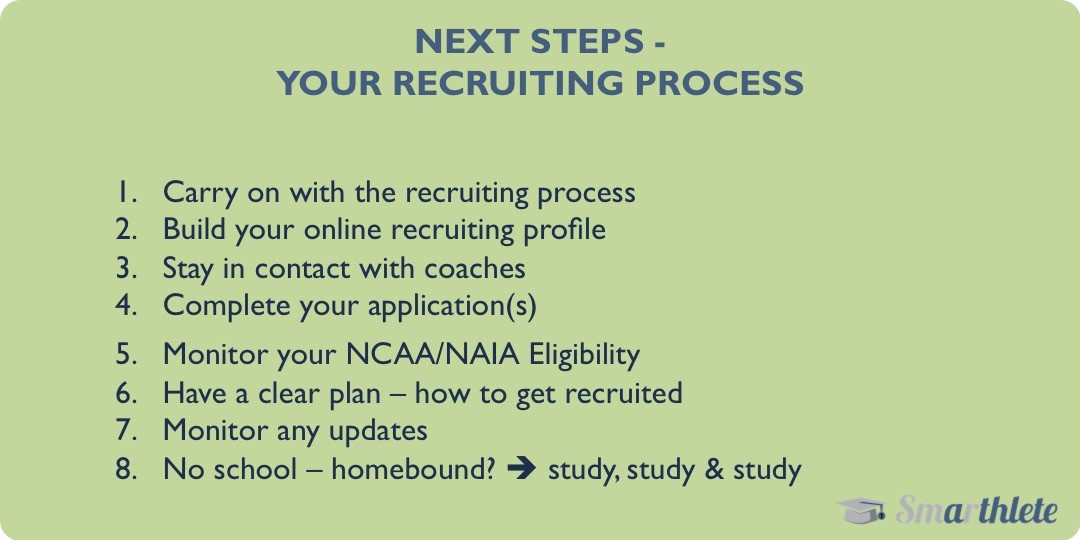 Scroll down all the way to the end of the article to see your tasks in more detail.
Have Coaches' Recruiting Needs Changed?
You may or may not have heard: NCAA and NAIA have announced that affected student athletes (spring sports & winter sports) will not be charged with a year of eligibility, due to the cancellation of the ongoing season. In other words, they will be receiving a fifth year to play collegiate sports.
No one knows how this will all play out yet:
Do students need more than 4 years to graduate?
Would students want to come back for a fifth year?
If students have earned their degree: Do students want to go to grad school for a year?
Do they want to invest in another year in college or pursue why they've have gone to college in the first place: start their careers.
How will coaches and athletic departments react? Have a larger roster size? Stop recruiting? Be the bad cop and say no to current players, who could make use of their fifth year?
What do transfer rules look like for this group of athletes, given the change in circumstances?
What we do know is, coaches will continue to try and build the best possible team with athletes they have already signed prior to coronavirus and post coronavirus.
Is My Eligibility At Risk?
Just like with schools' admissions offices, we don't know yet how things play out if athletes are not able to take SAT or ACT before the academic year of 2020-21. Usually, it's up to the athlete to pull it off on time, but that's obviously a way different situation and it would be hard to imagine the Eligibility Center(s) remain rigorous on that end.
The NAIA allows athletes to submit a Top 50% of class letter in lieu of SAT/ACT scores, but that is not an option for NCAA, which specifically requires a valid qualifying score.
It remains to be seen what the NCAA will come up with in the near future, in case athletes are not able to show proof of being "fit for college" on time.
What Should I Do (Differently)?
Perhaps more than ever, you have to be on top of your recruiting process.
Carry on, as if nothing has changed - that's the only thing that's within your control
Be proactive and build your online recruiting profile to reach out to coaches (on Smarthlete for example)
Stay in contact with coaches
Complete your application(s) with schools
Monitor your NCAA/NAIA Eligibility Accounts
Wrap your head around how to get recruited: on your own or with professional help?
Monitor any new updates/releases from NCAA/NAIA and SAT/ACT
Internationals: Monitor any new updates/releases from TOEFL/IELTS
Internationals: Take the Duolingo English Test - this could prove really useful, considering the situation right now!
If you are homebound, due to school closings, right now: Study, study & study!
We understand if you are concerned and worried. This is a truly unusual situation and we can only hope countries and people will do what's required for it to go away soon or get under control as quickly as possible.
We are here for you no matter if you've been a Smarthlete athlete or not. Just drop us a line at contact@smarthlete.com and we will do our very best to navigate you through this time period.
Resources:
SAT: https://bit.ly/2QpJgn1
ACT: https://bit.ly/2U1EAG7
TOEFL: https://bit.ly/2w7cYGt
IELTS: https://bit.ly/39Xin1k
NCAA: https://bit.ly/2WnlVWR
NAIA: https://bit.ly/2QuvK1e
Last updated: March 20, 2020