Best Tennis Programs at USTA/ITA Regionals 2015

---
It's almost November and the college tennis fall season is getting close to its final highlight: The National Indoor Intercollegiate Championships in New York. Two weeks ago our Friday Scholarship Guide was all about the Fall Invitationals in October, providing a visual overview of the exciting 50+ college tennis weekend events. But we're already into November and the months of September and October have all been about the USTA/ITA Regional Championships, offering a great amount of matches on the collegiate level all over the US. As the Regionals have finally come to a close, we'll shed some light on these events, which sees a huge number of athletes represent their tennis programs each fall.
We'll start with a brief explanation of the playing modus. That's especially important as Regionals are held across all college divisions. After that we'll take a closer look at each of the divisions and in order to explain better we'll highlight the results in NCAA D-I tennis in more detail. Finally, let's have a look at the winning tennis programs; in other words: which of them really did dominate their regional tournaments and is there a difference depending on division...?
Modus
All teams compete in a certain ITA region of the country, which is further divided into various conferences. The teams send selected players to take part in the tournaments, which is hosted by one of the region's school. The number of ITA regions in the college divisions differs, but we'll get back to that a bit later. Depending on the nominated athletes, the USTA/ITA Regionals generally see the best players compete against each other:
"Every seeded player here was ranked. We even had some players that weren't seeded and were ranked. (...)"
(Head Coach Jeff Wallace - University of Georgia)
The purpose of the tournaments is to fill the draw for the upcoming National Indoor Intercollegiate Championships. The winners either qualify directly for a ticket (D-I) or they receive the chance to fight for a spot (smaller colleges: D-II, D-III, NAIA, Junior College). There are Regional Champions in Singles and Doubles on the men's and women's side.
NCAA D-I
The NCAA divisions differ in their regional structure. Because D-I is the strongest and most important division, let's take a closer look at the set-up:
Northwest
Southwest
Mountain
Texas
Central
Midwest
Northeast
Ohio Valley
Atlantic
Carolina
Southern
Southeast
12 ITA regions translates into 24 Regional Championships (men and women) for NCAA D-I. Check out our graphic below, in which we display not only the regions, but also the winning tennis programs in singles and doubles (represented by the programs' athletes).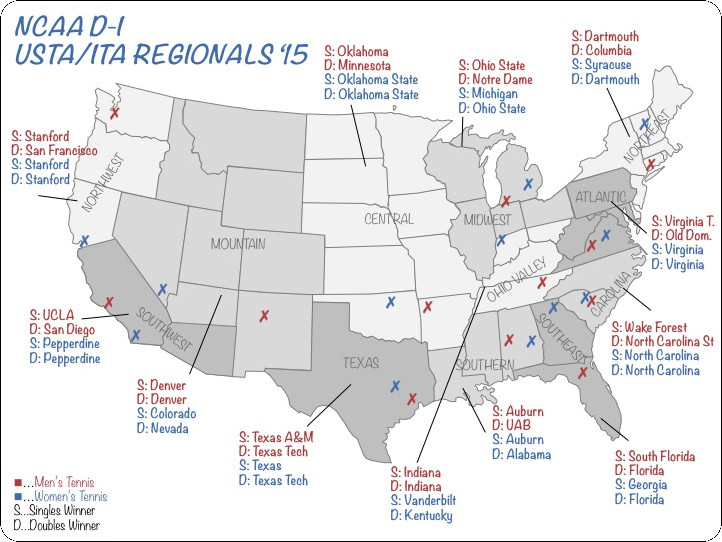 All of the 48 winners (men and women, singles and doubles!) are directly qualified for the National Indoor Intercollegiate Championships. On top of that, additional college tennis players qualify depending on their performance at the Regionals and other fall results (Specific major tournaments and "at-large" selection). On the men's side, one of the at-large selections is based on the UTR (Universal Tennis Rating)! In other words, besides capturing the title there should be plenty of other incentives to bring on your best game during the Regionals.
"Small College" Divisions
"Small College" stands for all collegiate divisions except NCAA D-I! NCAA D-II, D-III, NAIA and Junior/Community College Championships were held in September and early October. D-II is split into 8 and D-III into 9 ITA regions. NAIA is divided into 7 and Junior Colleges into 6 (7 for women) regions. The Singles and Doubles winners of the events qualified for the USTA/ITA National Small College Championships. The 4 champions of the Nationals played a mini-tournament - the "Super Bowl". The winners of this competition earned a spot in the National Indoor Championships where they will be facing the crowd of NCAA D-I players.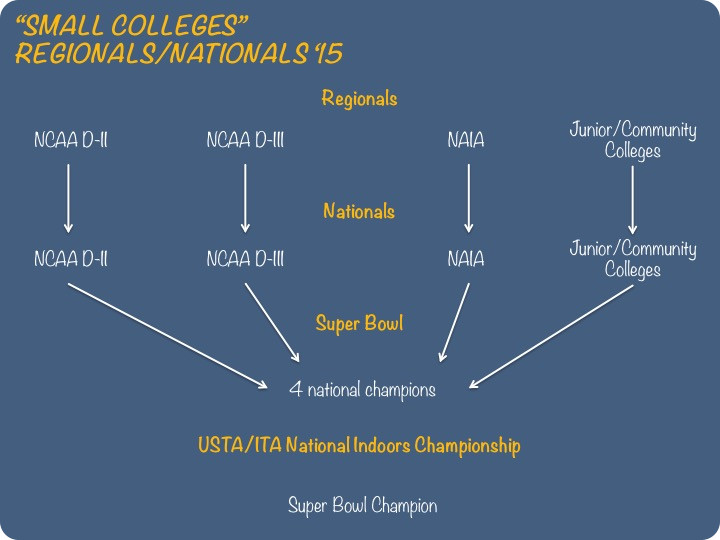 Winning teams
85 USTA/ITA Regional tournaments equal 170 happy winners or winning doubles teams. But is there any tennis program, which was able to win all 4 regional titles; hence, coming home with the men's singles and doubles award as well as the women's singles and doubles trophies? If so, which team managed to do so or which program won the most titles in the fall?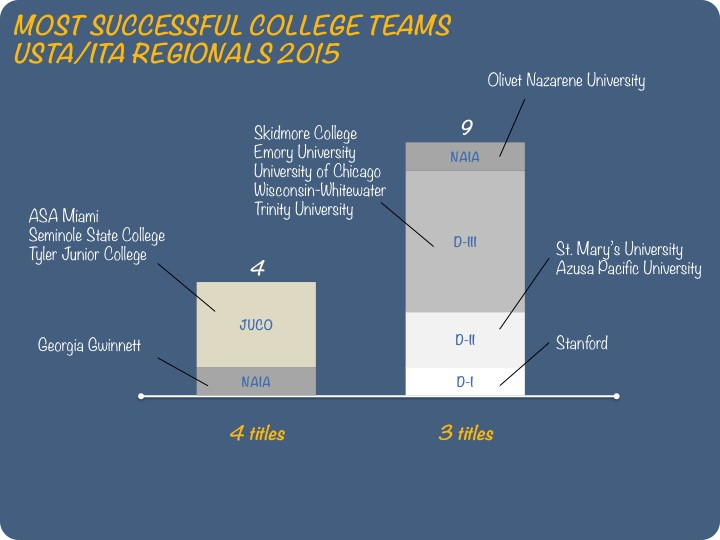 Clearly, teams from small college divisions showed a much higher dominance of their entire programs in this year's Regionals. Stanford was the only team from a D-I school which captured 3 or more titles, while 12 programs from small college divisions returned with 3 or more titles.
Amongst those, Georgia Gwinnett really outperformed all other programs. Watch this nicely done recap of the program's success at the Small Colleges Nationals, sending the men's singles and doubles champions to the National Championships in New York:
If you are interested in the results or feel like digging a bit more into the Regionals check out the ITA's collection of results here! Or is it the Small College Championships which has caught your attention? Find a full coverage on them here!
Wanna stay informed about college tennis and the upcoming National Indoor Intercollegiate Championships in N.Y.? Follow us on Facebook or Twitter and make sure you don't miss out!