8 Things to Consider Before Writing To a College Coach

---
We have realized that many prospective student-athletes are insecure about how to write an appropriate message and therefore mistakes are made that could have otherwise been avoided. With this it's also important to mention the tremendous value of making a good first impression, since not only the academic and athletic abilities matter when college coaches choose the players for their teams. The personal fit with the team will also have a significant effect on this decision. Read more about this in one of our previous articles here.
To feel a little lost with how to write a successful message is absolutely natural. Different coaches will also find different ways of communicating more appealing, but there are several points that are generally more universal DOs and DON'Ts among college coaches: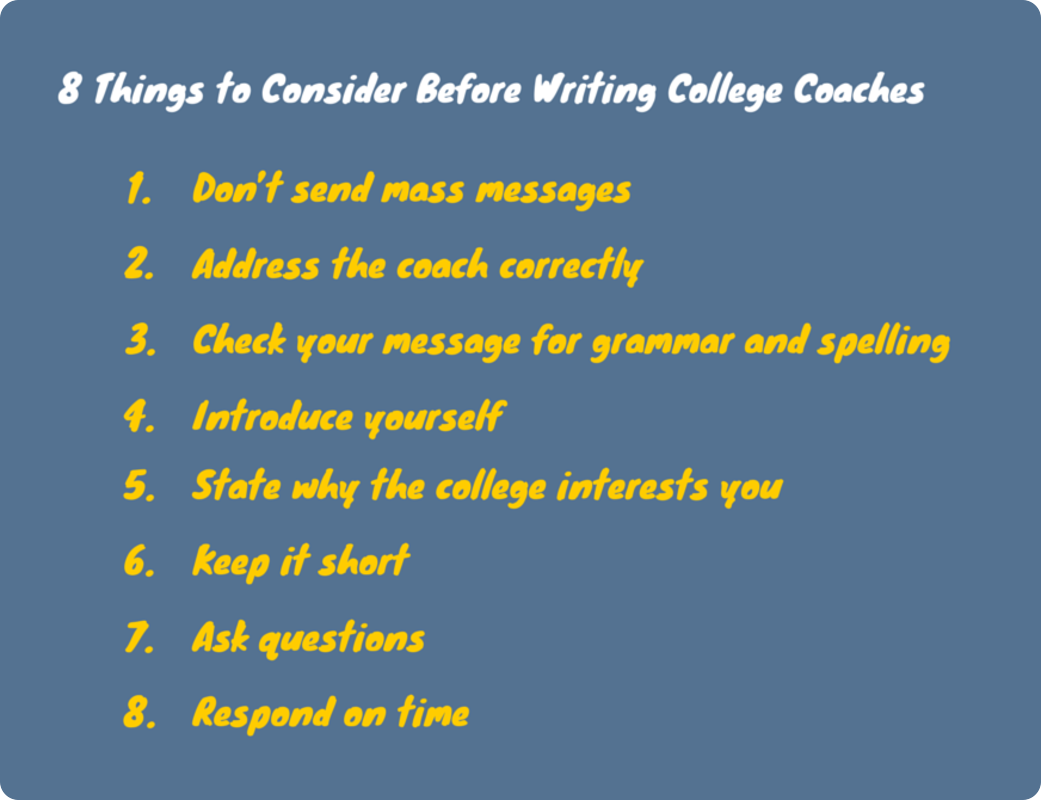 Don't send mass messages
Sending the same message to all college coaches is being lazy. Yes, we know - it's time-consuming to send an individual message to each coach, but also think about that you might spend four years at that college and with the team. Isn't it better to do some research already in the beginning of the process? You can tell if you get an e-mail, specifically tailored to you as a person. Guess what? Coaches can too.
Address the coach correctly
Don't just write coach. Instead make the message personal and add the last name of the respective coach. It is also important to spell the coach's name correctly. This is simply out of respect - you have taken the time to read and remember the coach's name correctly.
Oh and before we forget: yes, you should start your message with an opening phrase like Hello, Hi, or Dear...
Check your message for grammar and spelling
Maybe your computer or mobile phone auto-corrected, didn't auto-correct, or you simply didn't bother to read through your message again. Whatever the reason, spelling mistakes don't look too good. After all you're looking to go to college, earn a degree, and graduate. The coach will have to make sure you get through the admissions process and you're eligible academically as well. A flawless, nicely written message with no obvious mistakes is a very easy way of doing yourself a huge favor. Typos happen :), but if you can reduce them, please do so...
Introduce yourself
To enable coaches to get to know you, they also need some facts from you. If you've done your homework, quite some information is already included in your Smarthlete profile. A good idea is therefore to make a reference to it. If you like you can just highlight some of your top strengths, such as ranking, SAT score, or GPA. A well-maintained profile on our recruiting platform will give your message even more credibility! The below example (Messaging tool on Smarthlete) is straight to the point. You think it's a little too straight? You're spot on :)






State why the college interests you
It's very important to show interest, indicating why you find the particular college (coach) interesting. It's therefore key to do your research (see #1) and be prepared. This is an easy way for you to show that you have spent time on getting to know more about the college, and the college coach is more inclined to put more time on getting to know you. It's simply not enough to only write:






Keep it short
Coaches do not want to read an endless essay when a prospective athlete contacts them for the first time. In some situations they might not even read it. It's good to simply keep it short, but at the same time highlight the important information.
Ask questions
Asking questions means that you have taken time to think about the college, and it also shows that you are interested to learn more about it. It's also a way to get the college coaches to reply, so do ask questions - but also be aware to not ask questions for which you could easily find the answers on the college's website or on other sources. Questions about practice, competition, or the travel schedules are good opening questions to start with.
Respond on time
If college coaches write to you or answer to your message, do respond within a reasonable time. If it takes too long for you to reply, they might think you are not interested, or the coaches might lose interest. It's a way for you to show that finding a college is a top priority of yours.
Feel like you are ready to contact college coaches? Sign up on Smarthlete, set up your profile, and use our messaging tool to connect directly with the college coaches on Smarthlete.
Follow us on Facebook or Twitter to stay up to date with what's happening in college tennis and to read our blog!