ITA National Team Indoor 2016 - Elite Men's College Tennis

---

ITA Division I National Men's Team Indoor Championship
We're a couple of hours away from the first doubles point to be played between Baylor and Ohio State, as well as Texas Tech and North Carolina. 09.00 AM, Friday morning, the 2016 ITA National Indoor Championship starts into its 4-day session of packed collegiate action. Just like last week on the women's side, 16 of the best men's programs qualified to crown their 2016 champion. The event will be held by current #1 in college tennis (ITA ranking: February 3, 2016) University of Virginia, at Boar's Head Sports Club. Since the first edition of the championships in 1973, the winning team went on to capture the NCAA title the same season 12 times. There are two teams which stand out in numbers of Championships won: Stanford (12) and UCLA (7), with Virginia rapidly closing the gap (5) over the last years.
A main draw with 16 teams, of which 1 qualified for hosting the tournament (Virginia) and the other 15 teams qualified through winning their respective ITA Regional Event at the big ITA Kick-Off Weekend a couple weeks ago: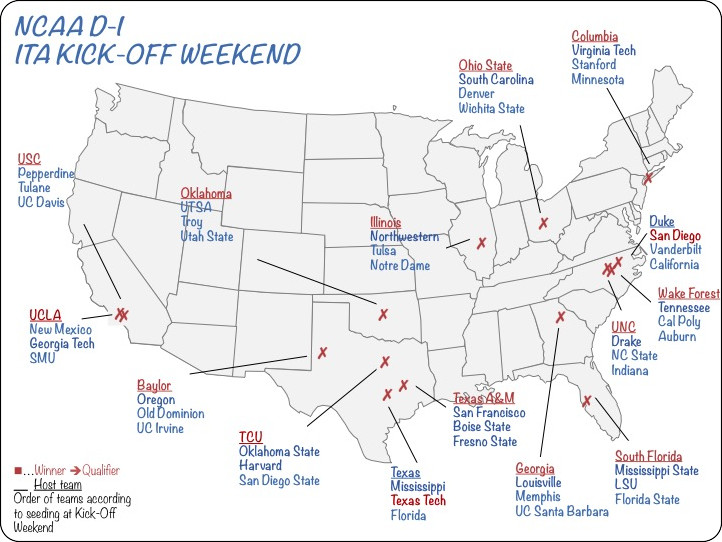 The big names are (almost) all there. 4 teams representing the Big 12 conference: Oklahoma, Baylor, Texas Tech, and TCU. ACC is represented by Virginia, North Carolina, and Wake Forest. Other conferences are represented by Georgia and Texas A&M (SEC), Ohio State and Illinois (Big Ten), USC and UCLA (Pac-12), South Florida (American), San Diego (WCC), and Columbia (Ivy). Similar to the women's side, record champion Stanford is missing...
Similar to last week's preview, we have searched for some interesting background information on some of the teams to really get you into the mood for some awesome weekend full of collegiate tennis. As always we'll leave the task of digging into match-ups and analyzing the draw to the experts; the team behind College Tennis Today. Check out how they see the championships go down here. Take a look at our interactive draw by clicking on the tags next to the teams below!
Elite of Men's Collegiate Tennis
There's no doubt this will be a fun weekend to follow college tennis. Especially so, as there will be live streams provided by Virginia on their website, enabling you to follow all the action as it happens.
Virginia all the way on top will be a clear contender for the championship title - even more so as they will be able to count on the support of their home crowd. However, they likely face some fierce competition in the quarterfinals against defending champion Oklahoma or a round later against last year's runner-up USC. Further down in the draw I am interested to see how Ohio State will do, given their ladies turned out to play an impressive tournament last weekend, just falling short of taking the ITA National Indoor Championship title themselves. Keep in mind that the program has proven before that it can win the Indoor title (2014)... I've personally seen Ohio State's #1 player Torpegaard play against Rafa Nadal last year, and I'm curious to see his further development. Don't miss the video of one of his fine points against the Spaniard in the draw above!
Never before has a team from Texas won the Indoor title. With Texas Tech, Baylor, TCU, and Texas A&M qualified, there are 4 teams at the start this year. Texas A&M is seeded #2 and should be in the best position to challenge the other top players, given Baylor's weak(er) start in the year.
Enjoy the next four days and do not miss this great chance of watching the matches live here!
"(...) we're lucky enough to host the top 16 teams in the country this coming weekend. It's going to be the best teams in the country all competing for the championship and it's going to be some really good tennis out here this weekend."
(Mac Styslinger- Virginia, SR)
Did you get curious what college tennis is all about? Browse through our other blog articles and follow us on our social media accounts, Facebook and Twitter. Stay tuned for our next edition of the Friday Scholarship Guide!