3 Tips How to Find Out if You Could Play College Tennis

---
Unless you are a top junior player with a high national or international ranking, your Road to College Tennis will start with the same question:
Am I strong enough to play college tennis on a scholarship?
The best juniors will know for certain because they have been contacted by college coaches of the most prestigious tennis programs, but the same doesn't necessarily hold true for players who don't find themselves topping the rankings. Hence, the question this article will answer is:
How can I find out whether coaches have an interest in recruiting me?
Tennis Recruiting Kick Off
Tennis programs look for players to make their program stronger. In order for coaches to have an interest, it is absolutely vital your level of tennis can have an impact on the team.
1. Benchmark
Benchmark yourself. The tennis world is a small one and chances are you have met somebody in a tournament who has played college tennis before. Could be your club tennis colleagues or your hitting partners. How did you do against them?
Maybe there are other players you haven't faced yet, but you know approximately how you would do in a match. Would it be a close match? Could you have a shot at winning or would you lose 10 out of 10 matches? How much older are the opponents and what would it take to get to the same level?
Once you have identified a player or two who have ties to college tennis, try to find out whether they joined a team on an athletic scholarship or as walk-on (no athletic scholarship). It should then be possible for you to find out what squad they played for, the conference, division, and the position in the line-up.
With that kind of information you are pretty well-equipped to make a first preliminary call and it's a crucial one:
Yes, I believe I would have what it takes to get recruited by a college team!
2. Universal Tennis Rating
Depending on the region you are from and the tournaments you have played, there is another way of determining for yourself whether you are strong enough for college: it is a rating which is provided by a company, collecting thousands of match results in order to calculate a player's rating:
Universal Tennis Rating, aka UTR
For every player at college right now, a UTR is calculated, which can be found by logging on to the UTR platform.
Concerning your main worry - "Am I strong enough for college tennis?" - this means that you have all the ratings in place to find out. All you need is a UTR yourself. Find out here whether you already have a UTR and if so, how high a rating you have obtained at this point. If you can't see your name in the database, it means you haven't played the right tournaments yet. International tournament results are part of UTR's data collection, but if your experience is limited to national events, you are dependent on the extent of cooperation between Universal Tennis Rating and the particular National Tennis Associations.
For much more detailed insights on the UTR and its advantages for you, take a look at one of our most popular articles here:
"How To Identify Whether You Are Good Enough To Play College Tennis In The United States"
In case you already have a UTR, there is strong reason for you to be certain:
Yes, I know for a fact that my rating is comparable to that of a player in the top 6 of a college team!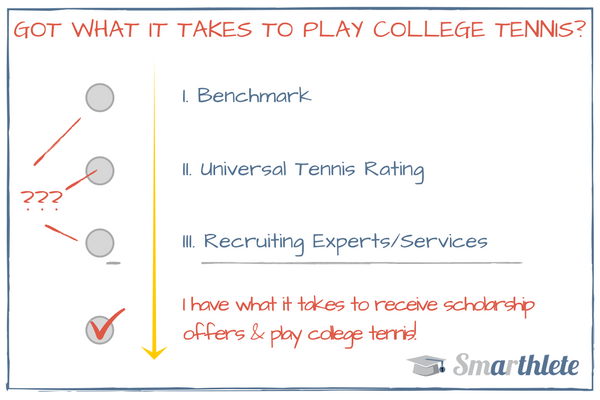 3. Scholarship Services
Last but not least, scholarship services have amassed a great deal of knowledge and experience in the area of college tennis recruiting. Their recruiting experts look at your results, your rankings, and ideally a video of you playing, and they can give you a very qualified assessment whether you have what it takes to play college tennis. As a matter of fact, reliable scholarship services will not take on your case unless they know with a substantial likelihood that you could be a future student-athlete. If you like to get the support of scholarship services, they offer to guide you through the process from the beginning all the way until you arrive at the college of your choice against payment of a fee.
Recruiting Recommendation
Benchmarking, UTR, and Scholarship Services. But where should you start?
The easiest and most natural first choice is to activate knowledge you have probably been collecting for some years: Who where the peers you practiced with or you have heard of had played at college? Write down their names and find out all about them. What team(s) did they play for, in which division and which conference? And equally important: how would you stack up against them?
After that we would recommend you take a look at the Universal Tennis Rating database, create an account, and check out whether you can find your very personal rating.
If you think that you might need more support along the way and you don't want to face the complex task of finding a scholarship all by yourself, contact a scholarship service and ask for an evaluation of your chances. This is something you can also get here on Smarthlete by the way - there is actually no need to keep looking ;) Just drop us an email at contact@smarthlete.com and we're happy to explore this option together with you!
Smarthlete Profile
As soon as you feel confident to take on the recruiting process on your own (= you successfully ticked off 1. and 2.), you're good to get started for real. Sign up on Smarthlete and pack all the information about yourself as a player and student on your free recruiting profile. You're just a few clicks away from finding out how interesting you really are for college coaches by contacting them on Smarthlete right away.

It takes 1 minute to get started and saves you hours you would otherwise spend looking for information on various websites.
For any questions, take a look at our Services Section, write us a message or contact us on our social media accounts: Facebook and Twitter or follow us on Instagram!