College Tennis Rules - Dual Match Formats

---
During the recruiting process of future student athletes, most of the players focus on the very obvious topics and steps to go through:
Choice of school
Level of tennis
Talking to coaches
Handling paperwork
Once all the hard work is done, all that's left to do is enroll in the school of your choice, join the team, and get rolling!
But how about learning a bit more on how college tennis is actually being played? You do want to know what's about to come in the months and years ahead, don't you?
Often, coaches will explain how matches are played during phone calls and meetings with the athletes. But most of the time the coaches naturally focus on their conference, and thus division, only.
To give you a broad idea about the entire college tennis universe, here is our compact, visual overview of dual matches, based on the ITA Official Rulebook:
ITA College Tennis Rules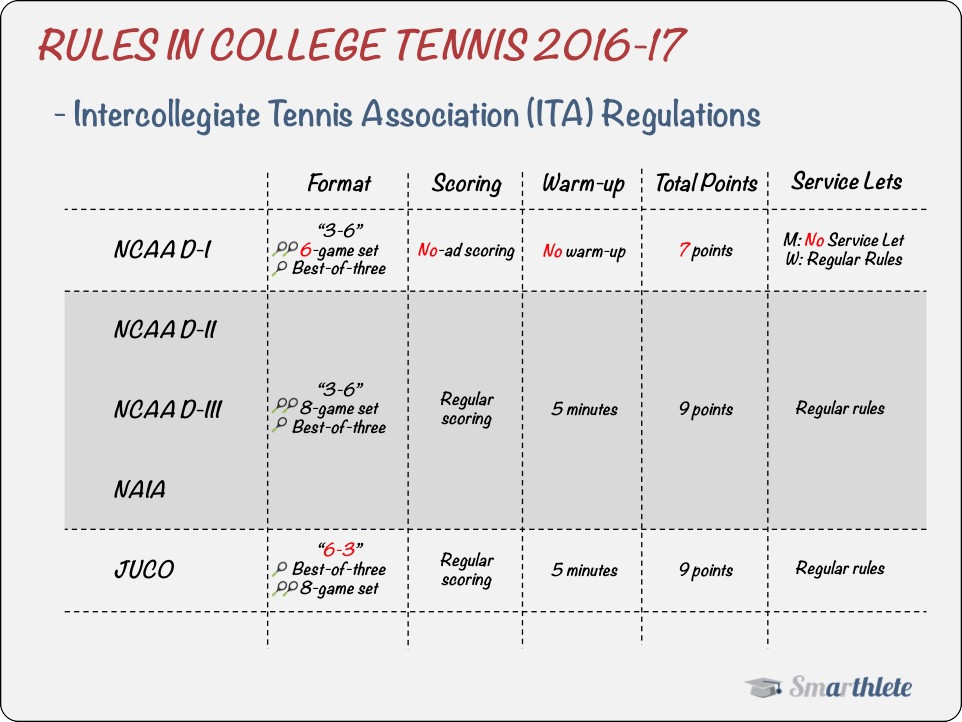 College Tennis Format
"3-6" or "6-3" stands for the order of play of the 9 matches. In all divisions but the NJCAA (Junior & Community Colleges), doubles matches are played prior to the singles matches. While singles matches are played in the usual way (Best-of-three), all doubles are limited to one set only. Note that NCAA D-I is the only division, in which a doubles set is a "regular" 6-game set!
College Tennis Scoring
College tennis is still the same sport played around the globe, which is why the USTA Rules & Regulations are in effect, unless otherwise stated for college tennis. One such exception is Division I tennis, which follows the same rules that were implemented on the ATP doubles tour some years ago: No-ad scoring
College Tennis Warm-Up
Again, the only exception is Division I, which foresees no warm-up between opponents at all. You better be ready and awake right from the start, otherwise a doubles match or the first set of a singles can run away pretty fast.
Team Total Points
6+3 matches would normally equal 9, shouldn't it? In theory yes, but in Division I only one doubles point is up for grabs. The team that wins two out of three doubles matches takes the one available doubles point. Note that there is an extra clause for Division I, stating that


"If both coaches agree, a team match may be stopped once a team reaches four points."


That's the reason you often see different results with less that 7 points in the headlines: 4-0 or 4-2 for example.
Service Lets
If you happen to play in Division I, that's one of the most surprising differences to "normal" junior tennis. In men's tennis, there is no service let - in other words: if the ball hits the net and goes into the service box the ball is in play.
You might be wondering why it is that most deviations are Division I characteristics? Well, tennis, such as any other college sport is in direct competition with other sports at college - and thus, funding. As a result, there have been continuous efforts to make the product tennis more "supporter-friendly".
Are you in doubt if you have what it takes to receive a scholarship? Read up here: "How to Identify Whether You Are Good Enough to Play College Tennis".
We hope you enjoyed our above overview of the various regulations that are in effect, depending on the college tennis division. Ready to kickstart your career in college tennis, leaving it all out there on the court? Smarthlete is a college tennis recruiting network, where you can sign up with a free recruiting profile, contact coaches, get discovered by coaches of all divisions, and find a scholarship to play collegiate tennis!
Get started right away with setting up your recruiting profile! If you have any questions, just send us an email (contact@smarthlete.com) and we'll get back to you! :)