Number of Scholarships in College Volleyball

---
Are you a setter, an outside attacker, or defensive specialist in your high school volleyball team or local club team? Graduating in a few years' (months') time? Interested in continuing your education once you will have graduated from high school?
Awesome - look no further - this is just the right article for you to get an understanding of the way college volleyball (indoor/court, not beach volleyball) really works.
Now the first important thing for you to understand is: yes, there is scholarship money out there for talented volleyball players, but at the same time: no, it is not an unlimited amount of scholarship money schools can just pull from and award to their recruits.
That's the topic we're going to shed some light on in this edition of our Friday Scholarship Guide.
Scholarship Types
First off, bear in mind we're talking athletic scholarships, athletic grants-in-aid here, awarded by the athletic department of the respective school. Not academic scholarships, which are awarded by the financial aid office.
Now with that said, it's important to understand once and forever that not all schools are allowed to give out athletic grants and those that are, are limited by how much they may give to recruits. How so? For example, a university may be a Division 1 school, NAIA school or NJCAA school (from an athletic standpoint). That is a decision taken by the university, setting the direction for the way the athletic department may operate in their daily work and recruiting efforts.
There are 7 large divisions in college volleyball:
NCAA D1
NCAA D2
NCAA D3
NAIA
NJCAA D1
NJCAA D2
NJCAA D3
Division 3 universities may not offer athletic grants to their student athletes.
Volleyball is an equivalency sport, with one exception: women's D1 volleyball.
Let's talk about what it means to be an equivalency sport first: Coaches may distribute their available scholarship money across their players as they wish, resulting in partial scholarships/player. In headcount sports, the maximum number of players receiving an athletic scholarship is set by the governing body. A detailed look at what that means in a little bit!

Scholarship Limits in College Volleyball
As you can see from the graphic below, there is a set number of scholarships, college coaches in the various divisions are allowed to spend maximum. The last part is crucial, as it doesn't mean all teams have the maximum permissible amount of scholarship budget available. In case they do, the team is fully funded, in case they don't the team is partially funded. Following this logic, college volleyball teams with better funding obviously have an easier time attracting stronger players, as they tend to go where they can receive most for their commitment to play in an environment with a competitive team.
Important note: Volleyball is not a sponsored sport for men in the National Junior Collegiate Athletic Association (NJCAA).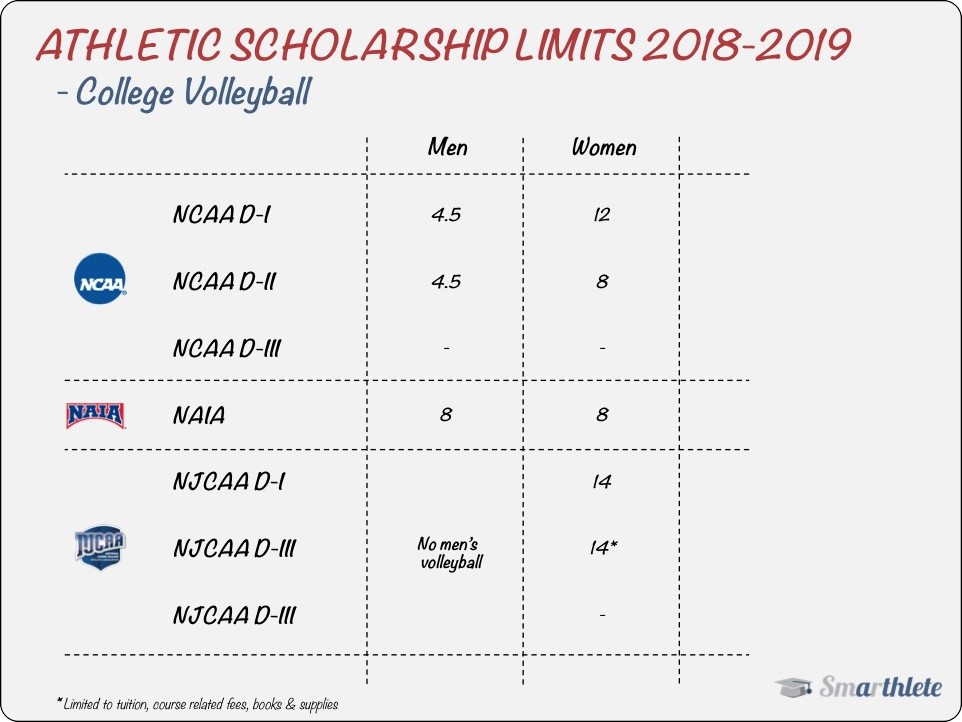 NCAA D1 men's volleyball allows a maximum of 4.5 scholarships per team.
NCAA D1 women's volleyball allows a maximum of 12 scholarships per team.
NCAA D2 men's volleyball allows a maximum of 4.5 scholarships per team.
NCAA D2 women's volleyball allows a maximum of 8 scholarships per team.
NCAA D3 does not give out athletic scholarships - as is the case across all sports.
NAIA allows a limit of 8 scholarships per team, both in men's and women's volleyball.
NJCAA D1 women's volleyball allows a maximum of 14 scholarships.
NJCAA D2 women's volleyball allows a maximum of 14 scholarships, with the restriction that the value must not exceed tuition, fees, books & supplies.
NJCAA D3 women's volleyball does not give out athletic scholarships.
So much about the athletic scholarship situation. Bear in mind however, that a school may offer you academic scholarship money as well, although there are clear rules as to whether that counts towards coaches' scholarship budget or not. Universities generally base their assessment of whether you may qualify for academic grants on a variety of factors, such as your high school GPA, SAT/ACT result, class rank, extracurricular activities and/or your overall application.
What is the Value of an Athletic Scholarship in College Volleyball?
So what does such a scholarship cover?
The scholarship covers a number of different costs, with the definition differing somewhat across governing associations.
According to NCAA rules, a full scholarship covers "tuition & fees, room & board and course-related books".
According to NAIA rules, a full scholarship covers tuition, mandatory fees, books & supplies required for courses in which the student-athlete is enrolled, and room & board.
According to NJCAA rules, a full scholarship covers tuition & fees, room & board and course-related books (+ up to 250 USD of course material of & one-time transportation to and from the college per academic year).
Let's put this in plain language: if you are the recipient of a full scholarship in volleyball, your total costs of attendance are covered by the school. However, we're going to have to stop you right there. Full-rides are extremely uncommon, as only a very small percentage of athletes receive such a generous scholarship offer. This older article of ours will help you understand your chances more realistically: "The Truth About Athletic Scholarships at College"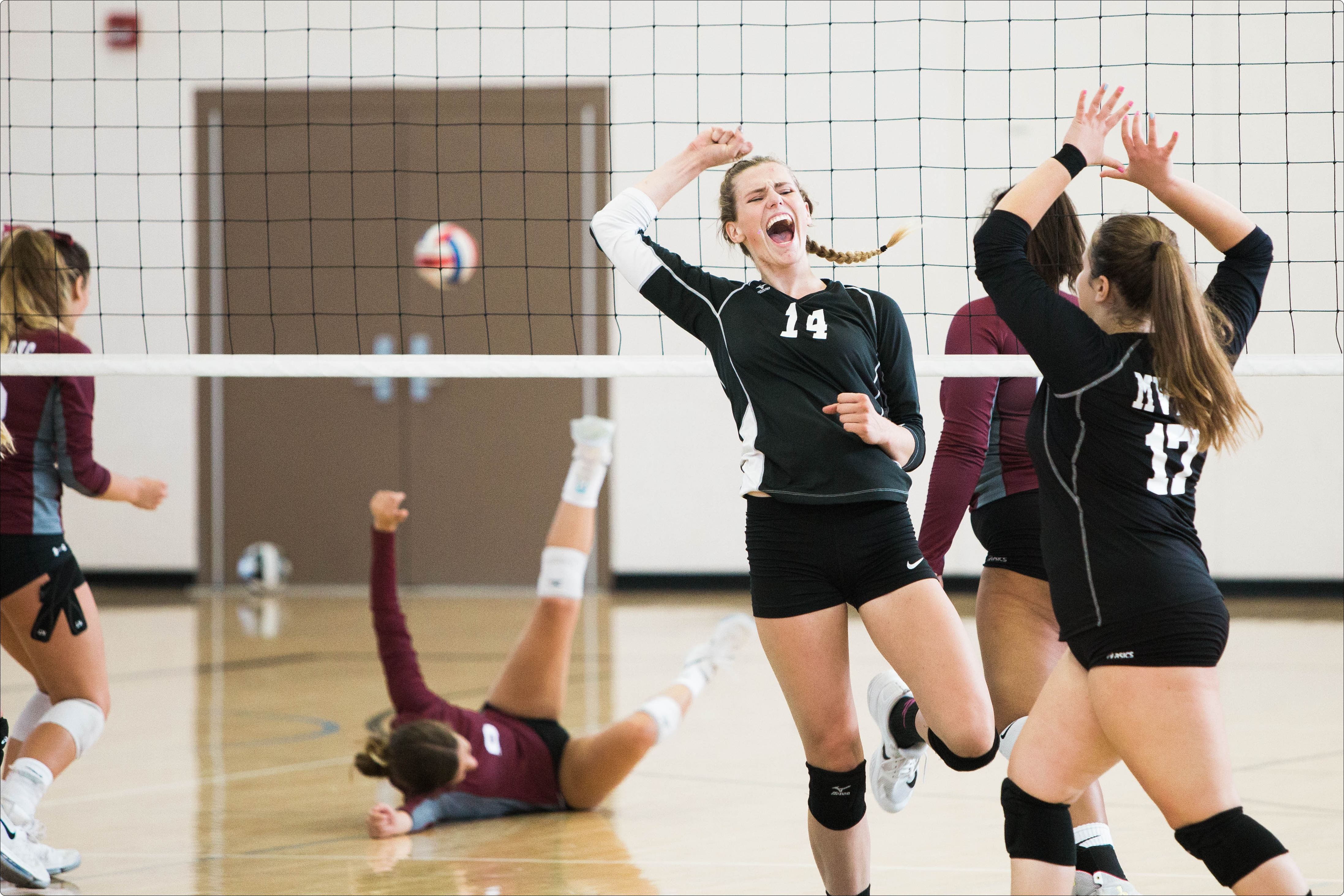 Case Examples of Volleyball Scholarships
2 completely different examples will hopefully help you understand much better how teams' different scholarship budgets could play out:
Example 1: You are a female high school standout, scoring double-digit kills every match of the season and the strongest teams in the country are after you. You've known all along that your parents' financial support is quite limited and you were lucky enough to make up for that by developing into one of the most sought-after recruits of this year's recruiting class.
Coach A from one of the strongest schools in the top conference offers you one of his 12 available full scholarships. She expects you to have a massive impact almost right from the start. The academic reputation of the school is good, but the school happens to not offer your preferred choice of major.
Another coach from a fully-funded local NJCAA D1 school also wants to recruit you and offers a full scholarship. You are open to this option, as you like the idea of being close to your family for a little longer before moving out.
Coach C from a NCAA D3 school gets in touch with you. He has no chance of even remotely competing with the other 2 coaches in financial terms, due to the fact that he has NO athletic scholarship to spend. But he happens to coach at one of the most acclaimed liberal arts schools in the country, which gives out very attractive academic scholarship packages. He estimates that you might be left with out-of-pocket expenses of around 10,000 USD in Year 1.
Above 3 coaches are not the only coaches though who try to convince you to come to their school. There are numerous other D1, NAIA and D2 teams, which would like to recruit you on a full-ride.
Depending on the athlete's career goals (academic vs. athletic), she would either go for one of the several offers to play top college volleyball or seize the chance to invest in her education and enroll at a weaker D3 school.
Example 2: You are a male setter with very strong stats - not top of the class, but right up there. You receive a sizeable amount of interest from D-I, D-II, D-III and NAIA schools. Your results in the class room are your second asset, as you have obtained a 3.9 GPA.
Coach A from a partially funded D-I school offers you a scholarship, covering about 70% of the total cost. The coach has 3.5 scholarships available, which is 1 less than other D1 schools may have. If you accept the offer, the coach would be left with 2.8 more scholarships to distribute among his players (although the majority of that is already tied up by returning players).
Because you understand the value of an excellent education on the college level, you are also particularly interested in strong D2, NAIA and D-III schools. Coach B from a small, but well-reputed NAIA school, offers a 30% scholarship. The team is also not fully funded, but the financial aid office signals that you will qualify for a large chunk of academic money on top of the athletic offer.
Finally, Coach C from a NCAA D-II team (fully-funded) doesn't have the largest amount of money left, because he is only graduating 1 player the year before you'd start. He can offer 40% indicating that you could sort of expect a significant increase, as several players will graduate after your freshman year.
What's the decision going to look like? Money will play a role, but so will academics. Considering all of the 3 offers leave you with some sort of out-of-pocket expense, you could consider getting in touch with D3 teams to also explore your options at such schools.
Key Things to Remember - Volleyball
Let's wrap up with a couple really important things for you to be aware of:
In-state vs. out-of-state (international) students
College's tuition fees differ depending on a student's residency. Where you come from is reflected in the price tag of you attending the particular school. The most economical option is to enrol at a school close to home (the same U.S. state that is).
Athletic grant-in-aid agreement
Grant agreements are awarded for the duration of one academic year. Towards the end of the year, the agreement is typically renewed, with the coach honoring his/her recruitment of the student athlete's full 4 years of eligibility. If you do well, a coach may give you an increase on your original scholarship amount.
Availability of scholarship
The size of a healthy volleyball squad is normally a fair bit larger than 6 players. Coaches usually try to have a mix of several lower and upperclassmen to avoid losing the whole team at the same time at some point. Following that logic, there is only so much scholarship money available for the coach to give away, depending on the age structure of the team.
Let's say for example that a team only has 1 senior on the team: there would only be a very small amount of scholarship money that gets released once he graduates; perhaps even too little to attract the kind of player a coach is looking for. An option would be to save the money and not spend it.
A team with 4 seniors on the other hand? Awesome, nice amounts of scholarship money available as the team needs to replace his graduates!
Now that you're an expert on all things college volleyball scholarships related, go ahead and plan your recruiting process. How are you going to go about finding a team? What will you do when? What teams should you reach out to to start with?
Complete our Evaluation Form if you want to get a head start on your recruiting process. Check out what else we have in store for you on Smarthlete - talking to your first coach is just around the corner. :)