Top 3 Reasons to Attend a Tennis Showcase

---
Some athletes have the chance to visit a Showcase that takes place right around the corner or at least in the same region or country.
And then for others, there's really no point in even considering to attend one, because the closest Showcase is just too far away.
Let's have a look at what a Showcase is to start with:
A Showcase is an event, at which athletes and college coaches get together to have coaches watch athletes, meet, and establish a relationship with each other that could ultimately lead to a commitment to the respective athletic program/university. Such an event is most interesting, the larger the number of (high-quality) participants; on both sides. College coaches only have so much time, interest and financial resources to travel to Showcases, which is why there are not thousands of them!
Why should you go ahead with a registration for a Showcase?
1. Get a UTR
Some organizers of Showcases have a cooperation with the Universal Tennis Rating. What does that mean and why is it a good thing?
Matches that are being played during the Showcase are UTR rated - they count towards a player's UTR. That is awesome, especially for players who:
have not had the chance to get a reliable UTR
don't have the chance to play more ("UTR") tournaments in the future
UTR-tournaments as we call them are tournaments, the results of which are used by the UTR. Typically, those are international tournaments, such as ITF Under 18 events, ITF Pro Tour events or national tournaments of select national tennis associations (essentially those countries, choosing to submit a number of tournaments results to UTR). Note that it requires a few matches before you can get a reliable UTR.
Say you have never before played an international tournament. To get a somewhat reliable UTR, you should get around 5 matches in the books. Say, you travel to 5 international tourneys or you take part in a Showcase instead, which allows you to get 5 "UTR-rated" matches guaranteed, the decision might be an easy one ;)
Travelling is expensive, getting more than one match (= winning a round) is not guaranteed whatsoever, and a Showcase could quickly become an option more attractive on your way towards becoming a collegiate athlete.
Even if results at the event are not used for your UTR rating, you have the chance to play against others who have a reliable UTR - and again, that helps your dialogue with coaches going forward!
Need a quick recap on the advantages of using UTRs towards your goal of finding a tennis program at college? Check out one of our older articles: 3 Tips How to Find Out if You Could Play College Tennis
2. Meet The Coach in Person
Now here's one of the really great reasons attending a Showcase pays off:
The opportunity to attract coaches' interest in person. There's nothing better than having them watch you in person. There's also nothing better than looking each other in the eye and start establishing a relationship that way. Especially so if you are a person that is comfortable communicating with coaches in a good and constructive way, carrying on the conversation and asking questions.
There is no guarantee the coach(es) you speak to will end up recruiting you, but you certainly have the chance to add interesting schools to the mix and they can get you on their radar.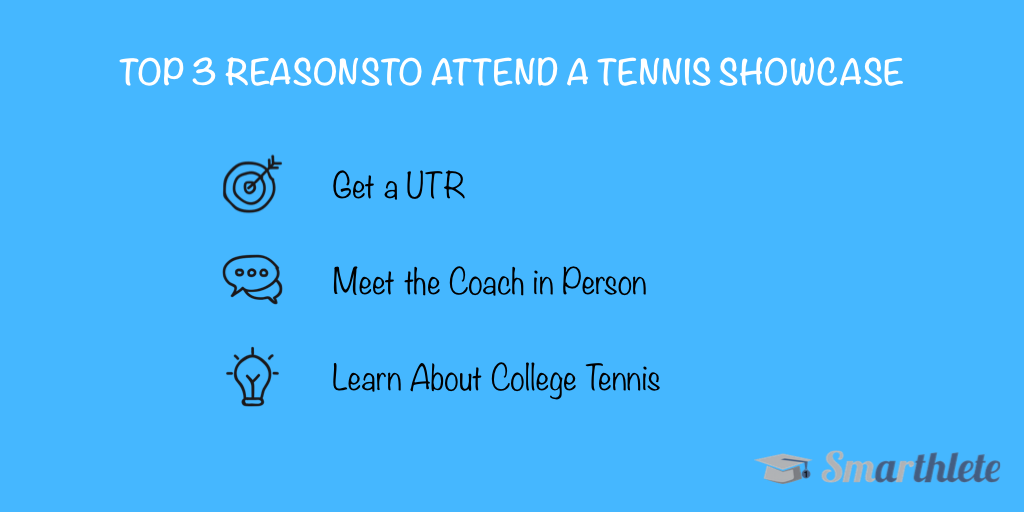 3. Learn About College Tennis
Last but not least, college tennis is without doubt exciting. But chances are you don't really know a whole lot about it yet.
Whether it's the organizers telling you about the way it works, good anecdotes about other players, or coaches telling you about their colleges, conferences and divisions, you will dig deeper into the world of college tennis. AWESOME! There is so much to discover and learn about! There are so many sides to college tennis and you will quickly realize that every school has its very unique set of characteristics that you might love. It doesn't mean choosing a school at the end of the day will get easier, but you will get yourself in the position to make the best call, the more information you have on the various schools and college tennis in general.
Attractive Showcases
There are great Showcases in various parts of the U.S. But the whole task of signing up for such an event gets a whole lot more complex, once you don't live in the U.S. Sure, you can fly there and depending on distance and time of the year, that absolutely is an option for many athletes!
All good and well, but say you are from Europe or Africa. Do you need to fly all the way to the U.S. to attend a Showcase? The good answer is: No!
College Tennis Showcase in Europe - by uniexperts
We are in the position to present to you one international Showcase, which is organized every summer by one of our partners: uniexperts. What is so great about this Showcase is the fact that it has grown tremendously in size over the last years and it is right in the center of Europe! Because it has established itself as such a great event, college coaches keep coming back to find the next badge of players for their teams!

The event takes place in Cologne, Germany in the middle of July, which is perfect for both coaches and athletes:
Coaches can combine their trip and check out other players at ITF Under 18 tourneys in Germany (or other countries)
Athletes coming from other countries can travel to Germany and combine playing some of these ITF tournaments themselves
If you are an athlete and interested to learn more about the Showcase, drop us an email at contact@smarthlete.com. We have a Wildcard to give away for a strong player and perhaps you are the lucky one ... :)
No, you do not need to participate in a Showcase to get recruited! Hundreds of players each year manage to do so without meeting a coach in person, but ...
If you have the chance to show your skill set at a Showcase, do it! But don't just rely on definitely meeting the right coaches there. Instead, make sure you have a clear plan on how you manage to get a spot on a team:
Do it yourself
Create a free recruiting profile on Smarthlete & get in contact with college coaches in an easy way!
Scholarship service
Get recruiting experts to help you! Send us an email if you are interested and we are happy to evaluate your chances right away!
If any questions, please contact us and we are happy to help right away :)!